Photo Gallery
Tinsel and Tutus @ Reynolds Performance Hall — 12/12/13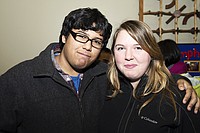 12/12 — The Conway Symphony Orchestra entertained with Christmas music, including highlights from The Nutcracker performed by the Arkansas Festival Ballet.
The Department of Child Services confirmed Wednesday it has been investigating the 24-year-old bus driver charged in connection with the Woodmore Elementary school bus crash that killed six students last year.
Hamilton County prosecutors could file abuse and neglect charges against Johnthony Walker if they think there's enough evidence to support a new indictment. Walker already faces six counts of vehicular homicide, four counts of reckless aggravated assault, and one count each of reckless endangerment, reckless driving and use of a portable electronic device by a school bus driver.
Hamilton County District Attorney General Neal Pinkston and his team will make a determination once they receive the Department of Child Services' findings, spokeswoman Melydia Clewell wrote Wednesday in an email.
"The law prohibits prosecutors from discussing pending cases," Clewell said, "but speaking generally, it can be difficult to convince a jury to sustain neglect charges in cases where there's no intent to cause harm."
Rob Johnson, Child Services' communications director, couldn't comment further on the investigation because of confidentiality laws. But defense attorney Amanda Dunn said Child Services told her client it had finished its investigation within the last 60 days.
"Mr. Walker was not given any opportunity to defend himself against the accusations made to the Department of Child Services," Dunn said. "He only now has the benefit of filing an appeal. So whatever their process may be, it seems to lack fundamental due process that's inherent in criminal investigations."
Dunn also could not comment on the department's findings, but she said Child Services would be placed on hold until Walker's criminal case is resolved.
"This was probably the result of someone calling the child abuse hotline," Chattanooga attorney David Veazey said. "With the Ooltewah basketball team case, they had that big deal about not reporting it. So I'm sure someone at the school felt the need to report that, and it would have triggered an investigation. And now they have to determine whether there's abuse or neglect going on."
Police say Walker lost control while speeding on Talley Road in Brainerd on Nov. 21, swerving off the narrow two-lane roadway to the right and striking an elevated driveway and a mailbox. He then swerved to the left and the bus overturned, hitting a telephone pole and tree. Six children died and several more among the 37 onboard were injured.
Parents, students and Woodmore Elementary School's principal voiced concerns about the driver of bus No. 366 before the crash, according to more than 30 pages of handwritten notes and records the Hamilton County Department of Education released on Nov. 25.
One letter said Walker was cursing at the kids, slamming on the brakes and making them fall out of their seats. Walker also filed several complaints against misbehaving students, saying kids were standing in the aisle and he was concerned for their safety. Walker did not have a bus monitor, which Durham School Services, his employer and the majority provider of local school transportation services, recently implemented in a handful of buses.
Under Tennessee law, everyone has a mandated duty to report suspected child abuse. And when a Child Services employee fields a call, they assess each situation differently. Is it child sexual assault? A high-priority case? A mother living in a rundown home who just needs support?
"Let's just say a mother's not feeding the child properly," family law attorney Catherine White said. "DCS is going to make sure she does that and oversee the process. If there's serious criminal allegations, they'll bring in law enforcement, too, and the person that's being accused could be charged with something criminal."
Regardless, a Department of Child Services investigation is separate from any kind of current criminal prosecution unless state attorneys decide to bring more charges. The agency's main objective is to substantiate whether it's more "likely than not" that abuse or neglect occurred.
"Once you get substantiated, you go on this list that's supposed to be public now," said attorney Greta Locklear, who is representing one of the Woodmore mothers in a lawsuit in Circuit Court. "And you're not supposed to work with children again."
Substantiating someone for neglect and abuse is fundamentally easier than bringing a criminal case because of the different standards of proof. Prosecutors have the burden of establishing that a crime happened beyond a reasonable doubt, whereas Child Services investigators just have to assess whether abuse probably happened. That standard is known as preponderance of evidence.
"The process is completely separate from the case the DAs are doing," Veazey said. "So [Child Services investigators] would be looking to see if they can prove a case for a much lower standard."
Walker, who remains in Hamilton County Jail, will next appear May 15 before Criminal Court Judge Don Poole.
Contact staff writer Zack Peterson at zpeterson@timesfreepress.com or 423-757-6347. Follow him on Twitter @zackpeterson918.