Photo Gallery
Freshman chances among things we know about Vols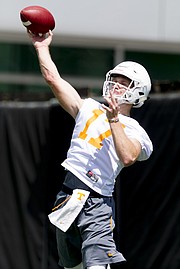 KNOXVILLE - The Tennessee Volunteers will practice in full pads for the first time today as they cap their first week of preparation for the 2017 football season. They will do so ranked in one preseason poll and unranked in another.
The first Amway coaches' poll, released Thursday, placed the Vols at No. 24, while ESPN's preseason Top 25 left Tennessee out.
Tennessee lost six players from last year's 9-4 team to the NFL draft and several other key players completed their eligibility, but it's clear that Vols players and coaches view this year's squad as a team with chemistry and joint goals, even if it's short on recognizable names.
"We lost a lot of stars or whatever, but I feel like we're more of a family team," junior running back John Kelly said this week. "There's not too many egos on this team at all."
Media covering the Southeastern Conference already picked the Vols to finish third in the SEC East, and several of Tennessee's players have embraced the reduced expectations by likening the Vols to a snake hiding in the grass and waiting for its chance to strike.
Coaches believe they will know about which players they can rely upon for game action by seeing them practice in full pads. But here are some things we've learned so far about the 2017 Vols during preseason practice:
Freshmen will play
True freshmen are likely to get meaningful playing time at defensive end, running back, wide receiver and on the offensive line in 2017.
Josh Palmer, a 6-foot-2 wide receiver who is from Canada but graduated from football powerhouse St. Thomas Aquinas in Fort Lauderdale, Fla., is one who has drawn praise from coaches.
"Long way to go," offensive coordinator Larry Scott said. "But some of the natural, instinctual things that you want a big wideout to have, he has. He has strong hands. He's a physical demeanor guy. When he runs routes, you can feel him run the route."
There are some second-year players poised to emerge at wide receiver, too, but head coach Butch Jones noted that "they know we're going to have to rely on some true freshmen to play."
True freshmen Deandre Johnson and Matthew Butler are competing for a second-string defensive end slot. Johnson appears to have an advantage, since he enrolled early and participated in spring practice.
Even if sophomore Carlin fils-Aime wins the spot backing up Kelly at running back, it won't be long before a freshman emerges from the group of Ty Chandler, Timothy Jordan and Trey Coleman and is on the field.
Coaches continue to taper expectations on touted freshman offensive lineman Trey Smith, though Jones said Smith has "settled in" at guard.
Freshman linebacker Will Ignont and defensive tackle Kivon Bennett have been mentioned by defensive coordinator Bob Shoop as solid performers early in training camp.
McDowell's makeover
Senior linebacker Cortez McDowell seems to be the likely choice for early playing time at outside linebacker. That slot belonged to Jalen Reeves-Maybin at the start of last season before an injury pressed McDowell into action. He finished the season with 54 tackles and has spent the time since improving his body.
"There's a big difference," McDowell said. "I'm down to 228 (pounds); I feel a lot better than I used to feel. I give credit to our training staff and our dietitian. They helped me change my body dramatically, and I feel great."
Shoop described McDowell as taking "the next step." McDowell said his mindset also is different this season.
"It changed a lot," he said. "I'm one of the older guys and one of three seniors in our room. It's on our shoulders now to be leaders for our room and our team. It's just a mindset to come in and go to work."
There is a fourth QB
Most fans know that redshirt freshman Jarrett Guarantano and redshirt Quinten Dormady are battling for the starting quarterback job. Some may know that freshman Will McBride is on the roster, too, after he enrolled early and participated in spring practice. But a fourth quarterback, Seth Washington, is on the practice field.
Washington is a preferred walk-on from Episcopal School of Dallas, where he threw for 2,655 yards and 33 touchdowns as a junior before an injury-plagued senior season.
First-year quarterbacks coach Mike Canales knew Washington from his time on staff at North Texas.
"He's a little bit starry-eyed right now," Canales said. "It may be a little bit overwhelming for him, but that's natural for a young kid coming in and his first time at a major college program with the expectations and standards."
Former Tennessee starting quarterback Josh Dobbs, drafted by the Pittsburgh Steelers this spring, entered his true freshman season fourth on the depth chart and was a starter by the end of the season.
Bumphus a Scott project
Latrell Bumphus, a 17-year-old true freshman who is 6-3 and 258 pounds, is an imposing force at tight end after receiving some special attention from Coach Scott. The Savannah, Tenn., native was also recruited as a defensive end by some.
"He was a project of mine every time I got my hands on him in a camp situation," said Scott, who coached UT's tight ends last year. "It was enough to make me believe he can develop and grow into that position and be a true wide tight end. You're talking about a 6-4, 260-pound freshman that can bend like a 220-pound guy. This guy was tracking fly balls in center field for his baseball team. That's pretty impressive for a big man."
Contact David Cobb at dcobb@timesfreepress.com