Photo Gallery
Top-ranked Alabama begins practicing, Hand included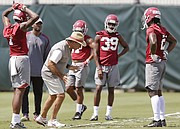 Alabama is No. 1.
Nick Saban doesn't want to talk about it.
The Crimson Tide conducted their first preseason football practice Thursday afternoon, but not before they were ranked No. 1 in the Amway coaches' poll. Alabama has been ranked among the top three preseason teams for eight consecutive years.
"It basically means little to nothing about anything," Saban said Thursday night in a news conference. "We're not going to be in the mood to be making comparisons or making comments on rankings. It's flattering that people think highly of our team, but our team needs to understand they have to prove who they are by what they do."
Alabama