Photo Gallery
Top-ranked Alabama begins practicing, Hand included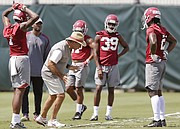 Alabama is No. 1.
Nick Saban doesn't want to talk about it.
The Crimson Tide conducted their first preseason football practice Thursday afternoon, but not before they were ranked No. 1 in the Amway coaches' poll. Alabama has been ranked among the top three preseason teams for eight consecutive years.
"It basically means little to nothing about anything," Saban said Thursday night in a news conference. "We're not going to be in the mood to be making comparisons or making comments on rankings. It's flattering that people think highly of our team, but our team needs to understand they have to prove who they are by what they do."
Alabama also has been ranked No. 1 at some point of the season for a staggering 10 consecutive years. The Crimson Tide have won four national championships under Saban and spent all of last season at No. 1 until losing to Clemson, 35-31, in January's national championship game in Tampa.
The Tide received 49 of a possible 65 first-place votes in the USA Today poll, with Ohio State, Florida State, Southern California and Clemson rounding out the top five.
Alabama opens this season Sept. 2 against Florida State in the Chick-fil-A Kickoff Game inside Atlanta's new Mercedes-Benz Stadium. The Tide also play No. 12 LSU, No. 13 Auburn and No. 24 Tennessee.
"We're certainly looking forward to the challenges of the season," Saban said. "There are many, many out there, including the first game. I think what's really important is that our players have to believe that we determine the outcome of a game by what we do and how we practice and how we prepare."
The Tide practiced Thursday with senior Da'Shawn Hand working on the first-team defensive front. Hand was arrested early last Saturday morning and charged with DUI when university police found him in a parked vehicle with the keys in the ignition.
"Da'Shawn put himself in a bad situation and obviously made a mistake being where he was at the time," Saban said, "but the fact that he didn't drive the car - which is what we tell the players not to do. It's not OK that he was drinking, and that's a behavioral issue that needs to be addressed, and we will address it, but he wasn't driving the car.
"He did not put other people at risk, which to me is the most significant thing when you drive under the influence."
Saban said Hand already has attended a 48-hour inpatient center for "assessment purposes." The 6-foot-4, 282-pounder also will perform community service.
"If he does everything he's supposed to do, he will not be suspended," Saban said. "What we're doing is helping the player. If he had driven the car, it would be a totally different circumstance."
Alabama worked out Thursday for two hours in helmets and shorts.
Tide tidbits
Senior inside linebacker Shaun Dion Hamilton, who tore an ACL in last December's thumping of Florida in the SEC title game, practiced Thursday with no limitations. The Crimson Tide received a commitment Thursday from Slade Bolden (5-11, 198), an all-purpose back from West Monroe, La., who also had scholarship offers from LSU, Ole Miss and Tennessee. Former Alabama long-snapper Carson Tinker suffered a torn ACL and is out for the season for the Jacksonville Jaguars.
Contact David Paschall at dpaschall@timesfreepress.com or 423-757-6524.