Photo Gallery
Chattanoogans react to Charlottesville protests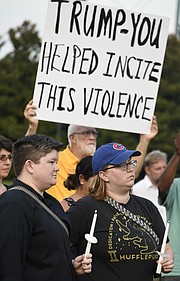 Chattanoogans attended a candlelight vigil Sunday night in memory of the woman who was killed in Charlottesville, Va., after a car plowed into a group of counter-protesters.
The vigil was hosted by the Chattanooga chapter of Democratic Socialists of America and featured speeches by several leaders of political and social justice organizations.
The turnout was echoed across the nation as people gathered and marched to protest the Charlottesville violence, The Associated Press reported. They included Atlanta activists in town for a Netroot Nations event and Memphis residents who gathered at the statue of Nathan Bedford Forrest, a Confederate general, slave trader and Ku Klux Klan member. Activist Tami Sawyer said the violence in Virginia "isn't going to scare anyone from speaking up for equal justice."
The