Photo Gallery
Signal Crest UMC celebrates 60 years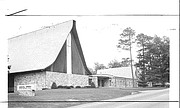 Back in September of 1957, 22 people gathered at the Signal Mountain Masonic Lodge to form Signal Crest United Methodist Church. That December, they welcomed additional members through a Membership Sunday event held at the lodge. The growing congregation began worshiping at the church's current location in April 1960 in what is now its chapel.
The church has continued to expand over its 60 years to include the present-day sanctuary - where it now holds two traditional worship services for its 1,100 members every Sunday - as well as the most recent addition, the Crest Center, which allowed the church to expand its fellowship opportunities by introducing a contemporary service, held in the center each Sunday at 9 a.m.
On Sunday, Sept. 17 Signal Crest will mark its 60th anniversary with a single worship service in the sanctuary at 9:30 a.m., incorporating music from both the church's traditional Chancel Choir as well as its contemporary Praise Band.
"It will bring together all aspects of worship at Signal Crest," church communications coordinator Kristy Stewart said of the anniversary service.
The service will be followed by lunch in the Crest Center. Lunch costs $5 and features chicken fingers, pasta salad, fruit and desserts. Tickets are being sold in advance through the church office and website until Friday, Sept. 8.
As lunch is served, attendees will be treated to music and a slideshow featuring highlights from the church's 60 years, Stewart said, adding that past pastors, charter members and their families have been invited to attend and share their knowledge of the church's history.
"I think it's going to be a great time to reflect on the past, but also a great time to celebrate our future and find out what's going on here at Signal Crest and in the Signal Mountain community," she said. "If you're interested in learning more about the church, it's a great day to come, and we would love for anyone who has changed churches or been affiliated with Signal Crest to come back and check it out."
Signal Crest United Methodist Church is at 1005 Ridgeway Ave. and can be reached at 886-2330, or visit signalcrestumc.org.