Photo Gallery
Tennessee seeking a return to its stable recruiting days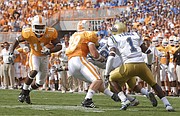 At the turn of this century, Tennessee was a model of stability in college football recruiting.
Phillip Fulmer's Volunteers closed out the 1990s with a 54-8 surge over five seasons that included two Southeastern Conference championships and the 1998 national title, and they traveled near and far to assemble top-five signing classes. Tennessee's 2000 crop was headed by quarterback Casey Clausen, tight end Jason Witten, offensive tackle Michael Munoz, linebacker Kevin Burnett and cornerback Jabari Greer, and it was rated No. 1 nationally.
"We feel that this is an outstanding recruiting class," Fulmer beamed in February 2000, and he would add top-five signing classes in 2001 and 2002.
Tennessee now finds itself at the opposite end of recruiting's stability spectrum, as a chaotic coaching search involving two athletic directors coupled with the sport's inaugural early signing period that starts next Wednesday have the Vols playing catch-up. The Vols have sustained nearly 20 decommitments in the 2018 recruiting cycle and stood 45th in the 247Sports.com team recruiting rankings as of Thursday evening.
The worst finish for the Vols ever in the 247Sports rankings was 33rd in 2008, when Fulmer's forgettable final class was headed by E.J. Abrams-Ward and the late Aaron Douglas. In the years since that class, Tennessee is just 62-63 on the field.
THROUGH THE YEARS
Where Tennessee's football signing classes have finished nationally in the 247Sports.com team rankings since 2000 (including two of the top signees):› 2000 — 1st (OL Michael Munoz & QB Casey Clausen)› 2001 — 4th (LB Kevin Simon & RB Cedric Houston)› 2002 — 3rd (RB Gerald Riggs Jr. & OL Brandon Jefferies)› 2003 — 10th (WR Robert Meachem & LB Daniel Brooks)› 2004 — 11th (LB Robert Ayers & QB Erik Ainge)› 2005 — 4th (DB Dee Morley & QB Jonathan Crompton)› 2006 — 29th (OL Jacques McClendon & DE Walter Fisher)› 2007 — 4th (DB Eric Berry & DE Ben Martin)› 2008 — 33rd (ATH E.J. Abrams-Ward & TE Aaron Douglas)› 2009 — 8th (RB Bryce Brown & WR Nu'Keese Richardson)› 2010 — 7th (WR Da'Rick Rogers & OL Ja'Wuan James)› 2011 — 14th (OL Antonio Richardson & DE Curt Maggitt)› 2012 — 19th (WR Cordarrelle Patterson & DB LaDarrell McNeil)› 2013 — 25th (WR Marquez North & QB Josh Dobbs)› 2014 — 7th (WR Josh Malone & RB Jalen Hurd)› 2015 — 4th (DL Kahlil McKenzie & RB Alvin Kamara)› 2016 — 14th (DB Nigel Warrior & QB Jarrett Guarantano)› 2017 — 17th (OL Trey Smith & RB Ty Chandler)› 2018 — 45th (DL Greg Emerson & WR Alontae Taylor)** Ranking as of Thursday, and the players are commitments and not yet signees.
New Tennessee coach Jeremy Pruitt, who also is serving out his second season as Alabama's defensive coordinator through the Crimson Tide's run in the four-team playoff, is not only in uncharted territory from a vocational standpoint but with recruiting's changed calendar. Several SEC programs could sign as much as 75 or even 80 percent of their classes in the 72-hour window that begins Wednesday, so the Vols' tardy hiring could be problematic.
Tennessee's search to replace former coach Butch Jones, who was fired Nov. 12, began with John Currie as AD and ended with Fulmer in the hiring position.
"One thing that I've figured out in recruiting is you worry about the ones that you get," Pruitt said Dec. 7 at his introductory news conference. "You don't worry about the ones you don't. That's the most important thing, so that's what we'll do.
"I'm going to tell you right now, don't get all out of whack at this early signing period."
The volatility in this recruiting cycle for Tennessee was reflected Wednesday, when Coffee County four-star receiver Alontae Taylor committed to the Vols for a second time but quarterback commitments Michael Penix and Adrian Martinez went in different directions. Martinez flipped his commitment from Tennessee to Nebraska, while Penix made it clear through social media that Pruitt and Jones are not one and the same.
"I would like to thank the previous coaches at the University of Tennessee and the fans for believing in me," Penix posted on Twitter, "but after conversations with the new staff, it seems that's not the place that I'm being wanted."
Pruitt isn't the first college football coach to shake up a class of commitments with the goal of better suiting the offensive and defensive agendas he plans to implement. Having spent the past decade at Alabama, Florida State and Georgia, the 43-year-old is certainly familiar with elite talent.
Rivals.com national recruiting director Mike Farrell recently rated Pruitt behind only Texas A&M's Jimbo Fisher and Florida's Dan Mullen among the six recent coaching hires in the SEC, which includes Matt Luke at Ole Miss having his interim tag removed. Fisher and Mullen have the monstrous advantage compared to the four other league newcomers of coaching in talent-rich states, but Pruitt more than knows his way around the Deep South as well.
Farrell labeled Pruitt as "a very good and accomplished recruiter, and he's shown he can coach the defense. This is a solid hire, especially after the debacle that was this coaching search."
Tennessee has signed nine top-10 classes since 2000 and 13 top-15 classes, but the Vols are on track to finish without a top-10 class for a sixth time in eight years. The last time Tennessee finished outside the top 20 was in 2013, when the transition from Derek Dooley to Jones resulted in the No. 25 class.
Though recruiting often is viewed as an inexact science, Alabama has shown under Nick Saban that top-rated classes can result in championships of the league and national variety. Georgia is also an example, as the Bulldogs have more five-star signees than any team in the impending playoff and finished with the No. 6 class during the transition year between Mark Richt and Kirby Smart.
Keeping quarterback Jacob Eason committed was the biggest challenge Smart faced after his hiring in December 2015, but the Bulldogs benefited from having 17 signees a few weeks later who were Peach State products, including athlete Mecole Hardman, tight end Isaac Nauta (who played his senior year at IMG Academy in Florida), offensive lineman Ben Cleveland, running back Elijah Holyfield and defensive linemen David Marshall and Julian Rochester.
Pruitt knows the state of Tennessee can't match the talent annually coming out of Georgia, so add that to the many challenges he faces on the recruiting trail in getting the Vols back to the stability they enjoyed when his AD was coach.
"Recruiting is the lifeblood of any organization," Pruitt said. "We're going to start right here in this state, and we're going to start from Knoxville and work our way out. This is going to be our state. We're going to go out and create relationships, because that's what it's all about. This is still a people business.
"This early signing period is unprecedented, and everybody is trying to figure it out. I want to make sure that we don't sign somebody who doesn't fit. I would rather wait and find a guy who we know for sure fits what we're looking for here."
Contact David Paschall at dpaschall@timesfreepress.com or 423-757-6524.