Photo Gallery
Belew Christmas @ Wildwood Park for the Arts — 12/13/13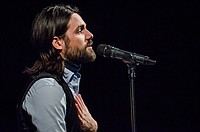 12/13 — Former The Voice contestant Cody Belew serenaded the audience with Christmas classics and tracks from his new album.
NASHVILLE - State Rep. JoAnne Favors today filed her school bus seat belt bill with Sen. Todd Gardenhire expected to introduce the Senate version aimed at addressing safety concerns following the crash of a school bus in Chattanooga in which six Woodmore Elementary School students died.

Favors, D-Chattanooga, said earlier this week she planned to file the long-discussed bill likely today. It would require buses purchased as of July 1, 2018, come equipped with safety belts.

But Favors was still uncertain at that point whether one of Hamilton County's two senators would take up the Senate companion bill or if she would need to find a sponsor outside the county for the measure in the upper chamber.

But Gardenhire, R-Chattanooga, said in a Times Free Press interview today that he will sponsor the legislation "out of respect for her." But he said he intends to let Favors proceed first as he continues to harbor some reservations.

"I told her this morning - we hadn't had time to talk about it - I called her this morning and told her I'd carry it in the Senate for her but let the House hear it first, that I heard reservations about that," Gardenhire said.

He said he had wanted to wait to "see the National Transportation Safety Board come back with their final investigation [recommendations] before I jump in with any conclusions or anything else.

"But I think that JoAnne needs to have the opportunity to have her bill heard and her views heard and I was willing to sponsor it in the Senate and let it runs its course and do that," Gardenire said.

He said Sen. Thelma Harper, D-Nashville, is signing on as a co-sponsor.
Rep. Gerald McCormick, R-Chattanooga, said he intends to sign on to Favors bill and the former House majority said he would do all he can to help pass it with some lawmakers expected to balk over millions of dollars in costs.
Gov. Bill Haslam has his own ideas on bus safety. On Wednesday, House Assistant Majority Leader David Hawk, R-Greeneville, introduced the administration's approach to bus safety which omits the mandatory safety-belt requirement in Favors' bill.

Haslam's bill would raise age requirements for school bus drivers from 21 to 25 and impose new requirements on school systems, bus drivers and contractors.

In November, six Woodmore Elementary School children were killed on Talley Road in Chattanooga when their bus, driven by Johnthony Walker, 24, veered out of control and overturned.

Walker has been charged with six counts of vehicular homicide and reckless driving.