Photo Gallery
Atlanta United wins 4-0 debut over Chattanooga FC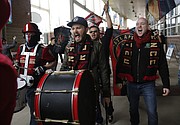 Atlanta United FC had to start somewhere, and Finley Stadium provided a memorable launching point Saturday afternoon.
Playing in its first friendly, the Major League Soccer expansion franchise scored twice in the first half and twice again in the second to register a 4-0 win over the Chattanooga Football Club of the National Premier Soccer League before 12,484 energetic fans.
"It was a good first test for us," Atlanta United defender Greg Garza said afterward. "Personally, I think we have a lot still to work on, but it was good to see how we can actually go out there and build that chemistry."
Saturday's crowd was a surprisingly robust follow-up to the 17,903 who watched the U.S. men's national team defeat Jamaica 1-0 at Finley on Feb. 3. Finley Stadium executive director Paul Smith said Saturday's walk-up crowd was "tremendous," and he estimated that at least 70 percent of the fans were supporting Atlanta United, which has sold more than 27,000 season tickets.
The south stands were full 30 minutes into the match, and the standing areas behind the goals were overflowing, so the north stands were opened to the delight of the crowd. It was the second match at Finley in eight days for Garza, who is a member of the U.S. national team but did not play against Jamaica.
"I really wasn't expecting all of this today," Garza said. "When we were on the bus ride getting here and saw all these people with Atlanta flags and jerseys, it was a wonderful sight to see. It was the inaugural game, and I hope we were able to put on a show for them."
Atlanta United had 18 shots and eight shots on goal in the 90-minute match, while Chattanooga FC had eight shots with two on target.
"Our team performed well considering the circumstances," Chattanooga FC coach Bill Elliott said. "I was talking to a couple of Atlanta players after the game, and they had no idea that we hadn't been training for this and that we only had one training session. They were shocked and could not believe we were this good, so I think our guys put in a good performance that they can be proud of."
As if the challenge for the host squad wasn't steep enough, CFC veteran forward Luke Winter collided with Atlanta United goalie Alec Kann two minutes into the match. Winter, who had a team-high six goals in CFC's 9-0-1 regular season last year, received treatment on his knee and remained in the match for three additional minutes before coming out and being replaced by Daniel Whitehall.
"It changed things, because you figure if he gets one chance, it's probably a goal," Elliott said. "Even at this level, he is a goal-scorer, but the kid who came in was the national player of the year in NAIA. He just didn't get the chances. We were always going to be defending a lot."
Hector Villalba put Atlanta United up 1-0 with a goal in the ninth minute, and though CFC goalie Kyle Zobeck had an impressive stop of a Kenwyne Jones shot in the 30th minute, he couldn't prevent Atlanta from going up 2-0 on a beautiful Yamil Asad goal into the upper-right corner from outside the box in the 36th minute.
Zobeck came out of the game to an ovation from CFC supporters in the 83rd minute.
"I would have been happier had it stayed 2-0, but kudos to them," Zobeck said. "They finished their chances well and got some bounces to go their way that put them in some good spots, but personally this was great for me. I think everybody who got to play in this game had a good time, and everybody put in their best effort.
"It stinks to lose, but I think our guys can be proud of what we did here today against an MLS team."
Atlanta United took a 3-0 lead in the 68th minute on a goal by Josef Martinez, and an Andrew Carleton goal in the 74th minute made it 4-0. Carleton is a 16-year-old from the Atlanta suburb of Powder Springs.
"It was a dream come true just to be able to get on the field and play," Carleton said. "I was happy with how the team played and how I was able to perform and to be able get on the score sheet and to be able to contribute to the team as best I can."
Said Garza: "He's a guy who has enormous talent."
Atlanta United, which wore its home uniforms during the first half at Finley and its road uniforms in the second half, will face the Columbus Crew SC in a friendly this Saturday at MUSC Health Stadium in Charleston, S.C.
Contact David Paschall at dpaschall@timesfreepress.com or 423-757-6524.