Photo Gallery
Fatal school bus crash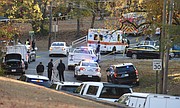 A lawsuit filed this morning against Durham School Services unveils another accusation of out-of-town law firms preying on Woodmore victims days after the deadly November crash.
Shanquatta Byrd and Carl Lewis are parents to a child on Bus 366, which overturned on Nov. 21, 2016, after driver Johnthony Walker, 24, lost control of the vehicle along Talley Road. The crash killed six and injured several more.
In the following days, the Times Free Press reported, out-of-town law firms approached family members about litigation, violating an ethical rule that says lawyers can't solicit victims for 30 days after a serious crash.
Lewis and Byrd cut a deal with local firm Warren & Griffin to represent them in a civil action, the suit says. But on Nov. 23, Lewis was arrested on federal charges and placed in Hamilton County Jail.
There, a man named "Coffman" approached him, claimed he worked for a black investigator in Savannah, Ga., and added that Lewis was entitled to money in this accident.
The man said a firm in Georgia could get Lewis out of custody and fight the federal charges if Lewis signed on, the suit says.
Before 30 days had passed, the investigator visited multiple times, according to jail logs, the suit says.
Days later, the suit says, Byrd approached Warren & Griffin and said she was switching to a different firm in Georgia called Fried, Rogers & Goldberg LLC.
That Georgia firm turned around and filed a lawsuit in Hamilton County Circuit Court, but it didn't include Lewis as a party, the suit says.
Attorney Robin Flores filed this suit on behalf of Lewis, who he argues is also entitled to damages from Durham School Services, the corporation that provides the majority of the county's buses. The suit also names Walker, the Hamilton County Department of Education and Ben Coulter, a department agent.
In this case, Flores wrote, Lewis has standing to bring a case because "the actions described in the previous paragraphs suggest that the Georgia firm may not be acting in the best interests of the child."