Photo Gallery
Tinsel and Tutus @ Reynolds Performance Hall — 12/12/13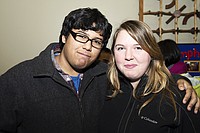 12/12 — The Conway Symphony Orchestra entertained with Christmas music, including highlights from The Nutcracker performed by the Arkansas Festival Ballet.

Carl Lewis had a lot on his mind in November 2016.
His daughter was being treated at Erlanger hospital after her school bus swerved into a tree on Talley Road with 37 Woodmore Elementary students onboard. His daughter's mother, Shanquatta Byrd, was talking to local attorneys about legal action against the bus company. He was in jail on a federal warrant for unlawfully possessing a firearm. And there, according to a lawsuit filed Friday in Hamilton County Circuit Court, an investigator named "Paul Coffman" was visiting his cell with a sales pitch.
Coffman told Lewis he worked for an attorney in Savannah, Ga., the suit says. He claimed Lewis was "entitled to money, too," since he was the child's father. And, he said, if Lewis signed on with the law firm, they would bond him out of jail and find an attorney to fight the 27-year-old's federal case.
His current attorney, Robin Flores, said Lewis was expecting to be included in a lawsuit Byrd was going to file against the bus company with a local firm. But before that happened, Byrd shifted gears and signed on with Fried, Rogers, Goldberg LLC, an Atlanta firm that specializes in personal injury claims. Those attorneys filed a lawsuit on Byrd's behalf on Dec. 6, 2016, records show, that did not name Lewis as a plaintiff.
His lawsuit, which asks for $30 million in damages, does not actually list investigator Coffman. It drives at a larger concern that Byrd signed on with a firm that may not be acting in the best interests of the girl and her mother, Flores said.
The Times Free Press previously reported in December that out-of-town law firms flocked to Woodmore victims after the Nov. 21 crash, hoping to capitalize on people's civil cases. Some of those firms contacted grieving families directly, talked them into legal agreements that would funnel more money to the attorney, or sent an agent into funeral homes to persuade them to sign up on the spot, according to interviews and records. The behavior runs afoul of the Tennessee Rules of Professional Conduct, which state that attorneys must wait 30 days before they can contact people about litigation following a serious accident, or face possible disbarment. It also prompted the Tennessee Attorney General's Office to release a statement vowing to use its "full authority" to prosecute attorneys who broke the rules.
Fried, Rogers, Goldberg LLC released a statement Friday saying nobody associated with the firm ever visited Lewis in prison or elsewhere. "No one by the name of Coffman or Kaufman is employed by or associated in any way with our firm," attorney Joe Fried wrote. "We have no idea who that individual is or where he works."
Fried said motor-vehicle catastrophes are his legal speciality and that other attorneys often bring him onto such cases. He is licensed to practice in Tennessee, he said, and added his firm asked Byrd whether she had an attorney before executing a contract with her.
"My understanding of what transpired is, she was asked and she did not feel she was represented by anybody," he said. The local attorney - C. Mark Warren - contends Fried's firm lured Byrd away with promises of a larger settlement. But in the process she signed a contract that would award the firm nearly half her winnings, as opposed to the 25 percent Warren had offered.
The Lewis suit lists as defendants 24-year-old bus driver Johnthony Walker, the Hamilton County Department of Education, National Express, Ben Coulter and Durham School Services, the corporation that provides the majority of buses here. Coulter is a liaison for the department, and National Express owns Durham.
There have been about a dozen lawsuits filed in connection with the crash in state court. They largely argue that Durham was negligent in employing Walker, and that county officials were negligent for not acting on the complaints they received about his driving. In Chattanooga's U.S. District Court, attorneys are seeking class action status on the one suit there.
The Tennessee Attorney General's Office is looking into the allegations of solicitation here in Chattanooga, and possibly building a case against one Dallas, Texas, firm, sources said. Typically, that office cannot confirm whether there is an active investigation, spokeswoman Harlow Summerford said.
Shortly after Thanksgiving, Misti Nash claimed a man named Alphonso McClendon passed himself off as an attorney with the Witherspoon Law Group and promised the family $3 million in damages while they were shopping for funeral caskets. Her daughter, Zoie Nash, died in the crash.
The attorney general's office is investigating that incident, police spokeswoman Elisa Myzal said. Meanwhile, Memphis attorney Jimmy Blount said the same office recently sent him an official affidavit for his client to sign about her encounter with Witherspoon. That document would be a necessary piece of evidence to establish probable cause for whatever charges authorities may go with.
"It's my understanding they're going to go ahead and pursue criminal charges against Witherspoon," Blount said. "Whether they will or not, I don't know."
Blount and Levitt said funeral homes directed their clients to Witherspoon, a Dallas, Texas, firm that specializes in personal injury cases. In his case, Blount said Witherspoon locked his client into an unfair agreement with an illegitimate purchasing company in Tennessee.
The firm, which has denied the allegations, is fighting to dismiss that case in Shelby County's Chancery Court.
Contact staff writer Zack Peterson at zpeterson@timesfreepress.com or 423-757-6347. Follow him on Twitter @zackpeterson918.