Photo Gallery
Man shot, killed by police had history of violence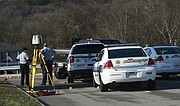 From inside his liquor store, Marcus Wolff could see the stream of blue lights on the highway.
They poured down the off-ramp near 200 Sequoyah-Access Road in Soddy-Daisy, following a black pickup truck that had eluded them for hours. About a football field's distance from the scene, Wolff watched as four or five police cruisers materialized in the darkness. After the pickup breezed through a red light, one of the cruisers forced it into a guardrail.
About 10 seconds passed in the parking lot.
Then, Wolff heard gunshots. Another 10 seconds passed. There were more.
Wolff didn't know it yet, but several Hamilton County deputies had just shot and killed Christopher Dalton Sexton, 29, who exited his vehicle with a weapon and pointed it at officers Tuesday night, authorities said.
"You just don't see something like that happen live," said Wolff, who owns Cork and Flask. "To me, those officers should be commended, because there were a lot of civilians in that parking lot."
Sexton's family members did not want to comment Wednesday.
The chase began around 5 p.m., after a deputy tried to pull Sexton over for violating an order of protection, said Susan Niland, a Tennessee Bureau of Investigation spokeswoman. Deputies pulled back once because of safety concerns, but ultimately followed him for two hours through Hamilton and Sequatchie counties, ending around 7 p.m. By that time, several officers from multiple agencies had joined pursuit.
District Attorney General Neal Pinkston tapped the TBI to unravel the shooting, which is common when officers are involved. He will decide whether to file charges against the officers, none of whom were injured, based on the findings.
The Hamilton County Sheriff's Office did not release the names of the officers who fired their weapons. The TBI also did not say what specific violation sparked the chase in the first place, or where it specifically began, citing an active investigation.
Public records provide another view of the events leading up to the shooting.
On Jan. 6, Sexton's wife had petitioned for a court order of protection, which is issued in an attempt to protect victims of domestic violence. She asked for a divorce the same day.
Between criminal affidavits, divorce complaints and orders of protection, court documents show a complicated history of violence between the couple, who married on Oct. 5, 2007, in Catoosa County, Ga.
Six days after they were married, Sexton's wife claimed she found out he was doing steroids, court records show. When she confronted him, Sexton became very angry and punched her repeatedly in the stomach, she said.
"I'm currently three months pregnant," she wrote in an order of protection, filed on Nov. 16, 2007. At the time, Christopher Sexton faced aggravated assault and reckless endangerment charges in Hamilton County General Sessions Court. The order prohibited him from owning or using a firearm and required him to attend counseling programs to deal with violence.
In 2011, Sexton's wife said he grabbed a single-gauge shotgun in the midst of an argument inside their home. He stuck it underneath his chin and tried to pull the trigger. But the gun never discharged, records show.
He then pointed the shotgun at the bed beside his wife and fired a hole into it, the affidavit says. Pellets from the gun bounced off the mattress into his wife's clothing, but otherwise she was uninjured.
Two years later, when he pleaded guilty to lesser charges, Sexton had to attend mental health counseling as part of his probation. He then found work at Industrial Boiler & Mechanical in Chattanooga in December 2015, said company president Randy Massingill.
"We are deeply saddened to learn of the death of Chris Sexton," Massingill wrote in a statement Wednesday. "He was a skilled worker and highly respected by our managers, co-workers as well as the entire company.
"Since the first day Chris worked at our company, he led our crews in prayer every morning to pray for their safety. I would like to express my sincere sympathy and condolences to the Sexton family on behalf of our company."
Sexton had appeared in Hamilton County Circuit Court on Tuesday for a hearing on his wife's request for an order of protection. A judge granted it, and asked both parties to return Jan. 23.
Until then, the judge said, the protection was to remain in effect.
Contact staff writer Zack Peterson at zpeterson@timesfreepress.com or 423-757-6347. Follow on Twitter @zackpeterson918.