Photo Gallery
The year of Wayne White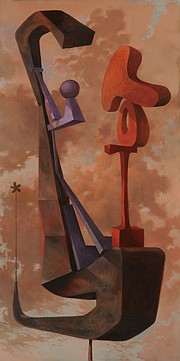 If you go
"Thrill After Thrill: Thirty Years of Wayne White"› When: Through Oct. 1› Where: Hunter Museum of American Art, 10 Bluff View› Admisson: Free for members; $15 for adults and free for youth 17 and under› Online: huntermuseum.orgWayne-O-Rama› When: 11 a.m.-6 p.m. Wednesday-Sunday, through Sept. 30› Where: 1800 Rossville Ave., Suite 108› Online: wayneorama.com
Wayne White is dressed in his customary blue coveralls with the Wayne-O-Rama patch over the left front pocket. He is in the gallery at the Hunter of Museum of American Art overseeing the installation of dozens of pieces he has created over the last 30 years.
The walls are covered not only in framed pieces. There are several of his "Word" paintings and a few drawings of set designs for the TV shows he worked on, including "Pee-wee's Playhouse" and "Beakman's World." And for this exhibition, he has painted new drawings on the actual museum walls.
In the center of one of the two large rooms are 16-foot cardboard figures of Country Music Hall of Famers the Louvin Brothers, Charlie and Ira, who grew up in Henagar, Ala. Their likenesses are waiting to be hung from the ceiling in a place of honor.
One of the "Word" paintings features the phrase "Maybe Now I'll Get the Respect I So Richly Deserve." It is also the title of White's 2009 book.
Sitting outside in the hallway overlooking the Tennessee River, the 60-year-old artist smiles at the suggestion that the phrase in the painting describes how he must be feeling about having his works on display at the museum he visited as a child growing up in Hixson.
"It is pretty special," he says.
It's been a pretty good year for White. A couple of miles away on Rossville Avenue sits Wayne-O-Rama, a one-year installation/gallery showcasing new works, including oversize puppets depicting iconic Chattanoogans. They include TV kids show host Bob Brandy, actor Samuel L. Jackson, blues legend Bessie Smith, Cherokee Chief Dragging Canoe and newspaper publisher Adoph Ochs. There is also a giant cardboard replica of Lookout Mountain.
Both shows will remain open until September.
White has done other such installations around the country, but none were designed to last a year. Most lasted a week or a month. And he hasn't had a museum exhibition the size of the one at the Hunter before either.
"This has been a pretty unusual year with Wayne-O-Rama and the 30-year retrospective," he says. "The Chattanooga year has been very satisfying. To have this happen has been a dream come true for me. It's a big deal. It was my adolescent dream to have work shown here [at the Hunter]."
White says the work is vindication and proof that the years of hard work have mattered.
"There is that, but even worse than all the naysayers is indifference," he says. "That hurts worse than the naysayers because at least they've considered what I've done."
White got his Bachelor of Fine Arts from Middle Tennessee State University. He was a print illustrator in New York City and later worked as a set designer for a kids show in Nashville called "Mrs. Cabobble's Caboose." Mrs. Cabobble lived in a red train car and, with the help of talking furniture and friends from the neighborhood, she taught kids about music.
"That job helped me get the job with Pee-wee," White says.
He says there were several artists and creatives, including star Paul Reubens, who had lived in the South, and it shows in the look and feel of the show.
White says the advertising campaigns from Rock City and Ruby Falls were highly influential on his work and remain so today.
"Chattanooga never left me," he says. "The South never left me."
White won three Emmy Awards for his work on "Pee-wee" and also designed the set of "Beakman's World," another educational children's television show. He also did design work on music videos for Peter Gabriel's "Big Time" and The Smashing Pumpkins' "Tonight, Tonight."
White says it's the process that he enjoys far more than the finished piece.
"Putting this together," he says waving his hand at the Hunter exhibit, "is hard for me. I don't like to look back, but it has been interesting."
Seeing some of the pieces again reminds him of the time and place where he was when they were created. The pieces in the exhibit that he most likes are the rough, unfinished pieces, because he likes to see the process.
"It's like opening up my brain and showing the rougher side of things," he says.
"The process is the fun part - the search. When it's done, it's done for me."
White says he is constantly drawing. Even when he takes a break from painting or creating his large puppets, he sketches.
"I like to use negative energy sometimes even. Art is not comfortable, and it never should be.
Contact Barry Courter at bcourter@timesfreepress.com or 423-757-6354.
'Thrill After Thrill' related events
Saturday, July 8 and 15› 2-3:30 p.m. Weekend Wayne Docent Training: Sign up to be a Weekend Wayne Docent, attend three training sessions, and give tours to museum guests on Saturdays during the run of the exhibit.Thursday, July 6› 6-8 p.m. Bands on the Bluff — Nick Lutsko and FriendsThursday, July 13› 6-7 p.m. Thrill After Thrill with Creeping Critters — Explore Wayne White's work through a demonstration by Matthew Dutton, another Chattanooga artist whose work was inspired by Wayne White's visions. Dutton will share White's work and then invite participants into the creation process for his own creeping critters.Thursday, Aug. 17› 6-8 p.m. Cocktails in Color: Funhouse — Technicolor gallery experiences and a surprise specialty cocktail curated by Flying Squirrel mixologists.Thursday, Aug. 24› 6-7:30 p.m. Art Wise: Distinguished Speakers at the Hunter Presents Wayne White — The artist discusses his work and his Chattanooga roots.Sunday, Sept. 17› 2–4 p.m. Family Fun Day: Wayne's World — Take a trip to Wayne's World by exploring the world of the current special exhibit. This fun-filled afternoon for kids of all ages will include puppetry, dance, music, games, crafts and all kinds of color.Thursday, Sept. 21› 6–7 p.m. Faculty Dialogues: The South of Wayne White — Explore the South of Wayne White during an in-gallery walking dialogue with Dr. Jennifer Beech of UTC's Department of English.Saturday, Sept. 23› 11:30 a.m.-1 p.m. "Beauty Is Embarrassing" screening — The film documents the life and works of Wayne White.Thursday, Sept. 28› 6-7:30 p.m. Teen Thrills — Teens only are invited to this special night of creating art and an over-the-top play inspired by "Thrill after Thrill: Thirty Years of Wayne White.