Photo Gallery
Sheriff Eric Watson facing charges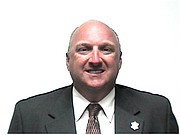 CLEVELAND, Tenn. - Sheriff Eric Watson arrived at the Bradley County Sheriff's Office on Friday morning, was booked into his own jail and posted bond on six felony counts, then went back to work.
The charges - six counts of knowingly holding or using forged or falsified car titles - arise from a Times Free Press investigation published in December into Watson's unlicensed used car sales.
The charges are Class E felonies, each punishable by one to six years in prison and fines of up to $3,000.
None of the charges brought Wednesday by the Bradley County grand jury relate to any other allegations of misconduct by Watson that the Tennessee Bureau of Investigation has been looking into for 13 months. The special prosecutor in the case, 4th Judicial District Attorney General Jimmy Dunn, did not reply Friday when asked whether the investigation is over or if more charges are possible.
Eric Watson timeline
› October 2011: Watson, then a Bradley County Sheriff's Office captain, resigns in lieu of termination (see termination memo at timesfreepress.com) after an investigation finds he improperly accounted for time away from work while serving in the state Legislature. His termination notice included a note from then-Chief Deputy Wayne Bird: "Not to be rehired - veracity/ integrity." › August 2014: Watson elected sheriff, takes office Sept. 1. › February 2016: Bradley County commissioners discover the BCSO sold the county's $130,000 surveillance van, packed with electronics, to a Nashville bail bondsman for $20,000. They begin questioning other BCSO disposals and eventually revise the county's asset-disposal policy. › March 2016: Watson takes his wife, a bail bondsman, to a BCSO-operated DUI roadblock in his county vehicle. It later was found she wrote more bail bonds than all of the nine other agents who wrote bonds for people arrested that weekend. Watson claimed the couple were at the roadblock together because their dinner was interrupted by a BCSO pursuit and he had to bring her along, but radio and dispatch records later showed he was among the first at the roadblock site and she was with him from the beginning. › April 2016: Watson responds to conflict-of-interest questions about his wife's job by saying the couple keep their finances completely separate. However, both names are on the deed of the $460,000 house they bought in April and its $360,000 mortgage. And a document purporting to be the registration for the Nissan Armada she drove at the time showed the vehicle registered in his name. › May 2016: Watson holds campaign fundraising luncheon attended by some public employees in uniform and driving official cars and at which the luncheon speaker, state Homeland Security Director David Purkey, specifically praised Watson's service as an elected official. Both appear to violate Tennessee law restricting political activities by on-duty public employees. › May 2016: American Atheists Inc. and local resident sue Watson and Bradley County, alleging he proselytized for Christianity on the official BCSO Facebook page and censored opposing comments. County settles suit for $45,000 and changes the Facebook page. › June 2016: A complaint Watson pulled strings to a get a woman with whom he appeared to have a personal relationship out of jail led the local district attorney to call for a special prosecutor. Jimmy Dunn, district attorney general in the 4th Judicial District, is named to lead an investigation by the FBI and TBI. › Oct. 17, 2016: After state inspectors find broken toilets, sinks and showers and severe maintenance issues at the Bradley County Jail, the department is given extra time to fix ongoing health and sanitation issues. › Dec. 4, 2016: An investigation into Watson's unlicensed vehicle sales leads to a warning from the Tennessee Motor Vehicle Commission, which referred the case to the Department of Revenue to investigate whether sales taxes were properly paid. › April 23, 2017: An ongoing dispute between the sheriff's office and Cleveland Police Department came to a head after a city arrestee the jail refused for medical reasons walked out of the hospital and was shot to death. Video from Cleveland police showed another case where officers had to set free an accused felon because of a partly healed cut on his arm. › June 4, 2017: Six months after the BCSO submitted a plan to state inspectors for making the jail habitable, the official in charge of the work resigned, saying too much remained undone and predicting the jail would fail its upcoming inspection. Sources: Bradley County records, newspaper archives, interviews.
Watson, a four-term state legislator and former chairman of the House Judiciary Committee, did not appear publicly after being booked.
In a statement released through his attorney, James F. Logan Jr., the sheriff said he has cooperated fully with the TBI and other agencies in the probe of what he called "accusations from some who desire to have more control over county government and the operations of the Sheriff's Office."
Watson said Bradley County residents and his employees can be assured the sheriff's office will "continue to provide the best services possible to insure [sic] the safety and property of all citizens and visitors."
Logan said he wasn't sure of the factual basis behind the charges - the documents don't explain how Watson allegedly held or used an altered or falsified title. He said he hopes the issue can be resolved once the facts are known.
Logan pointed out the charges related to Watson's personal life, not his duties or performance as sheriff.
"It's an incredibly sad event" for the sheriff to be booked into his own jail, Logan said, adding that Watson "wants justice."
The county commissioner who has made multiple allegations of misconduct against the first-term sheriff wants more investigations.
Commissioner Dan Rawls repeated a litany of allegations he said the TBI either hasn't explored or hasn't acted upon, from alleged misuse of county credit cards to unaccounted-for money.
"I have a fiduciary responsibility and there were financial improprieties from the beginning, one well-documented incident after another," he said. "At some point, somebody has to be held accountable."
He cited other issues, from allegations of aiding his wife's career as a bail bonding agent and using his authority to help a woman inmate with whom he had a personal relationship to veteran officers being harassed or forced to resign. Rawls noted that at one point, the sheriff's office faced 19 outstanding lawsuits, "more than the last four sheriffs combined."
Referring to a March media report of Watson insinuating Rawls had been involved in a murder in Florida years ago, Rawls said Watson "has tried to make this into some kind of personal animosity, and that's just not true."
"That only benefits the sheriff in saying that; it takes the focus off what's been going on under his leadership and tries to refocus on me," Rawls said.
The charges against Watson don't affect his immediate continuation in office, but Rawls said state law allows for "an ouster action" if a public official is charged with a felony.
Bradley County Commission Chairman Louie Alford said commission members will be in a wait-and-see mode for the coming days as the case proceeds.
"[Watson] has not been found guilty of anything yet," Alford said.
Commissioner Thomas Crye, who also has raised questions about Watson's operation of the sheriff's office, echoed Rawls' statement that many of the allegations remain unaddressed.
"The citizens of Bradley County deserve to know if there is any substance to these allegations or they are fabrication," Crye said. "For the sake of transparency, this needs to be addressed and decided on one way or the other. The sheriff needs to be cleared or he needs to be held responsible if they're accurate."
Commissioner Jeff Yarber, chairman of the Law Enforcement Committee, offered support to sheriff's office employees who must keep doing their jobs amid leadership turmoil.
"My job as chairman is to make sure patrol and corrections officers are taken care of, and I'll be there for them," he said.
As for Watson, Yarber said, "I never kick a person when they're down."
"I hope the best for Sheriff Watson and for Bradley County. I think the next few weeks will tell a lot. If there's any substance, Sheriff Watson will do the right thing, and if there isn't any substance, he'll be vindicated."
WATSON'S AUTO SALES
The 2016 Times Free Press investigation found Watson had bought at least 18 vehicles in his own name in Washington, D.C., and Miami, Fla., and brought them back to Bradley County to sell on the side of the road.
Five of the six vehicles listed in the charging documents were vehicles the Times Free Press tracked to an August 2016 auction on GovDeals.com by Miami-Dade County, Fla.
According to state records, 11 of Watson's vehicles had been registered in Tennessee as of Nov. 30, 2016: four in Bradley County and others in Polk, Hamilton, Monroe, Blount and Shelby counties.
State law allows people to sell up to five vehicles a year without a dealer's license. Watson did not have such a license, though he was licensed as a salesman at Best Buy Auto & Leasing on King Street in Cleveland.
Private individuals must register and pay sales tax on vehicles they buy or bring in to Tennessee, but registration information is not public. The Times Free Press could not determine whether Watson registered his cars in Bradley County and paid the sales tax before selling them.
The newspaper report prompted an investigation by the Tennessee Motor Vehicle Commission, which issued a warning against Watson for unlicensed sales and referred the case to the state Department of Revenue.
A Department of Revenue investigator testified to the grand jury on Wednesday.
Since judges in the 10th Judicial District recused themselves, Special Judge Don Ash, of Rutherford County, will handle the case.
Logan said Friday no court date has been set.
Contact staff writer Judy Walton at jwalton@timesfreepress.com or 423-757-6416.
Times Free Press stories on Sheriff Eric Watson
March 20, 2016 Critics say Bradley sheriff's wife shouldn't be bail bondsman April 5, 2016 New questions raised in Bradley County surveillance van sale April 9, 2016 Records contradict Bradley County sheriff's story May 8, 2016 Atheist group sues Bradley sheriff over Facebook use May 30, 2106 Bradley County Sheriff Eric Watson may have violated state laws on political events June 23, 2016 District attorney asks for investigation to review claims against Bradley County sheriff June 29, 2016 Special prosecutor Jimmy Dunn to lead investigation into Bradley County sheriff Oct. 17, 2016 Bradley County jail given more time to fix ongoing health and sanitation issues Dec. 4, 2016 Bradley County sheriff's used-car sales appear to exceed legal limit Dec. 12, 2016 Tennessee's Motor Vehicle Commission opens complaint into Bradley County sheriff Jan. 5, 2017 Eric Watson responds to complaint, denies 'curbstoning' allegations April 23, 2017 Jail refusals set to end after parade of problems April 25, 2017 State commission requests probe into Bradley County sheriff's used-car sales June 4, 2017 Maintenance director resigns, says Bradley County Jail will fail inspection