Photo Gallery
Chattanooga FC beginning to look at rise to pro level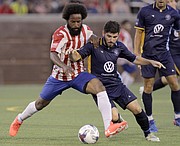 Chattanooga Football Club's time as an amateur soccer power could be ending soon.
Its time as a professional team could be ready to begin.
The club has begun serious exploration of a potential move to a higher division, and though there is no clear-cut time frame for a decision, it could be sooner than later.
CFC's season concluded Wednesday with a 9-0 win over Asheville City Soccer Club in the inaugural Blue Ridge Derby game. It ended the year with an 8-4-4 record, but after three consecutive seasons of deep advancements in the National Premier Soccer League playoffs, the 2017 postseason was cut short with a 2-1 loss to Inter Nashville FC on July 11.
CFC has four national runner-up finishes and what is considered one of the best fan bases in the country for its level of the sport, but the team has fallen just short of that elusive championship.
The decision-makers in and around the club believe it could be time to move up in the U.S. soccer league system, though. CFC had 12 home matches this season, down from 17 last season and 14 in 2015. The lower number was in part due to the reduced postseason success - 10 of the team's matches the past two seasons came in the playoffs - but management has started looking for a more consistent scheduling situation.
That could equal a move to a Division III - the equivalent of Class AA baseball - or even a Division II league.
Board member Tim Kelly mentioned the United Soccer League or the newly formed National Independent Soccer Association as options. Both are D-II leagues.
"We've had conversations with a lot of different people on more than one level," Kelly said. "We're extremely fortunate that, thanks to Chattanooga and the fans here, we're a bit of a mecca. We have no shortage of suitors or options, but we want to do what's right for the team, the fans and the city. We don't want to do something that's going to make a ticket too expensive - which many of the options have been - and we don't want to do something that's financially unsustainable and that's going to put the team in peril.
"We don't want to do something that's going to endanger the culture or the essence of what this club is. We're looking at options now that could work and meet those requirements, but we're not in a hurry because we've got a sustainable model that works and we know it works, so we're just taking our time, carefully considering our options, and we'll move when it feels like it a perfect fit."
The positive is there doesn't have to be any movement at all. CFC could stay where it is and improve on a season not quite up to its usual standards.
At its best, CFC was one of the most explosive teams in the NPSL this season, but at its worst, it struggled to finish in big moments. That inconsistency aided in the early postseason exit - CFC held Nashville to two shots on goal in the playoff match but gave up goals in both cases. CFC missed the leadership of goalkeeper Greg Hartley, who after five seasons with the club is now playing professionally in England.
As an amateur club in a smaller market, the club must rely on contacts made by head coach Bill Elliott, who also coaches at the University of West Florida, to bring in prospective players. Amateur teams in larger markets, such as Atlanta, New Orleans and Nashville, can essentially fill their rosters from their cities.
"Every year we have to constantly look to fill gaps," CFC general manager Sean McDaniel said. "Some men will graduate college, start their lives and move on, and there are others that we missed on, but we just don't know year to year who we're going to have.
"We've just got used to hosting deep playoff runs, and sometimes it doesn't happen."
The potential move up could bring negative issues as well. For pro teams, seasons begin in March and go into the late months of the year, which could lead to problems scheduling around the University of Tennessee at Chattanooga's home football games and women's soccer matches at Finley Stadium.
There's also the issue of payroll. U.S. Soccer has requirements for the size of a club's front office, as well as players being paid, which in some instances could lead to higher ticket prices.
The upside is the possibility of playing 15 to 20 home matches a year without having to rely on possible home Open Cup matches, Hank Steinbrecher Cup matches, international friendlies or postseason matches - none of which are guaranteed. McDaniel said it also would give the club an opportunity to space out the matches, instead of scheduling several in a short span, which could be a safety risk for the players.
"It's not a no-brainer," Kelly said. "There are some issues, and it would be a financially riskier proposition, but on the other hand we'd be a legitimate professional team, whereas right now we're a glorified adult-league team. Now, we put on a great show and it's a sustainable model in Chattanooga, so that's the tipping point for us.
"Do we keep doing this, and doing it better than anybody in the country? Or do we take that jump?"
That remains to be seen.
Contact Gene Henley at ghenley@timesfreepress.com. Follow him on Twitter @genehenleytfp.