Photo Gallery
Wacker ramps up work on new $150 million plant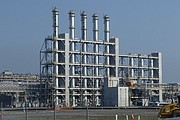 CHARLESTON, Tenn. - A year after the opening of Wacker's sprawling $2.5 billion polysilicon plant, the company on Friday began work on a $150 million facility here.
The chemical company will build a new plant to turn a byproduct of its polysilicon production into pyrogenic silica, an agent used in a wide range of products from toothpaste to cosmetics to paint.
The new construction will raise two buildings next to the existing plant and lead to the hiring of about 50 chemical operators and 10 maintenance and engineering employees, officials said.
Auguste Willems, a member of the German company's executive board, said the production of pyrogenic silica, or what Wacker calls HDK, is "a perfect addition" to its operations.
"It's a unique material. You get unique properties," he said, noting HDK is a lightweight, fluffy, white powder that looks unspectacular but is used in a wide variety of products in the market.
Billy Gram, the HDK plant manager, said production is expected to start in the first part of 2019.
About a third of the new product will go to a Wacker facility in Michigan where it's used in a production process while the rest will be sold within the U.S., he said.
The new employees will join the 650 people who already work at Wacker's Charleston plant, where polysilicon is produced for use in solar power panels. Wacker's $2.5 billion sum spent to build its polysilicon plant was the biggest single private manufacturing investment ever in Tennessee.
Mary Beth Hudson, a Wacker vice president and Charleston's site manager, said the new jobs are expected to pay from about $50,000 to $70,000 annually.
She said the hiring of key positions for the HDK plant has already begun.
Robert Rolfe, Tennessee commissioner of economic and community development, termed the new plant "an incredible investment," with family-wage jobs.
He said the state provided a "small" amount of training incentives to the HDK project, noting that much more was provided on the original project.
A report by the Beacon Center of Tennessee has estimated Wacker is receiving more than $200 million in local, state and federal tax breaks and assistance.
Gary Farlow, who heads the Cleveland/Bradley County Chamber of Commerce, said he expects to see even more investment from Wacker at the 550-acre tract based on the company's track record elsewhere.
"They've got a lot of land they haven't used up," he said. "Usually, they're finishing one project and starting up another."
Cleveland Mayor Tom Rowland said Wacker is helping drive positive jobs numbers in the area. He said he's looking forward to the opening of a new industrial park off Interstate-75 to help push the figures higher.
The new factory will have an annual capacity of 13,000 metric tons. Wacker said reprocessing of tetrachlorosilane avoids the need to dispose of waste products and enhances production efficiency.
Contact Mike Pare at mpare@timesfreepress.com or 423-757-6318.