Photo Gallery
Bryan Johnson chosen to lead Hamilton County Schools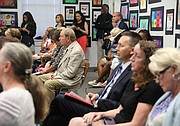 In a 5-4 vote, the Hamilton County school board chose Tennessee educator Bryan Johnson as the next superintendent.
For the last 15 months, the board has been divided on whether an outsider or Interim Superintendent Kirk Kelly should be named to the permanent post - and in a tense vote Thursday night, the board ultimately decided it wants change.
School board members Steve Highlander, Tiffanie Robinson, Joe Wingate, Joe Smith and Rhonda Thurman cast votes for Johnson. Kelly, a 35-year veteran of the district, received four votes from board members Joe Galloway, David Testerman, Karitsa Mosley Jones and Kathy Lennon.
After the vote, Johnson said he and his family are elated to join the Hamilton County community.
"I am honored to come into Hamilton County Schools and am proud to work with the teachers and leaders who are working to move the district forward," Johnson said in a statement. "I definitely want to recognize the community and the work that they are doing to improve student achievement."
Johnson and Kelly were not at the meeting Thursday night, but educators and community members packed the board room during the vote.
Since 2008, Johnson has worked in Clarksville-Montgomery County Schools, a large Tennessee district north of Nashville. He started his career teaching and coaching in the school system and was promoted through the ranks and named chief academic officer in 2015.
Read more about Hamilton County superintendent interviews
He enters Hamilton County Schools at a time when the school system faces numerous challenges. The district faces multiple federal lawsuits, the state intervening in some of its lowest-performing schools, a municipality looking at breaking away from the county system, and a county commission that has historically not been willing to increase school funding.
But board members and members of the community are hopeful Johnson will help turn things around.
Robinson said one of the reasons she supported Johnson is because of the work he's been a part of improving Clarksville-Montgomery County Schools.
"He has shown energy, strategy and a desire to truly be a part of our community," Robinson said. "Those skills will make him a strong superintendent."
Smith said Johnson's already put together a plan for how he'll spend his first 100 days in the district, and she is ready to see him act upon it.
"My hope is that the board, the county commission, principals, teachers and everyone in Hamilton County will get behind Dr. Johnson, and, together, let's make our schools the best in the state," he said.
Before the vote, Thurman told the board that she thinks Johnson will be a good fit leading the school system because "he was very realistic" and "has a lot of experience and a lot of success in different areas."
But Lennon and Galloway said they received many calls and emails in favor of Kelly, and that an overwhelming number of educators across the district told them they wanted him to be the permanent superintendent.
Galloway said educators repeated to him that Kelly has created a positive momentum and they wanted it to continue.
"Everyone's wanted change, but change has already come," he said.
Fifteen months ago, former Superintendent Rick Smith resigned as superintendent after weathering several tumultuous months following the rape of an Ooltewah High School freshman by his basketball teammates and a state report detailing the lack of progress being made in the district's lowest-performing schools.
Before Thursday night, the school board had not picked a superintendent from more than one finalist since 1997, when it voted to hire Jesse Register, the first superintendent to lead the merged city-county school system.
Johnson will be the fourth permanent superintendent to lead the merged district.
The search process faced several major distractions, delays and missteps, and numerous candidates pulled their names from consideration.
But overall, Robinson applauded the board Thursday night for the process and the strong list of five finalists it produced.
"In the middle of it everything seemed complicated and a little messy, but at the end, looking back, I think we did a good job," she said.
Right before the vote Thursday night, Arthur Wayne Johnson, a Georgia businessman and the unconventional candidate, pulled his name from the search.
Highlander said Wayne Johnson told him in a phone calls that he was removing himself from consideration for personal reasons and the needs of the school district, not because of anything the board had done.
In a statement, Wayne Johnson commended Bryan Johnson for securing the job.
"He inherits a group of dedicated educators, community partners and elected officials seeking leadership and direction," he said. "I believe Bryan will do an excellent job."
Thurman and Smith both said during the meeting that Wayne Johnson was their top-pick for the job, but they also expressed confidence in Bryan Johnson.
Timothy Gadson III and Stuart Greenberg were also finalists for the post, but didn't receive any votes Thursday night.
Now that the board has chosen Bryan Johnson, it will begin negotiating a contract with him through its attorney.
Contact staff writer Kendi A. Rainwater at krainwater@timesfreepress.com or 423-757-6592. Follow her on Twitter @kendi_and.