Photo Gallery
CGLA receives national award, celebrates student success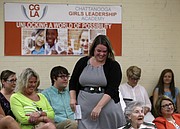 The success of Chattanooga Girls Leadership Academy was celebrated during a ceremony at the school Tuesday, as the public charter received the national School Innovation and Change Award.
CGLA was one of four schools across the nation to receive the award, which is annually given by the National Principals Leadership Institute and celebrates schools that were previously designated as failing but made extraordinary improvements.
Sue Anne Wells, founder of CGLA, said that when the school first opened its doors in 2009, it was a rocky and tumultuous few years, but everything started to change when Elaine Swafford was named executive director about five years ago.
"We were looking at closure, but then the incredible, magnificent and determined Dr. Elaine Swafford arrived on our campus and she turned this place upside down, inside out," Wells said. "She turned it around so that now we are not only surviving, but we are thriving."

Jill Berkowicz, associate of the National Principals Leadership Institute, presented the award Tuesday before a crowd of about 50. She said the impressive gains the school has made on standardized test scores are just a small piece of its much broader success, highlighting partnerships with the community and the way the school provides students with the support they need to be successful.
Not much happens without a strong leader, Berkowicz added, applauding Swafford and the team she has put in place at the school.
"You need to get the right people on the bus and in the right seat," Berkowicz said, noting how that's happened at CGLA and is helping fuel the success.
The award includes a $10,000 prize and allows CGLA Principal Maryo Beck to attend a weeklong principal development program in New York this summer.
Swafford said the school's success would not be possible without her faculty, staff and the hard work of its students. She added that the community plays a large role supporting CGLA, as more than 25 percent of the public charter school's budget comes through fundraising.
When evaluating success, Swafford said, she looks beyond standardized test scores and whether her students - many of whom arrive grade levels behind and live in poverty - are posting academic growth.
"I ask, 'How are we growing students?' and 'Are we getting kids ready for college?'" she said. "And the answer is 'Yes, we are.'"
Swafford added that when the school opened, the average ACT score was 13.7, and it's now jumped to 18.2.
"We are just a good school now," Swafford told those gathered. "But we want to be great now the game really starts."
Avery Love, a rising eighth grader at CGLA, shared about her experience at the school.
"The opportunities and academics they have here are just great," Love said, adding that college prep work starts in sixth grade.
She said the school's teachers push and care for students, and students are provided with mentors and a range of volunteer opportunities.
"CGLA is a great place to be," Love said. "It's a place where we're all in another home."
Contact staff writer Kendi A. Rainwater at krainwater@timesfreepress.com or 423-757-6592. Follow her on Twitter @kendi_and.