It has been three years since Fred Fletcher was sworn in as Chattanooga's police chief, but in 11 short days he will take off his uniform and badge for the last time.
Fletcher came with a promise to "shake the snow globe" at the Chattanooga Police Department and began in earnest with a set of policy changes to revamp its model of policing. He did so by working to build community partnerships, incorporate new technologies and use focused deterrence to target the sliver of the population driving violent crime.
"This community asked me to do a few specific things," he said Monday. "They asked me to embrace the community, build relationships and roll out community policing. They asked me to improve the inner operations of the police department and improve morale. And they asked me to use technology aggressively and progressively."
Now, looking back on his tenure as police chief, he says he's proud of both the department and the community for their willingness to begin and support a long process of change to address issues such as violent crime and the opioid epidemic.
Photo Gallery
Fletcher resigns as Chattanooga police chief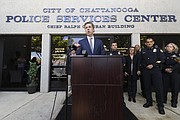 "A lot of people talk about how organizations don't like change. I don't know if that's true or not, we say it a lot, but I can tell you that we have done more in three years than my wildest hopes," he said.
In those three years, the city has experienced dozens of homicides, a domestic terrorist attack that left five military members dead and two horrific crashes - an Interstate 75 wreck that killed six people in 2015 and the crash of a school bus that killed six Woodmore Elementary School students in 2016.
He said there have been missteps along the way and he isn't immune to mistakes, but he's proud of the way his men and women have served.
"As a department, certainly there are things that we could have done differently and better. If I knew what they were I would have done them differently and better," he said. "We have treated people inside and outside the department well. We have treated them the way we would want our family members treated.
"One thing that we have always stood for at this police department, since I've been here, is doing the right thing for the right reason at the right time in the right way. Period. Whether anybody's looking or not."
Among the department's top priorities during Fletcher's tenure has been the perennial issue of gang violence in Chattanooga. He was appointed, in part, to implement the Violence Reduction Initiative, one of Mayor Andy Berke's signature initiatives, to combat the epidemic.
In theory, it relies on focused deterrence through cooperation by police, prosecutors and social service groups to crack down on violent offenders while assisting those who want out of that lifestyle through education and job training.
Chattanooga has pumped more than $1 million into the initiative, but it has had, at best, mixed results.
Shootings involving gang members have not decreased since the program was launched in March 2014. Instead, they rose from 63 to 80 in 2015 and remained at 80 in 2016, according to police.
But Fletcher said Monday that shootings have dropped appreciably this year from where they were in 2016, one of the most violent years for Chattanooga in recent memory. Criminal shootings in 2017 so far are 25 percent below where they were last year, and gang-motivated shootings are down by almost half, according to numbers provided by police.
Fletcher also said they're taking more guns off the streets than ever before. Police have seized more than 600 annually since 2012, growing that number by several dozen every year.
"We seized 996 firearms illegally possessed or used in 2016," he said.
When asked whether he thought it would be possible to bring an end to the violence in Chattanooga, he said he was uncertain, but repeated that the men and women in the department work constantly to do so.
"I don't know if it's possible or not. I know the men and women of the CPD are going to continue to risk themselves and all of their futures to put themselves between gun violence and this community," he said.
"They do it every day, they do it every night and they do it at great risk to themselves. I have had officers assaulted with firearms many, many times since I've been here, and they go out and do it again and again and again, and they do it for $15 an hour."
Asked to comment on Fletcher's departure, Berke applauded Fletcher's work in Chattanooga.
"From day one, Fred Fletcher demonstrated his dedication to Chattanooga as both an engaged member of our community and leader of the men and women in blue," he wrote in an email. "He expertly led our officers through more than one crisis and grieved alongside Chattanooga families.
"Fred not only developed leaders but led by example through building relationships in neighborhoods - a foundation of community policing. His relentless focus on keeping people safe and improving the lives of Chattanoogans will be missed, and I am forever thankful for his tireless service to CPD and our community."
Hamilton County District Attorney General Neal Pinkston also had warm words for Fletcher despite earlier criticisms of the police department that it was not building strong enough cases for him to prosecute as part of the VRI.
"Over the last three years, I've come to respect Chief Fletcher and truly appreciate all he's done to make Chattanooga safer for us all," he wrote in a statement.
"He brought really great ideas and an endless amount of energy to the city's top law enforcement job, and it will be a challenge to find someone as talented and dedicated as Fred Fletcher."
In fact, with less than two weeks to go until a new chief is needed, a five-person search committee organized by Berke to find a replacement is now reviewing 49 applications received from candidates. They will recommend no more than three finalists to Berke, whose choice must be ratified by the Chattanooga City Council.
The list includes David Roddy, the police department's chief of staff; Danna Vaughn, assistant chief of the special operations bureau; and Edwin McPherson, assistant chief of the criminal investigations bureau.
But that is a decision Fletcher won't be making. He said he hasn't accepted a new job, but he has received several offers and, in the meantime, he will be spending more time with his family out west, where they own a home in Colorado.
"I will always identify with this uniform," he said. "The people that I've had the privilege to serve here are the bravest, most selfless, most creative people I could ever hope to work with."
"It has been one of the true privileges and joys of a long set of careers to be able to serve the men and women of the CPD."
Contact staff writer Emmett Gienapp at egienapp@timesfreepress.com or 423-757-6731. Follow him on Twitter @emmettgienapp.
Fletcher timeline
April 2014: Fred Fletcher is chosen from 77 candidates at $142,500 a year. May 13, 2014: He is confirmed in a city council vote. June 12, 2014: Fletcher is sworn in. June 25, 2014: He starts working full time, with a three-year contract and optional three-year renewal. June 28, 2014: Three homicides took place on the first three days of Fletcher's tenure, along with six nonfatal shootings that week. At that point, shootings were at the same rate as in 2013. July 2014: Fletcher names 20-year department veteran David Roddy, along with Capt. Danna Vaughn, Capt. Tracy Arnold and Capt. Eric Tucker as assistant chiefs. August 2014: First "hot spot patrol" deployed in East Lake to get officers out of cars and onto bikes, making personal contacts in high-crime neighborhoods. Fletcher sets up partnerships with 70 community members, such as pastors and civic leaders, to combat "snitches get stitches" ethos, and starts sending officers and going himself to community events like picnics at the Chattanooga Housing Authority. He begins reaching out to an alienated Hispanic community to build trust and support. November 2014: Seven months into the Violence Reduction Initiative, homicides are higher than for the same period in 2013, but police say gang-related shootings have fallen, 90 people have been arrested and 61 have found jobs through VRI. December 2014: First group of police cadets completes "Community Immersion Project" training that embeds them in black, LGBT or Hispanic culture they otherwise wouldn't know. Fletcher says police need to understand the communities they serve. December 2014: Longtime Chattanooga Lt. Todd Royval, Fletcher's "point man" on the VRI, asks to step down as head of the Crime Suppression Unit. December 2014: Police say shootings fell from 123 in 2013 to 111 in 2014, but figures showed homicides were up from 19 to 27. The New Year of 2015 came in with three shootings and two deaths. March 2015: Fletcher honored as Public Official of the Year by Southeast Tennessee Branch of the National Social Workers Association. March 2015: City renews VRI contract for $200,000 through end of the year. Fletcher says the program has helped police audit violence in the city and developed a tracking mechanism to follow gang violence. April 2015: Committee appointed by Fletcher proposes revised promotions process to lessen the "good ol' boy" network's influence on promotions. June 2015: At first anniversary on job, public officials and police credit Fletcher for "getting things done" in new community initiatives plus internal reforms including crackdowns on police misconduct, along with implementing new crime analysis and special victims' units. July 16, 2105: Chattanooga officers first on scene of Muhammad Abdulazeez's terror attack at Chattanooga Navy/Marine Reserve center; one officer wounded and police officers shoot and kill Abdulazeez. September 2015: Homicide count (what Fletcher calls "apples- to-apples murders" and not counting July terror attack that took five lives) is at 12, compared to 21 for same period in 2014. Gang-related shootings were at 53 for the year to date, compared with 52 in prior year. September 2015: The police department gets a $600,000 grant to hire social workers who will go on police calls to support crime victims. September 2015: The City Council votes to renew the VRI contract. Fletcher said overall crime is down by 19 percent over the prior year, and that in program's first 18 months, police hosted seven "call-ins" attended by 134 gang members; conducted eight "enforcement actions" and arrested 213. October 2015: Eleven of the 12 members of the Street Crimes Response Team, formerly the Crime Suppression Unit, ask for transfers within a 10-day span. Some cite a toxic environment between the team and Fletcher's administration, while others saw it as a protest against the switch from crime suppression to community policing. February 2016: Fletcher defends the VRI when Chattanooga Councilman Yusuf Hakeem declares it a failure after gang-related shootings and homicides fail to decline over three years of the program. March 2016: Feud among VRI coalition becomes public, with District Attorney Neal Pinkston blaming the city for underperformance and Fletcher and Berke saying Pinkston has taken himself out of the initiative. Pinkston later announces he'll form a separate anti-gang initiative. May 2016: Fletcher shelters Berke adviser Lacie Stone after she and her husband, Bobby Stone, fight over his belief she's having an affair with Berke. Fletcher asks the TBI to investigate. Domestic violence charges against Bobby Stone later were dropped. Allegations of an affair and criticism of the VRI are issues in mayor's race, though Berke is re-elected. January 2017: Figures show 32 homicides in 2016, up from 30 in 2015 and 27 in 2014. Shootings rose from 114 in 2014 to 119 in 2015 and 132 in 2016. However, Fletcher said the number of gang-related shootings fell from 67 percent of all shootings in 2015 to 58 percent in 2016. April 7, 2017: Fletcher announces his plans to retire at the end of his contract. Source: Times Free Press archives