Photo Gallery
Tornado trackers come to Mountain Cove Farms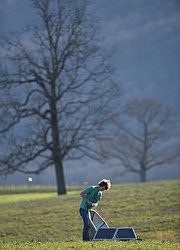 KENSINGTON, Ga. - If a tornado sweeps through, but no one's there to see it, did it happen?
Well, yeah. Because it's a tornado. It rips grass from the earth and bowls over buildings, attracting TV reporters who point at the devastation on camera the morning after.
Still, it would be nice to spot every tornado - when it touches down, where it's going - in real time. On Thursday afternoon, a couple of researchers from the University of Mississippi showed up to Mountain Cove Farms, hoping to further that goal.
Hank Buchanan and Eric Freimark, with the National Center for Physical Acoustics, brought with them microphones, GPS markers and miniature metal pyramids - equipment they said will help track any tornadoes that touch down in the cove.
"This