Photo Gallery
Tornado trackers come to Mountain Cove Farms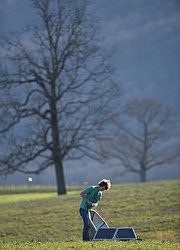 KENSINGTON, Ga. - If a tornado sweeps through, but no one's there to see it, did it happen?
Well, yeah. Because it's a tornado. It rips grass from the earth and bowls over buildings, attracting TV reporters who point at the devastation on camera the morning after.
Still, it would be nice to spot every tornado - when it touches down, where it's going - in real time. On Thursday afternoon, a couple of researchers from the University of Mississippi showed up to Mountain Cove Farms, hoping to further that goal.
Hank Buchanan and Eric Freimark, with the National Center for Physical Acoustics, brought with them microphones, GPS markers and miniature metal pyramids - equipment they said will help track any tornadoes that touch down in the cove.
"This technology will develop the means where we can say a tornado has formed [as it happens]," Freimark said.
Here's how the process works: Tornadoes emit low-frequency sounds, sounds too low for your ears to recognize. But the team's special microphones can pick them up. The technology is strong enough, in fact, that it can recognize frequencies at a level that is about 200 times lower than the lowest frequencies audible to our ears.
The microphone looks like a small gray box. Inside the microphone sit four brass discs. They are called piezoelectric transducers. They have the ability to transmit sound waves into electric signals. The researchers, meanwhile, can pick up those electric signals.
The microphones are surrounded by eight-sided metal "domes," which are supposed to cut down on much of the wind noise. The wind is a challenge, the researchers explained, because it adds more noise. But the domes, made out of sheet metal, have holes poked all over them, like mesh, allowing some of the sound to slide into the microphone. Enough to get a good read on a tornado, dozens of miles away.
On Tuesday afternoon, Buchanan and Freimark placed seven microphones out on a field at Mountain Cove Farms. They will keep them there until May. If a tornado touches down between now and then, researchers will come here and analyze the data recorded by the microphones.
The seven microphones are placed in different spots, attached to black spheres that have GPS. If used together as one system, a researcher should be able to look at them and see the direction the tornado is heading, based on how the energy levels are changing within the formation.
It's a test to see how good the microphones are at picking up information about a tornado as it forms. If they work well enough, counties all over the nation could purchase the microphones, and meteorologists could access the information streaming from the microphones to tell residents where a tornado is heading.
But for now, the researchers are just trying to make sure the microphones work properly. Freimark said more than 20 universities and some government agencies are participating in the studies. They're putting the microphones in spots across the country. Buchanan and Freimark are focusing on the tri-state area.
Buchanan said researchers chose Mountain Cove Farms because they consider it a "hot spot" for tornadoes.
"It looks promising," Freimark said of his microphones. "But we still have to do more research."
Contact staff writer Tyler Jett at 423-757-6476 or tjett@timesfreepress.com. Follow him on Twitter @LetsJett.