Photo Gallery
Frothy Monkey more than a coffee shop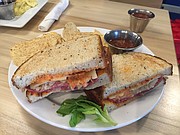 Whatever your hankering, from an early-morning latte to a late-night snack, Frothy Monkey has got you covered. The beloved Nashville coffeehouse opened the doors last month to its impressive new location in the revitalized Chattanooga Choo Choo complex - its first location outside of its hometown.
At its core, Frothy Monkey is a coffee shop, serving an assortment of bakery items and coffee drinks crafted with beans from its Nashville roasting company. But the menu tells a bigger foodie story.
You can order full breakfasts with choices such as pancakes, omelets, bagel sandwiches and biscuits and gravy until 5 p.m. ($5.50-$9). Creative sandwiches and salads are available all day ($6.50-$13). At 5 p.m., the dinner menu kicks in, with appetizers and a sophisticated selection that includes such meals as Trout á la Heather (corn-crusted trout with a quinoa, kale and bell-pepper stir-fry for $14) and a blackened chicken breast with cheddar grits and creamed collard greens for $13. At 9 p.m., the kitchen scales back to a late-night menu, with a couple of sandwiches, snacks and desserts ($4-$13).
If you go
› What: Frothy Monkey› Where: 1400 Market St. at the Chattanooga Choo Choo.› Hours: 6:30 a.m. to 9 p.m. Sunday-Wednesday, 6:30 a.m. to midnight Thursday-Saturday› Prices: $4 cup of soup to $16 dinner entree› Online: Frothymonkey.com› Contact: 423-680-6343.› Alcohol: Yes.

Drink offerings run the gamut, and a full bar means you can imbibe whenever and however you like. Kahlua in that coffee, anyone? There's a rotating list of interesting seasonal drinks, like the Lemon on a Prayer, with espresso, steamed milk, lavender, mint honey, simple syrup and lemon zest. Signature drinks include the Monkey Mocha, with espresso, steamed milk, house-made chocolate and Frothy Monkey banana syrup.
With so much to choose from, I thought it best to take the whole family for lunch to sample as much as possible.
THE ORDER
The kids both jumped at the chance for pancakes for lunch. The 6-year-old ordered the Monkey Dollars ($6), a kids plate that includes three sand dollar-size cakes, a scrambled farm egg and fresh fruit with house-made syrup. The 9-year-old ordered two large pancakes off the regular menu with a choice of two sides ($8.50). He opted for double bacon so he could share with his brother.
The pancakes are whole grain, which is a plus in my book. My kids definitely liked them, but didn't devour them like they normally do. That's the picky eaters in them. The grown-ups, however, thought they were delicious. They're denser than traditional pancakes, so they didn't fall apart once doused in syrup, but they were still fluffy with buttery, crispy edges. The kids meal was huge and, in retrospect, would have been plenty of food for my older son.
All of the sandwiches offered something creative, from the basil mayo on the turkey sandwich to the dill dijon sauce on the roast beef, so my husband had a hard time deciding. He settled on the Buck ($9.50), a Reuben-inspired sandwich with corned beef, Swiss cheese, sauerkraut, sun-dried tomatoes and a zippy Buck sauce served warm on toasted rye bread. Man, was this thing fantastic. At first glance, I thought it looked a little wimpy on the corned beef, but I realized after one bite that there was just enough of every ingredient to be able to taste all those distinct flavors at once. It's a terrific sandwich.
I went more upscale for a lunch pick and tried the Crab Cake Sandwich ($13). The huge cake was thick and fresh, nestled on a schmear of spicy Cajun remoulade and topped with a delicious bacon marmalade made with caramelized onions. The mix of heat and sweet was perfect, but still allowed the crab to shine. It was served with wedges of red potatoes roasted with herbs. I'd happily order it again.
THE SPACE
Frothy Monkey is the poster child for open-concept, and the first thought that crossed my mind when I walked in was "Wow, this place is beautiful."
Light streams in from three enormous arched windows leftover from the building's train-station days, brightening the enormous room. A large bar stands in the center, where diners place their orders and drinks, from coffee to cocktails, are prepared and delivered. A bakery case at the counter tempts you with a lovely spread of giant cookies, muffins, pastries and other sweet and savory treats. (The snickerdoodles and the delicious Berry Crumble Bars got two thumbs up from my crew.)
Stools line the sides of this centerpiece, offering a more traditional bar feel in the evening hours. The kitchen is near the back but open. You can watch chefs preparing food and staff placing finishing touches on plates before they're delivered to tables or to the cash register for to-go orders.
The soaring ceiling is exposed wooden and steel beams, and brass and frosted-glass chandeliers hang down what must be more than 12 feet to cozy up the space over the tables. It's so tall that there's room for a mezzanine with second-floor dining above one side of the room. Weathered, exposed brick lines the wall with an entry into the Choo Choo lobby.
The seating choices are eclectic with an area of traditional tables with chairs and benches on one side, high-top tables with stools and tall, minimalist, metal-and-wood booths on the other. The back has several farmhouse tables that can seat 10 to 12 together or be used by smaller groups for communal dining.
Little tables behind them were filled with people camped out with their laptops working, in true coffee-shop style. The ceiling in this section is lower, as is the upper level's, likely offering the best spots if you need to escape the din of the main dining area at lunchtime.
The outside patio is also lovely, offering some shade and numerous tables with umbrellas that overlook the front lawn of the Choo Choo. I could see myself relaxing here on a weeknight with a beer and some friends.
THE SERVICE
Orders are placed at the counter, and folks dining in take a letter placard to their table to wait for their food to be brought out. Someone checked on us once after we began eating to see if we needed anything else, but other than that, staff interaction once you've seated yourself is minimal.
When we arrived, we snagged a table and sat down to peruse the menu and decide our order. In retrospect, it would have saved time to ogle the offerings while waiting in line. There were 13 people ahead of me, but the two people at the registers did a decent job of shuffling us through. It took less than 10 minutes to place my order. After sitting, it was almost 20 more minutes to get our food. I think that's the only downside to the coffee shop/restaurant hybrid situation they've got going here. Counter ordering deceives you into expecting your food to come out quicker. And for me, while totally acceptable for a weekend brunch, 30 minutes is too long to wait for food on a lunch hour.
Aside from the wait, the only other issue I had with our meal out was the parking. Market and Main is a bustling area, so if you can't walk or take the shuttle, cross your fingers that you'll luck into an open meter on the street. Come prepared, though, to pay for parking in the CARTA garage on the north side of the Choo Choo or at one of the other lots on Market or behind the Flying Squirrel.
THE VERDICT
Any place that adds an option for great brunch in this town is an automatic winner in my book. But Frothy Monkey steps it up further, a chameleon in the dining scene, offering something for literally everything you could want in the course of a day's meals. Any time is a good time to check it out.
Contact Sara Jackson at saraj@timesfreepress.com or 423-757-6594.