Photo Gallery
Woodmore families march against bus company contract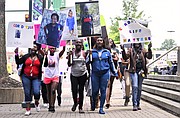 They taped rulers to cardboard posters, cut out colorful letters, and displayed the names of the dead.
"Zyaira's life matters," read one.
"The system failed our kids," read another.
"Never forget Woodmore bus 366," demanded a third.
"You better hold it tight," one woman said Thursday to Jasmine Mateen, whose daughter, Zyaira, 6, died in the Nov. 21 bus crash on Talley Road in Brainerd. The crash killed six children and injured dozens more. "Because when that wind starts blowing, you're going to lose that poster."
But for family and friends who lost a loved one on bus 366, the wind has been blowing - ever since Johnthony Walker wrapped his bus around a tree with 37 children on board, since the churches and lawyers and foundations came calling, and since last month, when the Hamilton County Board of Education voted unanimously to renew a two-year contract with Durham School Services, the Illinois-based corporation that has provided most of the area's school transportation for nearly a decade. The vote came after the board made a request for proposals from companies seeking the contract, and Durham was the only one to respond.
"How do y'all expect us, especially the parents of the deceased, to trust y'all?" Mateen, 26, asked of the school board. "[The board] said they had one bid. I talked to three other contractors who didn't bid but were willing."
Mateen was among the 40 or so community members who marched Thursday around the Hamilton County courthouse to convey their feeling that Durham School Services must go.
"I'm here to show solidarity with Woodmore and bus 366," said Cameron Williams, 31, an activist with Build Me A World, an urban mentoring program in Chattanooga. "We want to bring attention to the people directly responsible for what happened - Hamilton County, for cutting corners and cutting costs on the bus system and showing disinterest for the schools in the black community, most specifically."
Mateen said she reported to the board and to Woodmore - a school that serves predominantly poor and minority students - her concerns about the 24-year-old bus driver.
But nothing changed.
How do y'all expect us, especially the parents of the deceased, to trust y'all?
Walker continued to drive on Talley Road, where police said he was speeding when he lost control, overcorrected and crashed into a tree and a telephone pole on Nov. 21. He now faces charges in Hamilton County Criminal Court of vehicular homicide, reckless aggravated assault, reckless endangerment, reckless driving and use of a portable electronic device by a school bus driver.
Like some of the marchers Thursday, Mateen said independent contract drivers could provide more safety and accountability for children who have to ride the bus. Because they own the buses, contract drivers are responsible for any mechanical issues and have an economic interest in preserving their livelihood. Before the city and county education systems merged in the early 2000s, they picked up mostly children in rural areas and continue to do so today.
Amy Katcher, spokeswoman for the Hamilton County Department of Education, said Thursday she could not speak on behalf of the school board. But some members said Thursday they want more contract drivers but have to balance time and budget constraints.
"I think a vast majority of the school board would be in agreement that if we could have gone to more contract drivers, we would have - we just did not have the money to do it," said David Testerman, the District 8 board member. "I'm sure that's going to be an issue again, and it should be. I live in Brainerd, not two miles from where the accident occurred, and I don't think any of the citizens in my community would like to have Durham back."
In addition to money, administrators said in December 2016 they wouldn't have time to overhaul Durham with another transportation system in time for the 2017-2018 school year. Plus, Durham made a number of safety improvements, including more bus monitors and an electronic complaint system, which CEO David Duke detailed during a board meeting in April.
"The first thing is, nobody else bid on the contract," District 1 board member Rhonda Thurman said of the contract extension. "And nobody is going to come in and bid on it if they know we're trying to phase out."
Still, Thurman said she pushed for more contract drivers, thinking the board could award 100 new routes to them. "We only gave them 20," she said. "We wanted to give them 100 routes, but the administration wouldn't go along with it. But that is going to be the answer."
Those 20 new routes will be assigned beginning in the 2017-18 school year. But contractors haven't been given specific areas yet, Thurman said. And that presents a small area of wiggle room for Woodmore families who don't feel comfortable putting their children on a Durham bus anymore.
"That's what Karitsa Mosley [Jones, board member for Woodmore's District 5] said at last week's meeting," Thurman said. "She wanted the Woodmore routes and some of the other inner-city routes to go to the contract drivers."
Jones could not be reached for comment Thursday, but Thurman said contractors were interested in bidding on those routes.
"Now, they wouldn't give up their route," Thurman said. "But if they could have another bus and get somebody to drive it, they would. They went up to (Jones) the other night and said, 'Yes, we will bid on it.'"
Contact staff writer Zack Peterson at zpeterson@timesfreepress.com or 423-757-6347. Follow him on Twitter @zackpeterson918.