Photo Gallery
UTC campus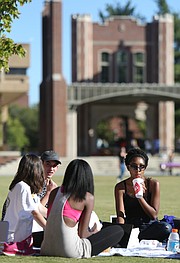 NASHVILLE - In a major blow to the Haslam administration, chancellors at the University of Tennessee at Chattanooga and two of the UT system's three other campuses say they plan to opt out of statewide facility management with Jones Lang LaSalle America.
UTC Chancellor Steve Angle, UT-Knoxville Chancellor Beverly Davenport and UT-Martin Chancellor Keith Carver announced Tuesday they will formally inform the University of Tennessee System Board of Trustees at its Friday meeting that they don't intend to use the administration's Jones Lang LaSalle contract.
But subsequent statements from both Gov. Bill Haslam and his finance commissioner, Larry Martin, raise the distinct possibility the administration is not yet giving up, with the commissioner saying the administration will review campus analyses.
In his own statement, the Republican governor said, "Our goal from the beginning has been to equip our higher education institutions with a tool they can use to better manage increasing budgetary needs, both now and into the future."
Establishing the statewide JLL contract for higher education "is not a new concept to the state," Haslam said, alluding to significant savings the administration claims from an existing competitively bid contract with JLL to manage general state government's major office buildings.
"We continue to support this concept and look forward to seeing how these universities work to keep tuition and other fees low for our students and families," said the governor, who next week kicks off state budget hearings with higher education officials expected to present their requests Tuesday.
Martin, meanwhile, stated the administration "fully believes there are significant cost savings to be gained through our contract with JLL for facilities management, particularly on the University of Tennessee-Knoxville campus.
"Nonetheless, and even as obvious as the savings are to us, we respect the independent decision each campus has made or will make in the coming days," he added.
However, Martin then noted "it is equally appropriate and right for the administration to review and understand the analyses on which each of the universities' respective decisions are being made. Our initial review has raised several questions that we look forward to discussing with the appropriate people."
The only UT System campus that intends to use Jones Lang LaSalle is the UT Health Science Center in Memphis, which proposes to have JLL take over mechanical services already outsourced through a consortium with the University of Memphis and Southwest Tennessee Community College.
In announcing his decision, Angle said, "JLL made a sincere presentation and their ongoing conversations with us were specific and thorough. Our decision is to not participate based on the higher cost of services."
He said data indicates the campus operates effectively and efficiently.
In recent documents, JLL acknowledged that UTC performed grounds keeping and janitorial services at lower cost than JLL. The company did slightly better than UTC on running student housing.
But UTC said the total Chattanooga proposal did not add up to a cost savings.
"JLL's proposal was higher than UTC's annual costs for custodial, grounds keeping and maintenance services by $263,217, with their estimate of costs coming to $6,959,799," UTC said. "The university's yearly budget for these services is $6,696,581."
In fact, JLL told UTC officials in their presentation that "based on our site tours, and other data provided to JLL, and available scope limitations, we have not identified cost reduction opportunities within the [UTC] main campus."
The company, however, also said UTC showed no interest in other areas of outsourcing such as physical plant management, areas where the Chicago-based real estate giant believes it could deliver more cost savings.
State Rep. Gerald McCormick, R-Chattanooga, the former House majority leader and current chairman of the chamber's powerful Finance Subcommittee, said he agrees with the three chancellors' decisions.
"No. 1, in most cases, it sounds like ... there are not going to be cost savings, which is the first consideration."
Secondly, McCormick said, the chancellors decided there were other reasons against outsourcing, "including having university employees there as far as interacting with students and parents and those types of things - and having control over those employees and them being part of the university college families."
Initial reactions to the campus decisions from the United Campus Workers and the Tennessee State Employees Association were jubilant, but after being provided copies of Martin's comments, officials saw them as threatening.
"Sounds like a threat to me and seems as if they're not actually committed to respecting the decision of the campuses that they promised they would - another in a long line of bad faith actions by an administration obsessed with outsourcing," said Thomas Walker, spokesman for United Campus Workers.
Randy Stamps, executive director of the Tennessee State Employees Association, said that "to me it's clearly a threat that they're going to re-examine the decision," although he noted the public was told chancellors were the ones ultimately calling the shots.
He worried the comments represent "apparently some pressure to go along with this administration."
Noting that Tennessee higher education raises the bulk of its funding from tuition and student fees, as opposed to state support, Stamps said "historically we've respected the independence of the universities to manage their own resources."
Meanwhile, Tom Foster, JLL's director for the state of Tennessee contract, said in a statement that "we respect the decisions announced today by the University of Tennessee Knoxville and Chattanooga campuses, and express our thanks for the collaborative review of our service proposal."
Foster noted JLL's current contract with the state "has achieved $40 million in taxpayer savings through four years and scored consistently high marks for service performance. We continue conversations to extend these benefits to other state agencies, and to public universities who can achieve major savings and lower their education costs."
Davenport said her decision was reached after considerable analysis of proposed savings and a "close examination of our current and future operations."
"It is for these reasons that I have decided outsourcing facilities management is not the best option for our campus," she said.
Contact Andy Sher at asher@timesfreepress.com or 615-255-0550. Follow him on Twitter @AndySher1.