Photo Gallery
Marine saw three wars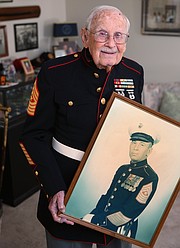 More Info
Alcohol will get a man in trouble every time. Clark said that on their first meeting, President Johnson said that if first lady Lady Bird Johnson gave him an order, "it's the same as if it came from me."Then the first lady had an order for him: "Lyndon Baines is drinking too much. I want you to get rid of all the alcoholic beverages on Marine One and Air Force One."Clark and his Air Force One counterpart did as ordered. On the next helicopter trip, when the president told a Marine sergeant, "George, pour me a drink," the sergeant had to say there was no liquor aboard. Johnson called Clark front and center."Mr. President, do you remember how you told me an order from the first lady was an order from you? Well, Mr. President, YOU ordered me to take all the alcohol off the aircraft."
Bio:
Name: Haskell "Hank" Clark Age: 95 Home: Chattanooga Military branch and rank: U.S. Marine Corps, sergeant major

Haskell "Hank" Clark has a room full of Marine Corps memorabilia, but the one that means the most to him doesn't rest in the glass case with his colorful military decorations and green drill instructor's hat.
That one, Clark picks up from the table by his bed and hands to a visitor. It's about the size of a deck of cards, with a well-worn cover and tissue-thin pages.
"This Bible's been in my pocket through three wars," said the 95-year-old, who went ashore at Guadalcanal and Okinawa, then served through the Korean War and into the Vietnam era before retiring in 1970 as a sergeant major, the highest enlisted rank.
His 31 years in the Corps are memorialized in that glass case and the walls of his apartment at Hickory Valley Retirement Center: photos, folded American flags, including one with 49 stars, and multiple sets of dog tags and military ID cards.
A framed photo on the wall shows the signing of the Japanese peace treaty on the USS Missouri, and Clark points to himself standing in the watching crowd lining the walls.
Another photo shows Marine 1, the president's helicopter, coming in for a landing. Clark was sergeant major for the presidential helicopter squadron under President Lyndon Baines Johnson, where he got himself in a spot of trouble for obeying the president's order. (See accompanying story.)
Clark, son of a Baptist minister, said his faith has been a bedrock in his life. As a drill instructor at the Marine Corps Recruit Depot in Parris Island, S.C., his nickname was "Preacher" because he disdained the traditional foul-mouthed belaboring of recruits in training.
"I never used profanity," Clark said.
The Chattanooga-area native joined the Marines in 1939 after graduating from Central High School and its ROTC program. He loved the uniforms, craved adventure and found it. In 2013, he told WTVC-TV he was on a beach in Trinidad when the news came of the Pearl Harbor attack and his unit was put on alert.
"I can't say I wasn't scared, because I was scared half to death," he told the TV station.
After his military service ended, he had multiple careers, including years as a Hamilton County deputy and court officer and as a salesman at Western Auto. As a travel agent with Leisure Time Dive & Ski, he and his wife got to see even more of the world before her death.
Clark said his experiences made him grateful and appreciative of the freedom and opportunity that Americans have.
"I gives me a sense of patriotism, I guess that you couldn't get anywhere else. When you travel the world in the military and see the other countries and the way they have to live, when back home we have the freedom that we have, you understand why we're there.
"With all the mistakes that we make, we're still the best."
Contact staff writer Judy Walton at jwalton@timesfreepress.com or 423-757-6416.