Photo Gallery
Finley Stadium turns 20 years old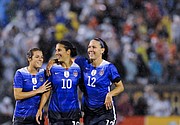 On a cloud-free afternoon late last month at Finley Stadium, Gordon Davenport gazed out of a luxury box and inhaled the surroundings.
"I'm all in," Davenport said. "I think this is great for Chattanooga, and it's part of the downtown renaissance. Look at all the cranes around here. This is what excites me."
Located in a once-wretched part of the city, the 20,668-seat stadium and its accompanying First Tennessee Pavilion now serve as welcoming venues for everything from University of Tennessee at Chattanooga football games and Chattanooga Football Club soccer matches to Sunday markets and company gatherings.
Wednesday will mark the 20-year anniversary of the stadium's dedication game, when an announced audience of 22,646 watched Buddy Green's Mocs thump Tennessee State 28-7.
The $28.5 million facility was spearheaded by Davenport's father, the late Gordon Sr., and it has contained a loyal supporting cast through the years headed by Bryan Patten, Joe Decosimo and Ryan Crimmins. The U.S. national men's and women's soccer teams have competed inside a packed Finley Stadium, and it housed 13 Football Championship Subdivision title games from 1997 to 2009.
There have been numerous financial hurdles and one incredibly embarrassing moment, but those who have remained by Finley Stadium's side are proud of the first 20 years and excited about the next 20.
"There was the high of opening the stadium in 1997 and beating Tennessee State and having 22,000 people show up," Crimmins said. "Then there was the low of, 'Hey, we've got to operate this place and not keep going back to the city and the county for subsidies.'
"Here we are today, 20 years later, and we're not being subsidized. We haven't had funding from either entity in like four or five years."
In the beginning
Original plans contained constructing a new home for the Mocs on UTC's campus, Crimmins said, but the site with the greatest potential between McCallie Avenue and M.L. King Boulevard was sloped and better suited for its current use of student housing.
The destination then became its current locale, which was once the home of the RockTenn paper and packaging plant. A groundbreaking ceremony was held March 7, 1996, and several months later, the Stadium Corp. revealed Finley Stadium/Davenport Field as its name.
The late Max Finley was a former chairman of the RockTenn Corporation and a 1931 University of Chattanooga graduate.
Gordon Davenport Sr., who had a successful stint as president of the Krystal Co., was motivated by a shared love of football and community. In the early 1980s, he had been a limited partner of the Washington Federals of the United States Football League.
"He was passionate to the point of being obsessed to get this thing built," Davenport said of his father. "He thought it was going to be a game-changer for UTC football, but he also thought this would be the greatest single thing that could ever be done for the community. That first game, he was over the top. He was proud, happy, giddy and emotional.
"His health wasn't great at that point, and he got to see the completion of something that for years was just so much up in the air."
Former Finley Stadium executive director Merrill Eckstein was president of the Chattanooga Sports Committee during the 1990s and said the stadium push worked for three reasons.
"First off, UTC needed a new stadium, because Chamberlain Field was falling apart," Eckstein said. "Secondly, something had to be done to that Ross Meehan area (now the site of the First Tennessee Pavilion). It was so ugly.
"Finally, Gordon Davenport told the city council he could raise $10 million if the city and county each put in $7 million. That made it a lot more appealing."
Eckstein had a vested interest in Finley Stadium's development, because he had gone to the NCAA and proposed that the FCS (then known as I-AA) championship game move to Chattanooga. The FCS title game was having to relocate due to its former host, Marshall University in West Virginia, moving up to the Bowl Subdivision.
The NCAA awarded the event to Chattanooga provided that groundbreaking occurred before the summer of 1996, construction was 50 percent complete by the end of 1996 and UTC played at least one game in Finley before the end of the 1997 regular season.
All those requirements were met.
"The NCAA actually put a sizable amount of faith in us," Eckstein said.
The darker days
UTC's win over Tennessee State inside Finley in 1997 was the biggest highlight of a 7-4 season for the Mocs, but they had losing records in the seven ensuing seasons and 10 of the next 11. That led to an obvious erosion in UTC fan support.
Finley Stadium also had housed the prominent high school rivalries of Baylor/McCallie and Red Bank/Soddy-Daisy during its early years, but those schools were deciding to move their games back to campus.
Then there were the numbing financial numbers.

"We had a ton of stadium debt, almost $2 million, and we had a big note," Crimmins said. "Thanks to guys like Jack Lupton, Joe Decosimo, Zan Guerry and many others coming forward with some large gifts, we were able to pay that debt and not incur the ongoing interest. That was the first key step in being able to operate with a little more breathing room.
"Also, that FCS championship game brought in more than $1 million a year in economic impact, and that was our justification to go ask for a little help when we were not operating in the black. Having that championship game here was key those first 10 or 12 years."
The 2007 FCS title game featured Appalachian State, which had opened that season with a memorable upset of Michigan, against Delaware, which was led by current Baltimore Ravens quarterback Joe Flacco. It drew a crowd of 23,010 that remains the stadium record.
Three years earlier, James Madison and Montana met for the title at Finley, but that showdown was upstaged by the stadium's new sod coming up in chunks throughout the game that was televised nationally on ESPN2.
"That's probably the worst field I've ever played on in my life, grade school through college," then-James Madison quarterback and current UTC offensive coordinator Justin Rascati said afterward. "I was really surprised how bad it was for this type of game."
Eckstein explained that the field was resodded after UTC's 2004 season because the NCAA repeatedly griped about how brown it looked.
"We would paint it green, but by the end of the first quarter, the green was all over the uniforms of the players," Eckstein said. "Somebody had to sign on the sod deal, and I'm the genius who did that."
Davenport, the current chairman of the Stadium Corp., vividly remembers the morning after the 2004 FCS title game and watching ESPN's "SportsCenter" at home.
"They were using the visuals of the field as their entire story," Davenport said. "I'm sitting there looking at Davenport Field. I wasn't involved with the stadium at that point, but I jumped right in for the fundraising for the first version of the artificial turf and have ratcheted up my involvement ever since."
Coming together
The NCAA awarded the FCS title game to the Dallas suburb of Frisco in February 2010, but Finley Stadium already was undergoing changes that would more than counter the departure of what had been its marquee event.
Months earlier, Russ Huesman had returned to his alma mater as football coach and had guided UTC to a 6-5 season, which was a stunning turnaround from 1-11 the year before. The Chattanooga FC made its debut in 2009 as well, and the Chattanooga Market at the First Tennessee Pavilion was becoming a popular attraction after having been relaunched in 2008.
"It really was kind of building blocks with one thing after the other," Davenport said. "A lot of good things happened almost 10 years ago, and we could have gone a couple of different ways. We could have been dedicated to just football with UTC and a few high school games, and we would still be here and still be proud of what we're doing, but now you can really look at this as a community asset.
"You have people who come to the Chattanooga Market who have no interest in football or soccer, and a bunch of people who come for soccer and don't for football. We've had band competitions and all sorts of public and private groups who have used the pavilion. It's in constant use."
Huesman arrived in 2009 along with quarterback B.J. Coleman, who starred at McCallie and played at Tennessee before transferring home. UTC averaged just 5,748 fans per home game in 2008, but that average spiked to 10,503 in 2009 and to a record 12,699 in 2010.
Under Huesman's guidance, the Mocs would win three consecutive Southern Conference titles and make three straight trips to the FCS playoffs.
Attendance for the Chattanooga FC continues to grow, with the National Premier Soccer League team drawing a jaw-dropping Finley crowd of 18,227 for a title match against the New York Cosmos B in August 2015.
"The original discussions were to have a facility either for football and soccer or a football field surrounded by a track," Eckstein said. "You can't do all three due to the size of a soccer field. Fortunately the decision was made for it to be a football/soccer stadium."
Looking ahead
Although those involved share a pride in Finley Stadium and how it has operated in the black for seven consecutive fiscal years, they also know challenges will forever exist.
"Having an off-site campus has been great, but I still think we have work to do as far as getting students here on a regular basis," Crimmins said. "It's a fun environment. The Mocs have been better in recent years than they were before, but there is still work to do there."
Eckstein wishes Finley Stadium had more of a history on the musical front.
"Concerts have never become a reality, and if there is a disappointment connected with the stadium, I think that's it," he said. "The cost of a promoter is too great, and the risk of bad weather has resulted in them choosing more indoor facilities."
Eckstein does admit the multitude of events held each year at Finley Stadium and the First Tennessee Pavilion continues to blow him away. It's a total that increased under his run as Finley's executive director and has been enhanced by successors Paul Smith and now Chris Thomas.
Crimmins appreciates Finley's sky box patrons, pointing out that 30 of the 32 boxes were sold for the dedication game and that almost every name then still supports either UTC or the Chattanooga FC now.
As for Davenport, he thinks his father, who died four months after the dedication game, would be quite proud about what resulted from his love of football and community.
"We've got all these nonprofit events and art festivals," Davenport said, "and we're even a finish line for a marathon. You name it. There aren't enough days in the year to double the events we have, and there is no such thing as a preseason or a postseason anymore. It's nonstop.
"He would have loved this."
Contact David Paschall at dpaschall@timesfreepress.com or 423-757-6524.