Photo Gallery
Catoosa County developing career academy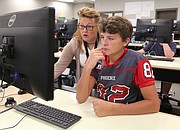 RINGGOLD, Ga. - Catoosa County education officials are developing a new, specialized high school, centered on training students to work for local companies.
If created, the Catoosa County College and Career Academy would lean on a board of business leaders, giving input on how to prepare students for jobs in the region. Teachers would work with students in typical classrooms with desks and whiteboards for part of the day, but at other times the students would operate in labs that look like workplaces.
Catoosa County's academy would join about 40 others in the state, as part of an effort spearheaded nine years ago by Lt. Gov. Casey Cagle. This summer, the Technical College System of Georgia awarded the local school system a planning grant.