Photo Gallery
Catoosa County developing career academy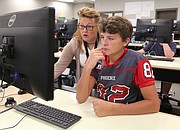 RINGGOLD, Ga. - Catoosa County education officials are developing a new, specialized high school, centered on training students to work for local companies.
If created, the Catoosa County College and Career Academy would lean on a board of business leaders, giving input on how to prepare students for jobs in the region. Teachers would work with students in typical classrooms with desks and whiteboards for part of the day, but at other times the students would operate in labs that look like workplaces.
Catoosa County's academy would join about 40 others in the state, as part of an effort spearheaded nine years ago by Lt. Gov. Casey Cagle. This summer, the Technical College System of Georgia awarded the local school system a planning grant. And on Aug. 28, school officials met with a consultant, explaining the typical road ahead to developing the school.
Superintendent Denia Reese will meet with community stakeholders over the next year. That will include the county's biggest employers, including Mohawk Carpet Co. and Shaw Industries. But because the county is a bedroom community for Chattanooga, she also wants to build partnerships in Tennessee, namely trucking companies and the city's hospitals.
The academy aims to prepare students to work because business leaders are supposed to weigh in on what kinds of classes the students take, as well as how the instructors lead them. In some cases, the businesses bring their own employees in as full-time teachers. Other times, instructors from places such as Georgia Northwestern Technical College take the reins.
"You hear stories all the time about students who think they know what they want to do when they graduate high school," Reese said in a recent interview. "They go to college, they get a degree, and it's really not what they want to do. We're going to be able to offer a multitude of opportunities for our kids. When they do graduate from high school, they're more prepared to make that decision."
Once school officials have formed a board and a plan, Reese said, they will apply for a $3 million grant to build the academy. She expects that won't come through until 2019. Then, she said, the school will spend a year designing the operation. If all goes through as expected, she expects construction could start in the fall of 2021.
Reese does not yet know what kinds of classes the school would offer. But she hopes to host about 300 students at first. That would represent about 10 percent of the system's current high school students.
"It is a long-range plan, yes," she said. "But you have to start involving your stakeholders and getting that buy-in in this process."
***
Career academies aren't new, with roots in the 1970s. And they aren't particularly rare: The National Career Academy estimates there are now 7,000 such schools in the country, with more than 1 million students.
But the academies come in several varieties. And this particular model - with industry partnerships and students mixing labs and a traditional school - is becoming more popular in Georgia. There are about 40 academies in the state now.
Cagle has been the driving force. He was inspired by a charter school in Newnan, Ga., that the local chamber of commerce and economic development authority helped form after some businesses threatened to leave, said Irene Munn, the lieutenant governor's policy director.
At that school, a board of business leaders and technical college officials decided the curriculum.
When he took office in 2006, Cagle moved to expand the effort, getting more funding for college and career academies. The state now offers $10 million annually for school systems that want to add the program, awarding three grants a year.
Cagle's goal is to launch academies close enough for every high school student in the state.
"Georgia's modern, evolving economy demands a skilled workforce in order to remain the number one state to do business," Cagle told the Times Free Press via email. "Every student deserves an individualized learning experience that empowers them to pursue a rewarding career - our network of college and career academies across the state are doing just that. With 40 academies now operational, we have brought together education and business leaders to develop the next generation of talent. This model has been successful in communities of all sizes throughout Georgia and we will continue to work to expand their abilities to fill the critical needs in our workforce."
Thom Suddreth, a consultant with Ford Next Generation Learning who helps school systems apply for college and career academy grants, said the demand for the program has increased in Georgia. For about five years, he said, three or four school districts applied for the state's grant every year. Now, the figure is up to about 12.
Munn said Cagle does not want to expand funding for these programs, preferring to keep the grant competitive. School officials in places like Catoosa County have to spend a couple of years meeting with business leaders and forming a plan before they can get to work.
"They're successful because offerings are linked to opportunities," said Gene Bottoms, director of the Southern Regional Education Board's High Schools That Work initiative. "And the assignments [students] get are real world. If used correctly, they require them to use academic, technology and problem-solving software to complete them."
How exactly do you measure their success, though? Reese said you can look at the number of opportunities available to students. Suddreth said you can look at how many students are actually enrolling. Munn, meanwhile, said the Technical College System of Georgia certifies the academies, looking at whether the school's governing structure meets expectations, whether the curriculum is effective and whether the classes align with workforce needs in that community.
Still, many of those measurements don't track individual students' educational progress. Suddreth, who recently consulted with Catoosa County, said state officials are still trying to create a database to specifically measure students in the career academies and see how their progress compares to their peers.
***
Every morning, students in the Gordon County College & Career Academy file into a building on Beamer Road to design machine parts with 3-D printers, lay out posters with Adobe Photoshop, learn about electrical wiring, fix broken machines, work with an industrial robot and build solar panels.
The school, which opened in 2014, is open to different students varying lengths of times. Some stay for about 90 minutes. Others take a couple of different courses, spending three hours in the building every day.
Amy Parker, the CEO of the Gordon County academy, said she applied for the grant here in 2010 after several meetings with local business leaders, who pushed for more instruction directly linked to the jobs they offer. The academy now operates with a 13-member board consisting of local stakeholders, including a representative from Mohawk, one of the largest employers in the region.
The academy offers students six pathways: engineering drawing and design; graphic design and production; marketing; digital technology; industrial maintenance and mechatronics.
In addition to learning in labs, students are supposed to become certified in the areas where they're working. That includes certification through Adobe programs and the Occupational Safety and Health Administration.
But for any academy, Bottoms said, finding the right teachers is a hurdle. School systems struggle already to find career instructors who can be effective in typical classrooms. A specialized school is even more difficult, with teachers needing to know the ins and outs of their own career, as well as the keys to operating a successful classroom.
Parker said state officials are creating a program for academy teachers, running them through concepts such as project-based learning, classroom management, differential learning and record keeping. Those instructors are coming in for their expertise in outside fields, Parker said; they don't need a whole extra year to learn everything about teaching.
One of the main purposes of the academies, Parker said, is to offer the students a break from the usual cycle of education. Teachers grow up going to school. Then they go to college to learn how to run a school. Then they work in schools.
"They don't know what it's like, what's available to students," said Parker, who added that she is in the same boat. "That's where the industries can fill the gaps."
Contact staff writer Tyler Jett at 423-757-6476 or tjett@timesfreepress.com. Follow him on Twitter @LetsJett.