Photo Gallery
UT-Martin spoils UTC's home opener with 21-7 win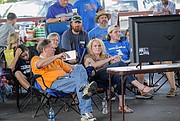 As UT-Martin players were running off the Finley Stadium field Saturday, they started chanting, "Oh and three! Oh and three!"
And due to a lackluster offensive effort in front of the home faithful, the University of Tennessee at Chattanooga football team is just that.
The Skyhawks won 21-7 after building a 21-0 lead early in the third quarter in front of 10,141 at Finley Stadium, spoiling Tom Arth's home debut as UTC's coach.
The Mocs are 0-3 for the first time since 2004, and they start Southern Conference play at Virginia Military Institute this Saturday.
The Mocs' initial first down of the game came on a roughing-the-passer call, and their second came on a defensive holding penalty. The offense finished with 150 yards of total offense and didn't run a play on UT-Martin's end of the field until the fourth quarter.
UTC was 1-for-12 on turning third downs into firsts, the lone conversion occurring when quarterback Nick Tiano was hit on an incomplete pass and the roughing penalty was called.
"Our offense wasn't very good," Arth said. "We put ourselves in some very tough third-down situations, and when it was third and manageable we failed to convert short yardage. We've got to do a better job, everybody involved - players, coaches - we've all got to be better in order for us to improve. When you go 1-for-12 on third down, you're going to have some problems."
UTM quarterback Troy Cook completed 16 of 21 passes for 183 yards and three touchdowns, looking like the senior preseason first-team All-Ohio Valley Conference quarterback he happens to be. Under his direction, the Skyhawks converted 8 of 16 third downs, extending drives and helping keep the UTC defense on the field for more than 36 minutes.
The Mocs held Ladarius Galloway to 79 yards on 21 carries - his first game under 100 yards this season - but couldn't contain receiver Londell Lee, who had 104 yards on four catches. Still, UTM was held to 293 yards of total offense, its lowest output of the season.
Cook had touchdown passes of 3 yards to Caylon Weathers, 2 yards to Jaylon Moore and 9 yards to Brett Thompson, the latter coming after a sack of Tiano that resulted in a fumble recovered by UTM's Mike Turner.
The struggle offensively for the Mocs extended well into the third quarter. They had five possessions in the first half - all three-and-outs - and gained 23 yards, with the longest play a busted-play quarterback keeper by Tiano that gained 8 yards. The offense didn't show some life until a 13-yard completion from Tiano to Bingo Morton on the right sideline, and three plays later, the 6-foot-2 receiver went up high to catch a perfectly lofted pass that sailed right over a defensive back, and Morton was able to jog into the end zone for a 59-yard score.
On the Mocs' next possession they converted three first downs and drove to the UTM 14-yard line but went for it on fourth down and Tiano's pass to Alex Trotter was incomplete.
"We didn't do a good enough job anywhere," Arth said. "It wasn't up to our standard; it wasn't good enough. We've got to go back, look at the film, make corrections and get better."
The Mocs finished with 6 yards rushing, and Tiano was sacked five times. He finished 13-for-27 for 144 yards but had the fumble and a late interception. Morton finished with 75 yards on three catches, while Richardre Bagley had 26 yards on three receptions.
Tae Davis led the Mocs with seven tackles, while Michael Bean, Kareem Orr, Isaiah Mack, Taylor Reynolds and Tavon Lawson each had six. UTC made seven tackles for loss, with Orr accounting for two of those.
"We've just got to get better, offense and defense," Orr said. "We gave up too much on the defensive side of the ball: missed tackles, an easy touchdown that shouldn't have happened, missed communications.
"The offense has to pick it up. It's that simple."
Contact Gene Henley at ghenley@timesfreepress.com. Follow him on Twitter @genehenleytfp.