Photo Gallery
Western Carolina smothers UTC, 45-7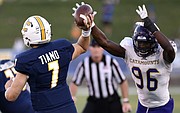 With 11:47 to play in the first quarter, University of Tennessee at Chattanooga starting quarterback Alejandro Bennifield jogged out onto the field for his first snap of the season against Western Carolina.
A little more than 10 minutes later, he was gone.
Bennifield was taken to the hospital after a big hit by the Catamounts' Tahjai Watt, and an anemic offensive effort followed in a 45-7 Southern Conference loss for the Mocs in front of an announced attendance of 10,104 at Finley Stadium.
The Mocs (1-4, 1-1) host Furman this Saturday at 4 p.m.
Bennifield - playing for the first time after a four-game suspension - was 3-for-5 for 29 passing yards prior to the injury. Nick Tiano, who started the four games in place of Bennifield, was 11-for-23 for 88 yards before he suffered a shoulder injury on the second play of the fourth quarter.
Redshirt freshman Dominic Caldwell finished the game, throwing a touchdown pass to Darrell Bridges for the Mocs' only touchdowns.
The UTC quarterbacks had little time to throw the ball Saturday, as the Catamounts (4-1, 2-0) had seven sacks. Bennifield was sacked two times and Tiano four, two of Tiano's resulting in fumbles recovered in the end zone for 14 easy points.
The Mocs also attempted a fake punt, but the snap was fumbled by punter Colin Brewer and the Catamounts recovered at the 1-yard line, leading to a Corey Holloway scoring run on the next play.
"It's tough," UTC coach Tom Arth said. "We didn't really play well tonight, certainly on offense. I take a lot of responsibility for that; there were some situations that I have to go back and look at.
"You've got to have faith and confidence, but I don't know, maybe we shouldn't drop back down in there (on the sack fumbles) and put ourselves in that position. On the fake punt, we're trying to make something happen, trying to get a spark, something going, but it wasn't good enough."
Coming off last week's 63-point performance against Virginia Military Institute and the return of Bennifield - combined with a Catamounts defense that was allowing 434.5 yards per game - offense wasn't expected to be a problem for the Mocs on Saturday, but as has happened on other occasions this season, it was. The Mocs finished with 172 yards of total offense, only slightly better than the 150-yard performance they had against UT-Martin at home on Sept. 17.
In two games at Finley Stadium, the Mocs have averaged 27.5 yards rushing and 161 yards of total offense.
"We just have to come together," Bridges said. "We have to stay focused, go out and make the plays like we did in the first drives like we did against LSU and VMI. We show glimpses, but it's got to be for the whole game, and we can do that. We've got the coaching staff to do so and the players, but at the end of the day we've got to execute."
The UTC defense held the Catamounts, who were averaging 571.2 yards of total offense, to their lowest total of the season (392) but wasn't able to force any turnovers and allowed a number of big plays. WCU quarterback Tyrie Adams threw for 125 yards and a score but was most dangerous with his legs, rushing for 44 yards. Holloway, who started in place of All-America running back Detrez Newsome, had 105 yards and a pair of scores.
"Right now, we know we've got to do better," Mocs linebacker Tae Davis said. "This is not Chattanooga football, and we all know it. We just have to continue to stick together and try to change it. We're 1-1 in conference, so we have to take things one game at a time and make sure we're playing Chattanooga football."
Richardre Bagley led the Mocs with 34 yards rushing, while Tiano had 22. The 6-foot-5, 240-pounder had some key scrambles on the Mocs' scoring drive prior to his injury.
Jerrell Lawson and Tavon Lawson each had eight tackles to lead the UTC defense, with Jerrell's all solo stops and Tavon including 1.5 sacks and 3.5 tackles for loss. The Mocs had a season-high four sacks.
Contact Gene Henley at ghenley@timesfreepress.com. Follow him on Twitter @genehenleytfp.