Photo Gallery
Nearly 9 years later: What happened to Marsha Brantley?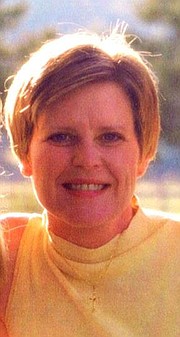 Marsha Brantley's friends said she didn't wear her emotions on her sleeve and didn't easily open up to people, so in March 2009, when she told them she'd been "so depressed she couldn't get off the couch," they knew something was wrong.
"I know we all looked at her, 'cause it was just an unusual statement coming from Marsha," said Reggie Jay. "It was a complete shock."
Jay, who was closest to Brantley, said she let her know she was there for her if she needed to talk, but Brantley immediately "clammed up" and didn't talk about it any further.
The group of four friends had gathered for their monthly meeting of the Thunder Rock Writers' Group, a group formed by Brantley, at Nansy Grill's home in Cleveland, Tenn.
That would be the last time the women saw Brantley.
Nearly a decade later, Brantley's disappearance remains unsolved.
And though authorities believe she is dead, they're unable to prove it was the result of a homicide, despite having charged her husband twice for her death - and dismissed those charges both times.
Her body has never been found. So what happened to her? Did she just leave, as her husband claims? Is she still alive, living under a new identity? Did she commit suicide or fall victim to some bad actors along the way? Or did her husband kill her, as the prosecutors and her family say?
Investigators with the Tennessee Bureau of Investigation and Bradley County sheriff's and district attorney's offices do not seem to be any closer to answering those questions than they were when the first charge of first-degree murder was brought against her husband, Donnie Brantley, nearly a decade ago. And if they do have more answers, they're not discussing the details, noting that the case remains open.
Since there is no body and no crime scene, the case has revolved around two alleged motives and enough circumstantial evidence to uphold a conviction, according to current and former district attorneys general.
But that hasn't happened, and the case has drawn national attention, including from the CBS News program "48 Hours."
Donnie Brantley was indicted for first-degree murder in 2009, but the charge was dropped. He was indicted again in 2016, but that charge was dismissed.
Meanwhile, Marsha Brantley's family and friends still don't have closure, and Donnie Brantley's life has been put on hold twice - and could be for a third time.
The disappearance
Marsha and Donnie Brantley married on March 31, 2000.
"I was bustling around getting ready for a wedding. Mine!" she wrote in a March 31, 2009, blog post for their ninth anniversary. "Family arrived at intervals throughout the day, meals were shared and then there was the big event itself It was great! The happiest day of my life I was cocooned by family and friends."
Just months after the post, she disappeared.
Marsha Brantley, 50 at the time of her disappearance, was originally from Illinois. She had no children of her own, no siblings and both of her parents died of cancer within weeks of each other in 2000. Friends said she told them the death of her parents was the most difficult point in her life.
She had extended family spread across the country, but she hadn't spoken to them in years, friends and family said. In fact, her family didn't learn she was missing until December 2009 or January 2010. Investigators believe she went missing in early June or July 2009.
She was, by all accounts, a private but friendly woman. She was strong-willed, opinionated, had a "no- nonsense" personality and loved her foster dogs, walking, gardening and writing. She did not have a job. She kept a blog called "The Magpie's Nest" in which she unabashedly doted on Donnie Brantley and recounted small anecdotes of her day-to-day life.
"I have the best husband in the world," a Nov. 27, 2008, blog entry reads.
The same sentiments were reflected on her Facebook account.
"My wonderful husband brought me roses home at lunch just because," one of her last Facebook posts reads. In the comments she wrote, "He just does stuff like that. He's a keeper."
But some friends said her online posts didn't reflect her real-life relationship with Donnie Brantley.
In person, they didn't seem as "lovey-dovey," Grill said.
Donnie Brantley, now 52, wasn't very talkative, and he didn't seem to be interested in the same things as Marsha Brantley, Grill said.
She recalled a time the group met at Marsha Brantley's house and Donnie Brantley came home. He didn't say a word and went directly to a back room to change clothes. He only re-emerged to say he was going to watch a movie before heading downstairs, she said.
At another event, there was notable tension between the couple.
It was a reading sponsored by the writers' group in February 2009, and Donnie Brantley was on his phone the entire time Marsha Brantley read one of her stories, Grill said.
"You could tell something was wrong," Jay said, adding that the couple seemed unhappy with each other.
Marsha Brantley's family had the same impression of her husband.
They only met Donnie Brantley a handful of times in the nine years the couple had been married, and each time he didn't say much, both her cousin Jana Wills and her aunt Medra Justis said.
"I don't ever remember sitting down and having a conversation with him, because I don't ever know of a time that he was ever anywhere that we actually sat down and could have had a conversation," Wills said. "He was just very standoffish, very private."
Despite seeming guarded, Donnie Brantley appeared to be more introverted than hostile or shy, Wills said.
On June 2, 2009, the date investigators believe Marsha Brantley disappeared, she posted to Facebook saying, "Are ALL the planets out of alignment? Why is EVERYTHING that can go wrong going wrong for the past month?"
Three people commented on the post. "Except for the roses your hubby gave you just because. ;-)," wrote one friend.
No response ever came.
Then, in July or August, Marsha Brantley's neighbor Phyllis Dodd told her hairdresser, Kelly DeLude, she hadn't seen Marsha Brantley in a very long time. The flowers in which Brantley normally took pride were dead, and she hadn't been seen walking her foster dogs, as she so often did.
"[Dodd] went and knocked on [Donnie Brantley's] door and said, 'Where is Marsha?'" DeLude said. "He told her that she had left him and they were getting a divorce."
DeLude shared the story with local attorney Jerry Hoffer in October, and he told then-District Attorney General Steve Bebb, who called the TBI. By then, it was November.
"If it were not for [Phyllis'] boldness, knocking on the door and asking [Donnie Brantley] 'Where is she?'" DeLude said, " I would have never thought another thing about it if she had not told me what he said."
The investigation
Around December 2009, the TBI began its investigation, but clues were scarce.
It's not clear what day Marsha Brantley officially disappeared, but investigators believe it to have been on June 2 or some time between then and mid-July 2009.
As far as they can document, they know she was on her way home from a writers conference on May 27 because phone records show she spoke with her friend Kim Shank, who lives in Ohio. It was a long conversation, and she allegedly told Shank she was considering leaving her writers' group to join one in Knoxville, 10th Judicial District Attorney General Steve Crump said.
She also told Shank that her husband had "surprised" her with a new cellphone. The Times Free Press could not locate Shank for comment.
Phone records show that incoming calls stopped on June 2, which is probably the last day Marsha Brantley had her phone, Crump said.
During a search of the couple's home, Donnie Brantley told investigators his wife had left him and they were planning a divorce.
But investigators didn't believe she voluntarily left.
For starters, her car was left behind. She didn't take her cellphone or clothes or any personal belongings. She had the entire month of June planned out in her agenda and had just come in second place in a national competition for her short story, "Dirty Little Secrets." She was very invested in her rescue dogs - she had three fosters.
"None of the things that normally would accompany somebody going off the grid [are involved]," Crump said. "In fact, it's the exact opposite. She was really looking to connect [with people], more particularly in the writing part of her life."
And in the time since she disappeared, no purchases have been made in her name, her Social Security number hasn't been used, she hasn't paid any taxes, applied for a driver's license or visa, or exited the country or entered another country.
Investigators say they are now certain Marsha Brantley is dead.
"We can prove that she's deceased," Crump said. "The question now is can we prove that she was deceased as a result of a homicide, and that's what we're working on now."
The arrests
By 2011, the Bradley County Sheriff's Office was involved and there were still no suspects, but Bebb started calling Donnie Brantley a "person of interest."
In late 2012, the couple's home was searched again. This time, the sheriff's office brought cadaver dogs down to the basement.
They broke up the cement after noticing a section of what looked like freshly poured cement, which they said could have been done to conceal a body. They didn't find anything.
But then in July 2013, a grand jury indicted Donnie Brantley for first-degree murder.
Because he was living in Kingston, Ga., police couldn't arrest him until August when he returned to Bradley County for a court hearing related to a separate charge of hindering a secured creditor.
Donnie Brantley spent several months in jail before he was released the week before he was scheduled to go to trial for his wife's murder in 2014. The charges had been dropped at the request of the family, Bebb said.
"I thought and think today we had a wonderful case," he told the Times Free Press. " I felt good about the case."
The family worried that if a jury did not find Donnie Brantley guilty, there would be no second chance. By dropping the charges "without prejudice," the charges could be refiled.
That second chance came in October 2016 when Crump, Bebb's successor, presented a grand jury with evidence leading to Donnie Brantley's second first-degree murder charge. He was arrested by U.S. marshals in Cartersville, Ga., in December.
Crump did not disclose what, if any, new evidence had come to light, and since the case is still open, investigators have declined to discuss any details. Any court documents that were previously available to the public have been expunged, leaving no evidence of any charges against Donnie Brantley.
In any case, charges were dismissed again in February 2018, the day jury selection was set to begin. Crump said he was concerned the case wouldn't get to a jury. He said a judge can dismiss a case if he or she concludes that there isn't enough evidence to support a conviction beyond reasonable doubt.
The defense had already stated it would file for a motion for judgment of acquittal, and Crump noted concerns with how the judge ruled in those motions after he ruled in favor of the defense in a similar case in McMinn County, Tenn.
Nevertheless, Crump said the case is going back to the cold case unit to take a closer look at the evidence now that forensic science has advanced.
For Donnie Brantley, that means a third round of charges could come at any time.
The evidence
In Tennessee, first-degree murder is defined as the premeditated, intentional killing of another. In order for the charge to stick, the prosecution must prove beyond a reasonable doubt that Donnie Brantley planned and intentionally killed his wife.
The state's case against Donnie Brantley rests on two main motives: financial problems and alleged affairs with women, including an ex-girlfriend.
The housing market tanked in 2009, leaving him without much work in his home repair business, House Doctors.
Marsha Brantley's friends said that, while she never specifically mentioned financial stress, they could tell money was tight.
"I got the impression that there were [financial problems]," Jay said. "She would generally, before this, not ask about what things cost. But after that, for a while, it was like, 'Well, what do you think this will cost? And she mentioned a couple times that she might look into something working part time."
With Marsha Brantley out of the picture, Donnie Brantley had her power of attorney and could have signed her name to sell the house or business. However, in the time leading up to the indictment, Crump said, there is no evidence that Donnie Brantley used Marsha Brantley's power of attorney for financial gain.
The prosecution also said Donnie Brantley was "looking for something different in his marriage."
Crump said Donnie Brantley contacted a singles' dating line with the new phone he bought for Marsha Brantley, despite having told police she had taken it with her. He also had an account on a dating website for several months.
But Donnie Brantley's attorney, Lee Davis, said his client didn't do that until after his wife disappeared. There are receipts to corroborate his story, beginning around October 2009, he said.
Some time before Marsha Brantley went missing, Donnie Brantley's ex-girlfriend Stephanie Richardson heard about his business and contracted him to do some repairs around her house. During the encounter, the two allegedly shared a kiss.
But Davis said that was as far as the encounter went.
Marsha Brantley's friends said she would have been angry and devastated if she had found out about an alleged affair. But they don't think she would have left. Her parents built their house and it was in her name. She would have kicked Donnie Brantley out rather than let him have the house to live in with a new woman, they said.
Within about a week of Marsha Brantley's disappearance, both defense and prosecution attorneys said, Donnie Brantley allegedly hand-delivered a card to Richardson. It read: "Things are better for me now."
Crump said it's proof Donnie Brantley killed his wife, but Davis said Donnie Brantley was simply telling Richardson that his wife had just left him and he was ready to begin a friendship. The two continued to see each other, but only for a short time before going their separate ways.
Additionally, Davis said Richardson told him Donnie Brantley never spoke badly of Marsha Brantley, and she was upset that the relationship is portrayed as an affair.
The Times Free Press could not reach Richardson for comment.
Investigators found many receipts that showed Donnie Brantley had bought several items that could have been used to dispose of a body, Crump said. Those items included a plastic drop cloth, a tarp, a welders' kit and a pressure washer.
Crump said they also found a landfill ticket that showed Donnie Brantley had dumped some questionable items.
The purchase and landfill trip, coupled with not having found Marsha Brantley's body, is proof of premeditation, Crump said.
Davis, however, has argued that the receipts were from Donnie Brantley's home repair franchise he co-owned with his wife. He regularly bought items such as tarps and plastic drop cloths for work.
Two other things the prosecution has pointed to are that Donnie Brantley allegedly kept changing his story about what happened to Marsha Brantley and, according to investigators, lied about where he kept the couple's camper, which prosecutors thought would crack the case.
When asked what happened to his wife, investigators said he told neighbors several variations, including that she had "gone out west," or was "living in their camper in Townsend [Tenn.]"
At one point, word got out that Donnie Brantley had allegedly lied about where Marsha Brantley had gone. Crump said this is documented in witness statements.
But Davis said those stories were a result of bad interview practice to plant bias before asking questions. He said investigators told interviewees that Donnie had changed his story several times before asking them what they thought of him.
This is documented in a 2013 Bradley County Sheriff's Office interview transcript with Nansy Grill.
"My initial feeling was that Marsha deliberately left and was, was going to go away and be that best-selling author," she told investigators. " But the longer she was gone and when I talked to the TBI and they told me that Donnie had told so many lies, then I began to wonder that maybe she, maybe she wasn't gone away."
In 2012, the same year investigators searched the Brantleys' basement, allegations of misconduct in the 10th Judicial District under then-District Attorney General Bebb came to light in a six-day Times Free Press series.
One article in the series details what defense attorneys claimed were prosecutors' missteps or misconduct, including withholding evidence and violating defendants' rights.
Bebb recently told the Times Free Press that he was not aware of any bad interviews, and he "would have done something about it" if he had known.
Davis has explained Donnie Brantley's differing stories as a man wanting to get "nosy people" to leave him alone after his wife left him.
As for the camper, there is conflicting information about when and where the camper was found. But what is for sure is that Donnie Brantley told investigators the camper was at a campground. When they checked, it wasn't there.
Davis said this was a misunderstanding. Because Donnie Brantley couldn't keep the camper at his house, it was kept at a storage lot across from the campsite or at his parents' property. That is where investigators say they found it - at his parents' farm in Georgia. It was searched but no evidence of a crime was found.
The defense
Despite the circumstantial evidence stacked against Donnie Brantley, Davis, a former prosecutor, has maintained that Donnie Brantley's guilt depends on the lens through which it's viewed.
He said that yes, if it's viewed through the lens of first-degree murder, the evidence does not look great. But if it's seen through the lens of a man whose wife had just left him, it doesn't look out of the ordinary.
He compared the case to the movie "My Cousin Vinny," during which Billy Gambini, played by Ralph Macchio, inadvertently "confesses" to shooting a convenience store clerk by saying, "I shot the clerk?" to police, who then take it as a statement rather than a question.
The main argument the defense has is that Marsha Brantley allegedly told Donnie Brantley that she was leaving him and wanted a divorce. She also sent a group email to her writers' group, telling them she would "be missing for some time without explanation," a copy of the emails shows. " I'm sure we'll cross paths often since we live in such a small town."
The news stunned members of the group and it fell apart.
"It was a big shock because when she formed this group, her one criteria was that, 'If you want to be in the group, you can't quit without a good reason.' Because she wanted everyone to be committed," Jay said.
Some of the women questioned whether Marsha Brantley had actually sent the email, but the third member, Wendy Brown, later told them Marsha Brantley had been planning to leave the group, Grill said. Brown didn't tell the others because it was a private conversation.
Investigators did not trace the origin of the email, Crump said. The email was part of a Yahoo Groups discussion board and the chain was forwarded to them, but the original email had been lost, even to the women in the group. The Yahoo Group had since been closed.
Another email from her address was sent to Shank in 2010 that only contained the word "Hi," both Crump and Davis confirmed. Crump said that email appeared to be a spam email that contained several forwards. He said they did not believe Donnie Brantley had anything to do with it.
Additionally, Davis said Marsha Brantley took about $110,000 she had stashed in the attic. She also left her car behind with a note that read, "Sell it. See what you can get for it."
But that note was not preserved, and investigators believe there was never any money or that Donnie Brantley is the one who spent it.
And that new phone Donnie Brantley bought for her? Davis said Marsha Brantley had asked him to buy the phone and to change her number because "a strange man" kept calling her.
Davis also points to her severe depression. Medical records from her pharmacist show she had been experiencing mild to major mood swings. She had been taking hormone shots in hopes of regulating the depression, records and her agenda show.
While Crump says Donnie Brantley didn't use his wife's power of attorney, there is one instance of her signature being used to sell the House Doctors franchise in July 2009, one month after her disappearance.
Crump said the signature was inspected by a forensic handwriting expert who determined she did indeed sign her name. But investigators thought that wasn't possible, so they had a second expert take a look at it, and that expert determined that it was not Marsha Brantley who wrote the signature.
Davis said this is an example of the state's "confirmation bias." By looking at the case only through the lens that Donnie Brantley is guilty, they will only find evidence to back up that theory.
"The quickest way to not find something is to not look for it," Davis said.
Asked if any other people were considered people of interest, Crump said no. Donnie Brantley was the last person to see Marsha Brantley, he said.
'Bring Marsha home'
There is conflicting information about whether authorities looked for a body.
Crump said there were thoughts of looking for her body in the landfill, "but, frankly, the cost was simply prohibitive and there's nothing that led us to seriously believe she had been taken there."
But Bebb said they did look for her body at the landfill and in other areas.
Marsha Brantley's family did not remember authorities organizing any large search parties, but the family did pass out fliers in hopes of jogging people's memories. They still have hope of one day finding her body, her cousin Jana Wills said.
"I don't know where she is, and if there's anything in this world that I want, it's to bring Marsha home," she said.
As for the future of the case, Crump said his office is working to get the FBI's behavioral analysis unit to review Marsha Brantley's writings in her manuscripts, blog, journal and social media "to get a sense of what was going on in her mind."
He also hopes to regain access to the camper and search it again. He didn't elaborate on what is needed to close the case.
"I think the most important thing about this case at this point, is that we don't view it as a lost cause," Crump said. "Our focus is to get out there and see if we can find that last piece of evidence to kind of make things close up."
Contact staff writer Rosana Hughes at rhughes@timesfreepress.com or 423-757-6327. Follow her on Twitter @Hughes Rosana.