Photo Gallery
Daily Photos 01.25.2009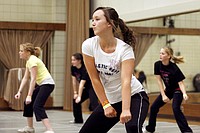 Friends of the victims in Sunday morning's East Ridge double homicide remember suspect Casey James Lawhorn as a troubled man but say they didn't see tragic violence coming.
Lawhorn, 23, is accused of killing his mother, Vi Lawhorn, and 22-year-old friend, Avery Gaines, at a John Ross Road home, authorities said. His gold 2002 Ford Taurus, and later his body, were found near Interstate 59 in Mississippi after he posted a graphically detailed description of the shootings to a Facebook page confirmed to be his.
Jasper County, Miss., Sheriff Randy Johnson said the body was found by a canine unit Monday in a wooded area about 100 yards from his broken-down vehicle, and Casey Lawhorn appeared to have died from a self-inflicted gunshot wound.
Though he wasn't sure what evidence was collected by crime scene investigators, the sheriff thought syringes might have been found near the body, he said in a news conference late Monday afternoon.
Authorities did not find the body until early Monday morning because they did not feel safe sending a search party into the woods with a possibly armed murder suspect.
"We've had trouble with Casey Lawhorn for as long as I've known him," Vi Lawhorn's boyfriend, Wes Robertson, said. "He's always been kind of depressed."
Robertson said he met Vi Lawhorn about a year and a half ago at a concert by the band RoughWork, coincidentally the same band she had gone to see the night she was slain.
He said they moved in together after about six months, and Casey Lawhorn often would spend the night on their couch.
Casey, his mother and brother, Chad Lawhorn, were estranged from the boys' father. And about a year before he met Vi Lawhorn, Robertson said, Casey Lawhorn had attempted suicide after moving to Middle Tennessee State University.
A spokesman for MTSU said Lawhorn started attending in spring 2013, but withdrew in September 2016. He was a political science major with a philosophy minor.
"I guess with the pressures of school and being away from home, he attempted suicide," Robertson said. That was the first time. The second time came around mid-to-late summer of 2017 when Vi Lawhorn got a call from police saying her son had attempted to overdose on heroin.
But before that second attempt, when Robertson moved in, Casey Lawhorn was "on the mend," Robertson said. Casey had started working at Amazon and was eventually promoted to a training position.
"He was making pretty good money," Robertson said. "He was getting to the point where he had the ability to move out and get his own place."
In fact, Robertson said, Casey Lawhorn was planning to move in with Gaines, the friend police say he killed.
"Avery was just kind of his sidekick," Robertson said, adding that Gaines often would spend the night on weekends and play Magic: The Gathering card games with him.
But after his second attempt at suicide, Robertson said, Casey Lawhorn began therapy and was put on mood stabilizers. However, Robertson said he and Vi Lawhorn had recently found out that he quit taking the prescription drugs.
"We had been trying to get him stable for the last six or eight months, trying to get him a job," he said. "We were coming to the conclusion that he wasn't trying to get a job."
He said Casey Lawhorn was sleeping a lot and would get up only to go to Epikos, a comics, cards and games store.
"He probably said but six words to me in the past three months," Robertson said. " His mother was really worried, and I think that's what may have precipitated part of this."
___
Robertson said Vi Lawhorn was "scared to death" because "[Casey Lawhorn] never gave up on that idea [of suicide]."
In Casey Lawhorn's Facebook post, he stated that his mother was talking about "how devastated she'd be if I killed myself."
"It's apparent in his Facebook post that he had some sort of a psychopathic personality that, between that and the drug use and the depression, he just had no feelings anymore," Robertson said. "He talks about how it would feel like to kill someone and then says he didn't feel anything, like he was expecting to."
"I think that was incredibly selfish on his part," he said.
Robertson said Vi Lawhorn was his right hand, his sidekick.
"Whatever I wanted to do, she wanted to do it," he said. "We liked to go to the mountains and go see the local bands."
They were supposed to go to Gatlinburg, Tenn., to see some friends play in a band, Robertson said. The only reason they stayed in town and he wasn't at the bar with her that night was because he had to work.
When he got home at about 8 or 9 a.m., he saw the police gathered at the home and said, "Oh, he's finally done it [killed himself]."
Robertson said he sat in his car and cried after he saw pictures and messages people had made in memory of Vi Lawhorn. He saw a photo of her the night before she died, and she was wearing a shirt he bought for her. He'd never seen her wear it before.
With Casey Lawhorn, despite the depression and mood swings, Robertson said he never saw him as a violent person.
"I never saw him lash out or even get angry," he said.
But a former girlfriend of Lawhorn', who requested anonymity to avoid attention and association, said Casey Lawhorn threatened to kill her and her family after she broke up with him.
"I told him if he came [to my house], I was going to call the police," she said. "He never did. I never saw him again after that."
The two dated for about three months about a year ago, she said. She broke up with him after he began doing drugs.
"He had always had depression and always had, like, bipolar fits, kind of, where he'd be really happy or really sad or angry," she said. " But he always told me that he wanted to go down in history as a hero, so to me, [the killings were] entirely out of the blue and I would have never expected something like this from him."
Though she said Casey Lawhorn's mother was his favorite person, he did tell her he thought his mother loved his brother more. And when he began doing drugs, he became a "totally different person."
___
Late Monday afternoon, the UnifiEd education advocacy organization confirmed Casey Lawhorn had been a volunteer there. The organization released a statement that said its team was "shocked and heartbroken to learn of his actions."
"We want to assure our volunteers, students, teachers, and parents that our organization's top priority is ensuring the safety and well-being of the entire UnifiEd team," interim Executive Director Natalie Cook said.
The statement clarified that, per UnifiEd's policy and standard practices, a trained UnifiEd staff member is in direct supervision of volunteers and students at all times.
Casey Lawhorn's brother, Chad, was a former employee of UnifiEd.
Staff writers Ben Benton and Emmett Gienapp contributed to this story.
Contact staff writer Rosana Hughes at rhughes@timesfreepress.com or 423-757-6327 with tips or story ideas. Follow her on Twitter @HughesRosana.