Photo Gallery
Brent Lambert plays recorded calls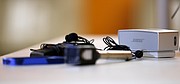 Two politicians running to represent East Ridge and parts of Brainerd on the Hamilton County Commission continued to trade shots Monday over the meaning of three recorded phone calls.
East Ridge Mayor Brent Lambert played nearly 30 minutes of audio Monday that he recorded between himself and incumbent District 8 Commissioner Tim Boyd for members of the media. Other community members interested in hearing more about the calls that got Boyd indicted for criminal extortion were turned away from the East Ridge Community Center.
"I may not have all the experience in the world, but I do know this," Lambert said in between one of the calls. "In my 10 years in the political world, I don't know anyone who has ever been threatened by a candidate in this way."
Last week, Boyd characterized his conversations with Lambert as a father giving advice to a son. In the phone calls, which Lambert made on Feb. 16, Feb. 20 and Feb. 21, Boyd said his political team had found damaging information on campaign contributions Lambert accepted in 2017 from local developers. Boyd said he wanted to let Lambert know that his team would use those contributions to paint Lambert as an "unethical businessman" on the campaign trail.
If Lambert dropped out, Boyd said in the calls, his team wouldn't mention anything publicly. That could save Lambert and the Tennessee Valley Railroad Museum, where he is chief operating officer and president, some embarrassment.
Plus, Boyd said, the District 8 seat would be open in four years, as he planned on making this his last political run.
"It serves me no good to [mess] with somebody's life unless we're in a political race," Boyd said in one of the calls. "But if it's a political race, it's like a football game: I'm going to do everything I can to win."
Boyd's attorney, Lee Davis, said his client was being a responsible candidate and collecting opposition research via public records. He said Lambert was the one who released evidence in a pending criminal case and then blocked citizens from entering the news conference.
There is no law that prevents Lambert from releasing the calls, since he recorded them. And because Lambert paid for Monday's event with campaign funds, he could control the audience, too.
"But now he wants to change the narrative and turn that into a threat when any responsible candidate would bring [contributions] up in a race," Davis said after Lambert's conference. "Follow the money: It's as old as any political campaign, and it's what we will be doing. He's invited it, and we will investigate it."
Is it a threat to say you're going to release public information?
"He didn't call it public information [on the phone]," Lambert said Monday during his news conference. "It is a threat to say if you don't do this, then I'm going to hurt you."
Tennessee law says extortion is when a citizen coerces somebody else for the purposes of obtaining property, services or some kind of advantage or immunity. Last week, Chattanooga defense attorney Bill Speek said the perceived advantage here is Boyd telling his opponent to stop to gain an upper hand in the election. But Speek said a lot of behavior could be shoehorned into that statute because it's broadly written.
A Hamilton County grand jury indicted Boyd last week on one count of extortion, a Class D felony that carries two to four years in prison. He is scheduled to appear April 27 in Hamilton County Criminal Court to plead guilty or not guilty and already has posted a $2,500 bond.
After Boyd said this was a political setup, Lambert called a news conference on Friday to give his side.
Lambert said he received a call on the evening of Feb. 15 from his employer's attorney, Allen McCallie, that Boyd planned to release some damaging information unless he dropped out of the District 8 race.
When he called Boyd the next morning, Lambert said he recorded their conversation so he would have a witness. Lambert said it was his idea to record but said he was in contact with his personal lawyer, John Anderson, who used to be East Ridge's city attorney until he was fired in 2012 for overbilling.
Later that afternoon, Lambert said he went to Hamilton County District Attorney General Neal Pinkston, who arranged a meeting with the Tennessee Bureau of Investigation on Feb. 19. It is not uncommon for a prosecutor who feels too close to a case to ask the TBI to step in. But Boyd cried foul because of the timing: he was indicted a day before early voting began in the May 1 Republican primary.
After his meeting with the TBI, Lambert recorded two more calls. He declined to comment Monday on whether the TBI was involved in them.
Contact staff writer Zack Peterson at zpeterson@timesfreepress.com or 423-757-6347. Follow him on Twitter @zackpeterson918.