Photo Gallery
VW eLabs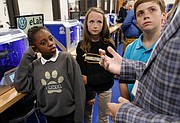 Hamilton County Schools leaders, elected officials, Volkswagen representatives and community members gathered alongside Gov. Bill Haslam to launch a digital fabrication lab at Hixson Middle School on Tuesday.
The lab is the 16th Volkswagen "eLab" to be built in a Hamilton County public school in the past two years. The labs are filled with tools such as 3-D printers, routers that can cut metal and wood, laser cutters and more for students to use.
VW eLab schools
Hamilton County Schools that have a VW eLab:Brainerd High SchoolBrown Middle SchoolChattanooga School for the Arts & SciencesChattanooga Center for Creative ArtsDalewood Middle SchoolEast Hamilton Middle/HighHixson High SchoolHixson Middle SchoolThe Howard SchoolHunter Middle SchoolNormal Park Museum MagnetOoltewah Middle SchoolOrchard Knob Middle SchoolRed Bank Middle/High SchoolSale Creek Middle/HighSoddy-Daisy Middle School
"It is my desire that within these four walls a spark is ignited and the innovation is spread throughout our community," said Hixson Principal LeAngela Rogers. "When we focus on empowering learners to become leaders, they spread ideas."
The labs, which provide hands-on experiences to middle and high school students, were made possible by a $1 million effort between Volkswagen and the state, with the funds coming from the package of financial incentives Tennessee offered to woo the German automaker to Chattanooga.
"This is an exciting moment," said Bryan Johnson, superintendent of Hamilton County Schools. "We have an obligation as a school district to prepare our students, not only for the jobs of today, but for the jobs of tomorrow."
The first eight eLabs opened in September 2017, and schools have already made use of them. Seven have developed student-run enterprises, like a T-shirt design shop at Dalewood Middle School, said Dan Challener, president of the Public Education Foundation.
Chris Seanard, VW eLab specialist at Dalewood, said now that his students have gotten used to the lab, they started this school year ready to jump right in.
"A lot of our kids are comfortable with the lab," he said. "They just do it. It is everything."
This year, Seanard said, Dalewood's lab is working on getting a grant to make a custom-built robotic race car and wants to make its 3-D printers completely solar powered.
Other schools' labs have allowed students to participate in robotics tournaments, create model prosthetics, build solar-powered go-karts and even create water filtration systems that don't require electricity.
This creative, hands-on experience is what will stick with students and inspire them for life, said Nicole Koesling, senior vice president of human resources at Volkswagen.
"This place has been empty, and now look what what is here," Koesling said of the large classroom space the lab now occupies at Hixson Middle School. "No matter what direction these students go, this experience they will take with them. The skills and hands-on experience and the education they get here, this they will never forget."
Haslam attended the ribbon-cutting at Hixson after earlier announcing the next steps in the state's lengthy process to reform the TNReady state assessment. He interacted with a sixth-grade student who had used resources at one of the eLabs to complete projects.
"I love the whole idea that we are talking about, coming together to say, 'How do we help each other get ready for a future that none of us really know what it's going to look like?'" Haslam said. "This is about innovation."
Funding and development for the labs was administered through PEF, a local education nonprofit that provides resources to teachers. Each lab was implemented by a Volkswagen eLab Innovation Team led by the PEF and leaders within each school.
"I knew we had amazing teachers in our school district," said Michael Stone, PEF director of innovation. "Teachers who wouldn't be afraid to push the envelope."
This summer, the PEF hosted Chattanooga's first Digital Fabrication Institute in five of the district's Volkswagen eLabs. More than 150 teachers from around the region and seven states gathered for several days in the labs, creating clocks from scratch using using the equipment and technology the eLabs are outfitted with, including 3-D printers, CNC routers, laser cutters and more.
The institute was a partnership among the PEF, Hamilton County Schools and Hamilton County Education Association. It served as a four-day-long professional development experience, and was made possible by a multiyear, $150,000 grant funded by the NEA Foundation to support teacher development and STEM education.
Of the 16 labs, Challener said to his knowledge there were more digital fabrication labs in Hamilton County than in any other district in the nation.
Contact staff writer Meghan Mangrum at mmangrum@timesfreepress.com or 423-757-6592. Follow her on Twitter @memangrum.