Photo Gallery
The fight for Finley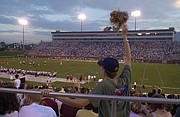 For 21 seasons, the University of Tennessee at Chattanooga football team has made Finley Stadium its home. For 10 seasons, the amateur Chattanooga Football Club has also called Finley its home site.
Now starting in 2019, a new Chattanooga professional soccer team will begin play. Presuming they will play at Finley Stadium, that could set up a situation in which the three entities - along with the UTC women's soccer team - could all be vying for time in the same facility.
That battle could be one player short in future seasons.
Mounting frustration has led UTC to start looking into the possibility of building a new venue where it could start playing - and making money - soon. The school's purchase of Engel Stadium in 2008 gives the school an option, and it has outlined a facilities master plan that includes the possibility of a 12,500-seat stadium that could be expanded to more than 15,000. The new facility could have as many as 25 suites with premium seating areas, and UTC would look into the possibility of moving its football building to the new site.
The school, which has been looking into the possibility for a year, recently received the green light from the University of Tennessee system to start working with the Populus Group on a master plan that would include renovations to McKenzie Arena and possible facility additions, as well as working on Maclellan Gymnasium. The UTC volleyball and wrestling programs practice and have home matches at the former home to the basketball teams.
"They're going to provide us research for what we can charge on the suites and the market value," UTC Vice Chancellor and Athletic Director Mark Wharton told the Times Free Press on Tuesday. "That way we'll be able to sit down with the chancellor (Steve Angle) and (executive vice chancellor in charge of finance and administration) Richard Brown to see if we should pull the trigger or not pull the trigger."
The school's frustration comes from the rental rates of Finley Stadium.
UTC is charged $12,000 a month for use of the facility, where between now and the end of September it will play two football games and five home matches. In addition to the rental fee, Finley receives all of the revenue from suites, concessions and parking.
Back in April, the school was approached by Finley Stadium about a contract that would cost the school $268,000 a year over five years - nearly twice the rate of its current deal. The school declined, ultimately deciding on short-term deals with options to renew.
"Everyone's concerned about soccer and how they're going to put two teams in the stadium," Wharton said. "If we leave, we can have our own facility at 12,500, pack it, create demand and put footings there where if we have the opportunity to go to Conference USA or the Sun Belt, let's play."
THE HISTORY OF ENGEL
Engel Stadium was built in 1930 and was the home of the Chattanooga Lookouts until they moved to AT&T Field in 1999. Some of the sport's most notable all-time names played in the stadium, such as Babe Ruth, Lou Gehrig, Hank Aaron, Satchel Paige and Willie Mays.
When the Lookouts moved, Hamilton County and the city of Chattanooga acquired joint ownership of the facility, with UTC acquiring it in 2008.
The school just recently started renovations, building three intramural fields at the facility. Future plans include the school's soccer team, which will play a game there on Sept. 14 against North Alabama because of a high school football game at the facility the same day, making the site its permanent home.
Could football be joining them?
Wharton said if the school could get the new stadium, he already has plans for how to honor the stadium's history, including a museum on one side of the entrance to document the history of the facility and another side that would document the history of UTC football.
"It would be like a Wall of Fame," he said. "We would put home plate where home plate is. We've already researched the Tennessee historic register, and while we cannot do any renovations or build another baseball stadium, we can build whatever we want - as long as it's not baseball."
THE HISTORY OF FINLEY AND THE EMERGENCE OF SOCCER
Finley Stadium was built in 1997 as the home for UTC football games, built as part of the city's Southside revitalization project. In addition to Mocs games, it also became the home for the Division I-AA (now Football Championship Subdivision) national championship game, where it was played until 2009 before being moved to Frisco, Texas.
That same year, the Chattanooga Football Club was born. It started slowly, averaging just more than 2,000 attendees per home match in its initial season. Attendance grew in its next season before falling to 1,458 in 2011, but followed that with five consecutive seasons of growth, peaking at an average of 4,829 during the 2016 season. The team's success played a major part in that, with four trips to the national finals from 2010-15.
In recent seasons, attendance has started to dip as the team has struggled to maintain the high level of play. After a national semifinal appearance in 2016, the club hasn't been able to get beyond the first week of the playoffs the past two seasons, most recently dropping a penalty-kick shootout to Atlanta in the Southeast Conference championship match.
THE SOCCER CONNECTION
In recent years, CFC had started looking into the possibility of becoming a professional franchise - but only if it could find the right league, the right fit. The team's success in recent years helped it operate at a net gain due to additional home matches that generated additional revenue, but CFC only had nine regular-season home matches in 2018. Back in 2017, then-general manager Sean McDaniel and co-chairman Tim Kelly started openly talking about the desire of going pro, with Kelly and McDaniel being heavily involved in meetings surrounding a new potential league, then to be called the National Independent Soccer Association, which eventually fell through.
The CFC board started to talk to McDaniel about sending resumes out and "getting a day job," to work his way back into more of a civilian life. Around that time, McDaniel started to send resumes out and was considered for a job with a United Soccer League team out of town before choosing to remain in Chattanooga, which didn't sit well with some on the CFC board.
"Due to some budgetary challenges, we had told him he should start sending resumes out. We all have day jobs," Kelly said. "We didn't tell him he should start sending resumes out to teams."
Not long after CFC's season ended, McDaniel announced his resignation with CFC. Two weeks after that, he was announced as the new president and general manager of the new Chattanooga soccer program that will play in the new USL Division III league, which is owned by Bob Martino, an investor from Utah that plans to live part time in Chattanooga.
Sources told the Times Free Press that Chattanooga was once looked at as an "off-the-market" destination for professional soccer due to CFC's rise and success, but once Kelly started calling the USL "not a sustainable model," the league decided it would look into putting a team in the city.
"The USL has had their eyes on some markets for the new D3 league for quite some time, including Chattanooga," McDaniel said. "As fate would have it, I was contacted by the league office that the rights to Chattanooga had been sold to Martino and he was looking for someone to assist.
"In a matter of days, I was connected to him and here we are."
Some have suggested that McDaniel and Finley had back-door negotiations to construct a deal for the new professional team, with multiple sources telling the Times Free Press that "there's no way this guy (Martino) would put a team in Chattanooga without knowledge of where he's playing."
McDaniel shot down those allegations.
"That's news to me," he said. "I can tell you what I know about that, and Finley and what they've told me is that both organizations are amicable and upstanding, and I have no reason to doubt that the conversation started when Mr. Martino called Chattanooga 'his second home' a couple weeks ago."
Meanwhile, CFC has continued to deal with some financial issues. The team currently owes Finley $18,370.29 and has flirted with the possibility of switching venues, although Kelly said recently that it was more of a posturing gesture and the team would be taking care of the balance.
"My preference is to stay at Finley," Kelly said.
Kelly and the CFC group made news over the weekend, bringing back positive news about the possibility of a new National Premier Soccer League pro division, which could have as many as 10 teams in it by its inaugural season of 2019 - same as the USL.
The new league would like to call itself NPSL Pro under the U.S. Soccer Adult Soccer Association. The U.S. Soccer Federation has said that only professionally sanctioned leagues can use the word 'pro,' which would be leagues considered Division I, II or III.
"We are the professional team of Chattanooga," McDaniel said. "There's plenty of room for all levels of soccer in the city, but the only professional league is the one deemed by U.S. Soccer and Major League Soccer and the USL league."
GOING FORWARD
At this point, there are more questions than answers.
If all three teams are able to strike up deals with Finley to play in 2019 - at the Finley Stadium board meeting Tuesday, Finley board chairman Gordon Davenport said the stadium was in preliminary negotiations with both soccer teams, while adding that a renewal with UTC was "very close" - then the question remains who will get the facility and when. There will be another meeting in October, with use agreements and renewals expected to be looked at. Once all three teams strike agreements, Finley will likely put in place a scheduling system, which will allow both teams the opportunity to work out home dates.
The new professional soccer team's season is expected to run from February with a couple of preseason friendlies until mid-September or October, with the schedule expected out in early October. The current Chattanooga FC season officially runs from May through August, while UTC's first home football game is Aug. 31 against Eastern Illinois University. The Mocs' official schedule won't be out until January, but in addition to the Eastern Illinois game, the team hosts James Madison on Sept. 21. The team has a non-conference schedule set through 2023.
With the possibility of a new facility and two other teams fighting for a facility the school feels it has priority to, the biggest question is whether or not they'll still be there by then.
Contact staff writer Gene Henley at ghenley@timesfreepress.com. Follow him on Twitter @genehenley3.