Photo Gallery
Children's outpatient center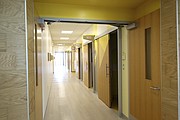 Chattanooga's influence on the new children's outpatient center at Erlanger is apparent, from the classic locomotive out front, to its aquarium-style roofline, to the Walnut Street Bridge canopy and facade that emulates rock striations along the riverfront.
But when patients and caretakers stroll the halls, they'll discover it wasn't just the city, but its people - local artists who donated their work, families who shared their heirlooms and the more than 6,000 individuals who contributed funds to the largest philanthropic campaign in Chattanooga history - who inspired the project.
"We listened to the community to build this building," said Don Mueller, CEO of Children's Hospital at Erlanger. "So many people have had their fingerprints on it. I hope everyone who walks through can see they contributed in some way."
Emergency and inpatient services will remain at the main campus, but starting Dec. 17, the new, 90,000-square-foot facility across the street will house all of Erlanger's children's outpatient services, including cardiology, pulmonology, neurology and orthopedics. The change will free up space, decrease wait times and increase throughput by 30 percent, allowing Erlanger to serve more than 100,000 pediatric patients annually, Mueller said.
"This project is more than just a building. It has been about transforming the way that we deliver pediatric care for this entire region," he said, adding that the facility has already helped Erlanger recruit new doctors and bring new subspecialties to the region. "There used to be a time when we didn't do pediatric sleep studies in this town and you'd have to go to Nashville or Atlanta."
Members of the community can tour the new facility, officially named the Kennedy Outpatient Center for the family who donated $5 million to the project, during a celebration event on Sunday from noon until 3 p.m.
Aside from updated medical services and equipment, the new facility boasts many kid-friendly features, like Sally the tow truck, a refurbished fire truck, a secret garden and a hang glider suspended from the ceiling.
Dan Luhrs, senior vice president at the architecture firm HKS and the project's lead architect, said there's a balance between appealing to children and remembering that pediatrics serves teens, too.
"You got to be careful not to make it an amusement park, but you've got to make it kind of fun," Luhrs said. "There's seating, there's playing, you can walk around and really embrace wayfinding. Instead of it being like a waiting room, it's actually an active space."
In addition to taking input from the community, Bruce Komiske, Erlanger's vice president of new hospital design and construction, traveled with others from the design team to some of the newest, most prestigious children's hospitals across the United States.
"Each time we would pick some ideas and come back with thoughts and creative things, so it's a composite of the best ones that are out there," Komiske said. "We want others to come here and see we did a great job, so the [country's next children's hospital] is even better."
Like many other new facilities, Erlanger decided to abandon the traditional medical clinic model - where rooms and halls are designed around a specific service - for a multi-use pod system.
Upon arrival, patients will enter through the front door and either check in at the front desk or a kiosk, similar to checking luggage at the airport. Within minutes, they should receive an electronic alert with their room assignment on either the second or third floor, where exam rooms are organized by color-coded halls.
Luhrs said the system will allow Erlanger to adapt to changing patient volumes. So on one day, blue room No. 7 on the third floor may be for used for gastroenterology and the next day see a patient with an ear infection.
"When we get periods of surge, like let's say flu season, and you've got to increase the amount of exam rooms you need to see the kids, you can flex out that way," Luhrs said.
Providers will not have offices in the new building, a major operational change that's created some resistance. Instead, staff will enter exam rooms from a separate door to a station where they'll congregate in between treating patients.
"It's not a unique concept - we keep refining it based on the operations - but for Erlanger, it's totally unique to swap out like that," Luhrs said, adding that usually it takes about a year to perfect the system.
Julie Taylor, president of Erlanger Health System Foundations, helped lead the fundraising efforts that contributed $30.5 million, exceeding the goal by $2 million, to pay for the $40 million project.
"People obviously know that there's a need," Taylor said. "I think, too, people got excited about a big idea. It's a vision not just for this building, but pediatric health care throughout the region."
The project is the first step of Erlanger's long-term plan to build a new, comprehensive children's hospital.
Contact staff writer Elizabeth Fite at [email protected] or 423-757-6673.