Photo Gallery
Children's outpatient center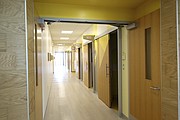 Chattanooga's influence on the new children's outpatient center at Erlanger is apparent, from the classic locomotive out front, to its aquarium-style roofline, to the Walnut Street Bridge canopy and facade that emulates rock striations along the riverfront.
But when patients and caretakers stroll the halls, they'll discover it wasn't just the city, but its people - local artists who donated their work, families who shared their heirlooms and the more than 6,000 individuals who contributed funds to the largest philanthropic campaign in Chattanooga history - who inspired the project.
"We listened to the community to build this building," said Don Mueller, CEO of Children's Hospital at Erlanger.