Photo Gallery
Slope and flood plain proposal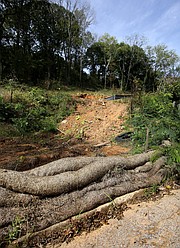 A new set of proposed guidelines aimed at addressing overdevelopment of Chattanooga's most vulnerable land has been received with agreement from developers, but it's stirring new concerns among some residents who worry there will be little impact.
For several months, city staff have been researching and drafting measures that would lead to smarter development in neighborhoods where new homes and buildings on steep slopes and flood plains have created or exacerbated problems such as stormwater runoff and flooding in surrounding homes and neighborhood streets.
A temporary resolution announced by planning staff in November would allow grading or clearing on no more than 20 percent of any property where the slope is 33 percent or greater, would limit clearing and filling to 50 percent of a tract in a flood plain and it would require that where the site plan calls for a retaining wall, the wall must be built before the house or other structure is constructed.
But