Photo Gallery
Classroom Library Project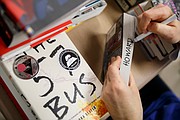 More Info
To learn more about the Classroom Library Project, visit momsforsocialjustice.us/the-classroom-library-project/
On Monday morning, Katelyn Dix's ninth-grade students will find an early Christmas present when they go to English class at The Howard School.
Awaiting the students, who will spend the week taking midterm exams and benchmark tests, is a cozy new reading nook and classroom library stocked with dozens of books picked out just for them and their peers.
Dix's library is the first installment of the Classroom Library Project, a new effort launched by local activist group Chattanooga Moms for Social Justice.
The project's goal is to stock Hamilton County classrooms books for students and their teachers.
"It's important to focus on things you can make a difference on at a ground level," Natalie Green said. "Something that is actionable."
The group of local moms - and allies - is known for raising awareness about gun violence, calling for stricter gun laws, helping organize women's marches and campaigning for local candidates, but it recently has turned to a more universal cause: raising awareness about literacy and reading.
In October, the group hosted a Harry Potter-themed celebratory event, "The Magic of Literacy," and gave away more than one hundred copies of the book, "Harry Potter and the Sorcerer's Stone." There, the group also announced the new project and began seeking donations and community partners to help fund it.
"It doesn't have to be political, it doesn't have to be partisan," Greer Caldwell said. "We want to do something that everyone can get around and who is going to argue with giving books to kids? Giving resources to students?"
Since then, school administrators and local businesses have answered the call. Star Line Books, a local independent bookstore, offered the group discounts to purchase young adult novels; Read 20, the local public-private partnership that has provided books to hundreds of Hamilton County children, also opened its warehouse to the group; and Opportunity Zone school leaders helped the group connect with teachers in need of books for their classrooms.
Dix is a new teacher to Hamilton County; she moved from Boston and left many of her materials and resources behind. Caldwell said she provided the group a list of books with which she hoped to fill a library for her students.
"Ms. Dix was aware what the kids wanted to read and what they are going to enjoy," Caldwell said. "We wanted a diverse selection that would reflect her class."
Research shows that students must be exposed to different types of literature featuring characters that reflect their lives or written by authors similar to them, especially those who struggle the most to read. In a school district where only 34 percent of third- through fifth-graders can read on grade level, educators have been seeking to encourage reading such as through Nooga Chat, the Howard School's book club, and by providing selections for independent reading in individual classrooms.
Cecile Laine, a French teacher at Girls Preparatory School, joined the group over the weekend to help set up the library. She leads a group that discusses how to diversify children's bookshelves and was excited to join a project focused on literacy.
As she labeled and stamped books while the group set up the library in Dix's classroom Saturday, Laine was pleased by the selection.
"We have books that have characters that are non-white, characters that are living their everyday life, but are about something that does not share the same race or religion or culture," Laine said.
The group estimates that each library will cost around $1,500, including new books and supplies and furniture to create a cozy place, Taylor Lyons said.
The first library was heavily funded by Danielle Mitchell's congressional campaign, but the moms hope others in the community will step up to help.
They already have their eyes set on the next library - a third-grade classroom at Barger Academy of Fine Arts. They hope to complete it in January.
Contact staff writer Meghan Mangrum at mmangrum@timesfreepress.com or 423-757-6592. Follow her on Twitter @memangrum.