Photo Gallery
Mentors helping teachers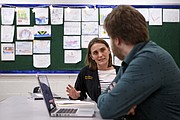 A new year can mean a new start - weight loss, better finances, more family time.
For first-year teachers, it's the halfway point in an often long, challenging year. Winter break provides teachers time - at least a little - to reflect on the first half of the school year.
Are my students engaged? Are my lessons challenging enough? Do we waste too much time lining up? Does the pencil sharpener need to be moved to prevent distractions?
These are all questions teachers across Hamilton County are asking themselves as students prepare to return to school. And for the first time, the school system has a districtwide strategy to help them.
This school year, each first-year teacher in Hamilton County has a mentor - one who is a veteran teacher and usually in the same subject area and at the same school. Together, mentors and mentees attended a New Teacher Academy at the beginning of the school year and can attend monthly New Teacher Network sessions.
They also meet several times a month to plan together, bounce ideas off of one another and observe each other teach. It helps veteran teachers provide feedback while allowing mentees to watch how innovative teachers manage their classrooms.
"This is how we can teach and support new teachers and better equip them to ultimately retain them," said Ranita Glenn, a literacy coach at Hardy Elementary.
At the end of the 2017-18 school year, Hamilton County Schools had a 26 percent turnover rate for first-year teachers. This year, the district has 205 new teachers across dozens of schools.
Classroom management and student behavior challenges can be the biggest struggle for first-year teachers, Glenn said recently at a New Teacher Network session. She helped lead a session for elementary school teachers on how to organize and manage their classrooms.
"When we think about resetting in January, we want to think about our goals and what we want our kids to do," she told a room full of tired - but motivated - teachers, many from the district's 12 highest-needs schools in the Opportunity Zone.
Glenn has been an educator for more than a decade. She's an asset for new teachers who might have questions or concerns but are too intimated to ask their principals or supervisors for help.
No one likes to admit they are struggling, the first-year teachers all agreed.
Erica Kelley is a social studies teacher at Orchard Knob Middle School. She's also a mentor for another social studies teacher in his first year at the school.
"We went to a special training about how to make observations more effective, about how to provide helpful coaching," Kelley said.
Before the winter break, Kelley spent an entire period observing her mentee's class. She watched Seaver McMichen's procedures for getting students into the classroom, ready for the lesson; his interactions with the students; and the content and activities associated with his lesson - on the history of Texas - that day.
"You look at the positive as well as what needs to be improved upon," Kelley said. "A mentor isn't supposed to just be here to tell you how to improve your pedagogy and your classroom."
McMichen said it's been especially helpful that Kelley previously taught his subject, eighth-grade history. She knows the content and can help him prepare for class.
For McMichen, one of the biggest challenges has been finding new strategies and creating fresh lessons.
"Different activities that I've done at other schools haven't worked here," he said. "I'm starting from scratch on a lot of things."
Lesson planning is a facet of the first year on the job that can be difficult for new teachers. Nationally, teachers are most likely to leave the profession within the first three to five years - as high as 17 percent, according to the National Center for Education Statistics.
That's why Superintendent Bryan Johnson hired Chief Talent Officer Keith Fogleman, who has shifted the work within the district's human resources department and hired Erin Kirby, the district's induction specialist.
Kirby and her team are the masterminds of the New Teacher Network sessions. Each month, they've selected topics with which new teachers have said they are struggling - like the classroom management session taught by Glenn. Kirby spent weeks collecting nominations from principals and matching mentor and mentee pairs like Kelley and McMichen.
She was especially excited to offer new teachers strategies for resetting and starting fresh for the second semester. Kelley echoed how refreshing the new year can be for teachers who have been trying just to stay afloat.
"Doing a reset when school comes back is great," she told McMichen. "Go back through procedures, expectations. It's a great opportunity to tweak stuff you think you can get better at. It's a new year, a new semester."
Kelley added that mentors are there to help new teachers wade through that.
"The expectation isn't excellence," she said. "It's growth."
Contact staff writer Meghan Mangrum at [email protected] or 423-757-6592. Follow her on Twitter @memangrum.