Photo Gallery
Lady Vols respond, beat Texas A&M 82-67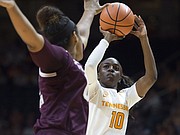 KNOXVILLE - Instead of doubt and complacency festering in the game's final minutes, an aura of confidence permeated Thompson-Boling Arena.
As the Tennessee women's basketball team turned a two-point fourth-quarter deficit into a double-digit lead, players forced turnovers and dived on the floor for loose balls while a crowd of 8,841 chanted its approval.
Effort had been a problem when the Lady Vols lost at unranked LSU on Sunday. Thursday night, effort abounded, and especially when it mattered most.
No. 12 Tennessee reversed course on its recent late-game struggles and beat No. 14 Texas A&M 82-67 by outscoring the Aggies 25-8 in the fourth quarter. The stellar finish helped the Lady Vols gain revenge on the team that ended their 15-0 start in an overtime game three weeks ago.
That game began Tennessee's spiral of four losses in six games. This one may have snapped the Lady Vols out of their funk.
Jaime Nared had her most efficient shooting night in nearly two months, scoring a team-high 23 points while Mercedes Russell added 18 points and 13 rebounds to pace Tennessee (18-4, 6-3 SEC).
"I think what makes this win a good win for us," Nared said, "is how much doubt has come from the losses and everyone questioning us and just how much different things have been when we've lost games, from all around and just the fact that we've stuck together and we're still working."
Scrutiny had increased last week when Tennessee dropped a pair of "We Back Pat" games dedicated to the legacy of legendary former coach Pat Summitt and the foundation that bears her name.
But the Lady Vols began the second half of conference play with a statement against a Texas A&M team (17-6, 6-3) that had won six of seven coming in. As Aggies coach Gary Blair stood up from his postgame news conference, he admonished critics of Tennessee coach Holly Warlick.
"She's doing a great job," Blair said. "She had the number one recruiting class in the country last year. She's got the number three (class) coming in next year. How would any of you guys like to replace a legend? It's pretty damn hard. Get off her case. She's doing a great job."
Texas A&M entered the fourth quarter with a 59-57 lead. At that point, the largest lead for either team had been when Tennessee led 8-4.
On its first possession of the fourth quarter, Tennessee isolated Russell at the free-throw line against Texas A&M center Khaalia Hillsman. With Tennessee's wing players dispersed around the arc, Russell went to work, going in the lane for a floater that tied the game at 59. In the first meeting, Hillsman finished with 22 points and 11 rebounds, one better than Russell in both categories.
Russell held Hillsman to eight points and four rebounds in the rematch.
"Box-outs were huge and just keeping her off the offensive boards," Russell said.
The Lady Vols went ahead 65-61 with 7:59 remaining on back-to-back layups by Rennia Davis and Nared. Then A&M star freshman Chennedy Carter was called for an offensive foul as the crowd increased in volume.
Tennessee did not immediately capitalize on the momentum - both teams went more than three minutes without scoring - but buckled down defensively, generating steals from a full-court press and holding the Aggies to 3-of-10 shooting in the frame.
Finally, the defensive intensity was rewarded. Tennessee scored eight points off turnovers as it closed the game on a 15-4 run.
"Let me tell you: Every win is big for us," Warlick said. " After the stretch we went through, the sky was falling."
Tennessee plays at Vanderbilt on Sunday afternoon and at Arkansas next Thursday.
Warlick said she does not read much social media, where criticism abounds, but said she can tell when the heat is on because supporters send her well-wishes. She knows that's a sign that criticism is picking up. Someone sent her flowers Wednesday, she said.
"I'm going to get bashed," Warlick said. "I get that. I don't like it, but I get it. But don't mess with these kids. They're playing hard. They love this program. They're doing everything they can to maintain the tradition of this program. That's why they came, for the tradition. But then they want to carve out something for themselves."
After Thursday's game, Warlick said the players were in a good mood in the locker room. The critics were silenced for a night.
"We've heard it all," Nared said. "But I think we'll just stick together and keep working. We're fine."
Contact David Cobb at dcobb@timesfreepress.com. Follow him on Twitter @DavidWCobb and on Facebook at facebook.com/volsupdate.