Photo Gallery
Tax break for M.L. King extension moves forward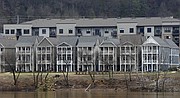 After another round of questions Tuesday, the Chattanooga City Council appears to be closer to going forward with extending M.L. King Boulevard to the Tennessee River using a tax incentive for the developer.
Yes, money generated from the tax break will be used only to construct the road, a broad, landscaped entry to the Blue Goose Trailhead at the Tennessee Riverpark, and for improvements to another city street near the riverfront.
No, none of it will be used for the $50 million third phase of Cameron Harbor, the upscale development that includes the properties included in the tax incentive.
Neither will $500,000 of the tax increment financing (TIF) revenue be used to subsidize apartment rentals at the Cameron Harbor development for workforce housing.
Those