Photo Gallery
Songbirds Foundation giving the gift of music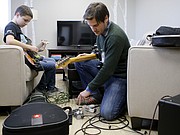 More Info
How to get involvedVisit the Songbirds Foundation's web page at songbirdsfoundation.org.Through the Donate a Guitar program, you can donate a guitar you are not using or make a cash donation.
On a recent Wednesday afternoon, Reed Caldwell finds himself sitting on a couch across from 14-year-old Alex Bell in an upstairs space at Siskin Children's Institute on Carter Street. It's a small room, with a small table and a couple of couches.
While Caldwell talks to a couple of parents in the larger outside room, Bell sits down and immediately starts picking out melodies on his brown sunburst Fender Squier model electric guitar. He has the volume turned to a lower lever, something he says he doesn't do at home.
Caldwell soon joins him and begins showing Bell how to use a distortion pedal. Bell is partial to heavy-metal music and is learning to play "One" by Metallica. He's only been playing for less than a year but has a natural ear for it and usually plays every day until his parents, usually his mother, make him stop.
"It's fun to play," he says.
In an adjacent room, Matthew Newby, 15, and Kaden Burkhart, 14, are working with Megan Taylor on how to play "Bad Moon Rising" by Credence Clearwater Revival on acoustic guitars. They're seated on big stools shaped like mushrooms, and they seem to spend as much time laughing as they do tuning their guitars. Especially Taylor and Newby.
But once the instruments are tuned and it's time to really play the song, the tone gets a little more serious and focused.
These are scenes that play out every Wednesday at Siskin and other days at Children's Hospital at Erlanger, Creative Discovery Museum, Y-CAP and Unity Performing Arts as part of the Songbirds Guitars for Kids program run by the Songbirds Foundation, the nonprofit part of the Songbirds Guitar Museum.
For a little more than a year, the foundation has provided "free guitar lessons and in-depth music therapy to kids who would otherwise be without music education," according to Caldwell, the foundation's director and one of three instructors.
Taylor is a music therapist and another instructor. The third is Taylor Moenning. Caldwell says he hopes to have 10 instructors by this time next year. Last year, about 110 kids benefited from the program, and the goal by year's end is 425 via a new program within the school system. The teachers are paid for their time, but there is no cost to the students.
The foundation works with its partnering organizations to find the students, who are ages 12 to 17.
Musack, an organization with a similar mission that started in Massachusetts almost a decade ago, has donated about 40 guitars to date, and Caldwell is looking for more donations. The guitars are technically on loan, but sometimes that becomes a permanent situation.
Instructors work individually and in groups with the students. Caldwell says teaching the young students to play music, in this case through the guitar, teaches them creativity, how to make friends and builds confidence. The group interactions have proven to be beneficial to students who have experienced bullying or who deal with developmental disorders such as autism or Asperger's, he says.
"It can really make a difference," he says.
Caldwell has been teaching kids to play for years and says part of the success of the program is that the instructors are open to what the students want to learn to play. Which is why the students at Siskin were learning to play CCR and Metallica. They start with simple chords, which helps the students get started, but also gives the instructors an idea of not only the level of skill, but the students' musical tastes.
"It can change from student to student or group to group," he says. "We let it happen."
He says the program teaches basic rhythmic patterns at first. As the students progress, gaining knowledge and "the lust for learning," they circle back to teach more technical skills and theory.
"The main goal is to give them a deep appreciation for music," Caldwell says. "It's something that can carry with them well beyond school."
In addition to the lessons, the foundation has used its connection to the museum to arrange tours and history lessons for the kids as well as the chance to watch live as Vault Sessions are recorded.
The sessions are a series of video tapings of national performing artists, folklorists, music historians, writers, industry people and instrument manufacturers, sharing stories, techniques and music.
The foundation's Facebook page features a photo of some of the students listening to Doyle Dykes during one of the tapings. There is also a video of the students joining Dykes on guitar and singer Amber Carrington performing "Jingle Bells."
Other Vault Sessions performers include Tinsley Ellis, Cary Hudson and Katrina Miller.
Contact Barry Courter at [email protected] or 423-757-6354.