Photo Gallery
South Broad Street District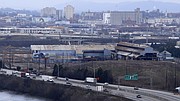 The South Broad District was seen Monday as "a new frontier" for Chattanooga with housing for rich and poor, a revitalized Howard School and entertainment including a multi-use ballpark.
More than 60 people showed up for the public unveiling of a plan expected to guide future development in the area bounded by vacant foundry land, Howard, Interstate-24 and Chattanooga Creek.
What's next
› The Chattanooga-Hamilton County Regional Planning Commission will hold a hearing to adopt the South Broad District plan on March 12.› The Chattanooga City Council will have a chance to publicly adopt the plan on April 10.
"This is going to be a 'wow' kind of development," said City Councilman Erskine Oglesby Jr.
Jim Thompson of Chattanooga said he's excited by the potential for housing for people with a broad mix of incomes in the area where there's fewer than 1,200 now living in a district more than 10 square blocks in size just outside the city's burgeoning downtown.
He said he knows a Nashville developer and doctor who both believe Chattanooga real estate is a much better opportunity for them than land in their city.
Wally Reece of Chattanooga said he sees a lot of redevelopment possibilities in the district.
"We're looking," he said, adding he came to meeting to get a better feel of what was envisioned by the plan.
The 128-page South Broad report was issued last week after a series of public meetings in fall 2017 that drew several hundred people to provide a vision for that area's future.
The Chattanooga Design Studio report foresees an array of new housing along with commercial and retail space, upgraded parks, streets, sidewalks and other infrastructure, including a new minor league ballpark and entertainment facility to serve as a catalyst for development.
Chattanooga businessman Bill Chapin said there are educational opportunities and enhanced economic mobility in the district. He called for new housing that's not just market rate but available to rich and poor alike.
Eric Myers, who heads the Design Studio, said the district embodies economic diversity.
"We need a housing coalition to work in a district like this," he said.
A Howard School campus better connected to the area also was talked about at the meeting.
In addition to a new football field and track, already endorsed by school leaders, there were discussions of tying the school to the neighborhood by use of improved streets, sidewalks and park upgrades.
Larry Aulich of Soddy-Daisy suggested an indoor facility that could include a track complex and other potential facilities. Remaking the Howard School area would give youth in the area something to do by getting them more involved in sports, he said.
A potential new multi-use ballpark anchored by the Chattanooga Lookouts drew attention at the meeting. The plan has suggested possibly building a new facility that could be used much more than the existing AT&T Field near the riverfront to spur other development.
Aulich said something would need to be done with the existing ballpark.
"What would you do with that space?" he asked.
Jim Kimball of Chattanooga suggested building an aquatic center in the district that could be used for national and international events as well as daily by local people.
Mike Mallen, a partner in the group that owns the 141-acre Wheland/U.S. Pipe foundry property where the plan situated the ballpark, said newer facilities are used upwards of 600 times a year with minor league baseball accounting for about 15 percent of its use.
"It's a multi-use public facility," he said.
Oglesby said the plans offer a chance for "a new frontier for our city. We're committed to moving forward."
Contact Mike Pare at mpare@timesfreepress.com or 423-757-6318.