Photo Gallery
Local students compete in regional robotics tournament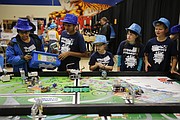 Students from public schools, private schools, charter schools and even some who are a part of homeschool groups were among the participants (and winners) at TVA's SuperRegional Robotics FIRST Lego League (FLL) Tournament Saturday at Chattanooga State Community College.
More than 800 people attended the tournament comprised of 36 teams from the Chattanooga area and North Georgia who advanced from four competitions last fall. Teams of up to 10 students between fourth and eighth grades designed projects around the competition's theme and programmed a robot made of Legos to perform specific tasks during the tournament.
The projects all centered on water - the overall theme was hydrodynamics.