Photo Gallery
Plans for new East Hamilton Middle School unveiled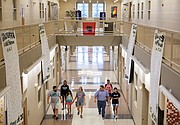 SCHOOL SPECS
Slated to open for the 2020-2021 academic year:Price tag: $36 millionConstruction will begin Feruary 2019Enrollment: 1,200 students in grades 6-8165,000 square foot building
East Hamilton community members were able to get a sense of what the future has in store for their children's schools at a presentation Tuesday night.
Hamilton County school leaders including Superintendent Bryan Johnson and Mayor Jim Coppinger presented plans for the new East Hamilton Middle School at a community forum. Also present were representatives from TWH Architects, the firm hired to design the project.
The school, slated to open for the 2020-2021 school year, and its $36 million price tag is one of several projects made possible by $100 million in bond funds issued by the county.