Photo Gallery
Pace 'steady' on first day of early voting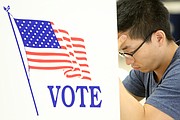 View our 2018 Voter Guide
A solid fence of brightly colored candidate signs lined the driveway into the Hamilton County Election Commission office Friday and formed a picket in the grass 100 feet from the building - the closest they are allowed to the voting place.
A slow but steady trickle of vehicles rolled into and out of the lot as residents came to cast ballots on the first day of early voting for the Aug. 2 election.
Voters are choosing their representatives in Hamilton County government, such as the sheriff, county mayor and commissioners, and school board. They also are picking their party representatives for the Tennessee General Assembly and Congress ahead of the Nov. 6 general election.
Louis Carter cast his ballot on the first day mostly for convenience, he said. Carter, 79, of Lookout Mountain, is a missionary plastic surgeon and is traveling to Liberia next week.
He said the key campaign in his mind this primary season is the governor's race, with the U.S. Senate race close behind.
"That's our right as citizens to vote, and I think we should let our voice be heard," Carter said.
Mary Beth Hudson also was focused on the governor and Senate primaries.
"The governor sets the direction and helps drive the state to be the best in the nation," Hudson said. "The Senate is going to be extremely important. Sen. Corker [who is retiring, leaving the seat open] has been very influential. I want someone who will be a voice for Tennessee."
Elections Administrator Kerry Steelman said voting had been "steady from the get-go" at the election commission. In an email late Friday afternoon, he said all four satellite locations - the others are at Collegedale City Hall, the Brainerd Recreation Center and the Hixson Recreation Center - was "steady, but certainly not overwhelming," and similar to the August 2014 early voting daily total.
Like Carter's and Hudson's comments, Steelman said campaign activity around the early voting locations "demonstrated a lot of interest in the open seats at the top of the ballot."
Out in the sign thicket at the 100-foot limit Friday afternoon, one hardy volunteer in a Trump cap, Diane Black T-shirt and sunglasses stood near a tent waving a Black for Governor sign at incoming voters.
Sharon Blankenship, of Chattanooga, said she had been there since 2:30 p.m. and was supposed to stay until 6.
"I don't know, it's a little hot," she said. "But we're dedicated."
Contact staff writer Judy Walton at jwalton@timesfreepress.com or 423-757-6416.