Photo Gallery
Local Flavor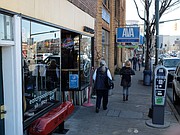 Standing along the riverfront in downtown Chattanooga, a visitor to the city is within eyeshot of the local restaurants and shops that make up the North Shore district across the river.
Facing south though, that same visitor could choose among offerings that look familiar to what they could find back home - a Buffalo Wild Wings down the street from a Chili's and just a few blocks away is the smell of pizza wafting from Mellow Mushroom.
It's a classic comparison to David versus Goliath.The national chains are bigger, have more resources and power behind their punch. The local businesses offer something unique for visitors but sometimes lack the money or following to go up against the bigger guys.
Kim