Photo Gallery
Local Flavor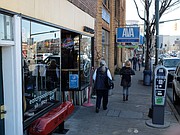 Standing along the riverfront in downtown Chattanooga, a visitor to the city is within eyeshot of the local restaurants and shops that make up the North Shore district across the river.
Facing south though, that same visitor could choose among offerings that look familiar to what they could find back home - a Buffalo Wild Wings down the street from a Chili's and just a few blocks away is the smell of pizza wafting from Mellow Mushroom.
It's a classic comparison to David versus Goliath.The national chains are bigger, have more resources and power behind their punch. The local businesses offer something unique for visitors but sometimes lack the money or following to go up against the bigger guys.
Kim White believes it takes a blend of both to make downtown Chattanooga viable in the long run. The River City Company is a nonprofit dedicated to developing downtown in partnership with private and public stakeholders, but White, the organization's president and CEO, describes their main role as "filling in the gaps."
Amy Donahue, the nonprofit's director of marketing and communication, likes to refer to River City employees as "matchmakers."
"We are not commercial real estate agents here," says Donahue, sitting behind a desk at River City's downtown location in Miller Plaza. "People will come in and say I have this idea and goal, where should we go?"
A local business owner might find it appealing to open shop on the Southside along Main Street, which boasts mostly local businesses and would probably not be a good spot for a national retailer, White said. Or they could choose a spot on the up and coming Martin Luther King Boulevard, near the University of Tennessee at Chattanooga campus, where other local businesses are starting to locate thanks to facade improvement grants and incentives provided by local organizations, like River City.
Melanie Kraustrunk and her husband, Joel, took advantage of these incentives when they opened Hutton & Smith Brewing Company on east M.L. King Boulevard in 2015. Kraustrunk said they moved to the area from Las Vegas because they wanted that sense of community and knew Chattanooga residents would support a local brewery.
"We saw an undeveloped artery right out of downtown, and we were happy to move into this area," Kraustrunk says.
Hutton & Smith doesn't just stay local, though. Patrons to national restaurants in town, like Old Chicago at Hamilton Place, are able to buy the local brewery's beer on draft as well as other local brews. Kraustrunk holds the belief that a little friendly competition goes a long way to sparking creativity.
"I think national and local businesses realize that working together works better for everyone," she says. "We are here to achieve a common goal – prosperity for the whole community."
Now that it has a new production facility on Riverside Drive, Hutton & Smith has started working with a distributor to get beer out to national grocers and restaurants in town. Now, when a customer walks into a local Food City, they'll find cans of Hutton & Smith's Belayer's Blonde ale next to cases of Samuel Adams Boston lager and not far from the Bud Light.
Hutton & Smith is also about to expand into Nashville and Knoxville, Kraustrunk said. Local flair trickles upstream, too, she said.
"We are happy to be in the larger chains," Kraustrunk says/. "I think that just because you are going to a chain, you don't necessarily want a national beer. People still like to have a local experience and a lot of the chains are picking up on that."
Some downtown enthusiasts still credit Chattanooga's local flavor and ownership for aiding the city's downtown revival over the past three decades.
"I think local retailers and restaurants make us more authentic and appealing, for both locals and visitors," says Ken Hays, president of the Enterprise Center who has worked for more than 30 years as a developer, planner and mayoral chief of staff to promote downtown.
Hays said he thinks the restaurants that are doing really well are often headed by local entrepreneurs.
Tim Hennen, a 45-year veteran of the Chattanooga restaurant scene, said local restaurateurs have helped to reanimate the central city after many retailers and residents flocked to the suburbs a generation ago.
"I think the independent restaurant operators have really put the heart and soul into downtown Chattanooga," Hennen says. "The leaders of our city have really wanted to have local operators and I think that makes us more unique and special and it has helped us be more successful because I think we know about what works and what people here want. We have to appeal first and foremost to locals and, when we do, the tourists usually come as well."
Hennen first opened Yesterday's restaurant downtown in 1973 "when it wasn't really cool to be downtown."
Since then, Hennen has been involved in a half dozen other local restaurant brands, from Timothy Staircase (now Honest Pint) downtown, Delights in Hixson, Big River Grille and Brewing Works downtown, Bones restaurant in East Brainerd, and Hennen's and Greyfriar's Coffee and Tea. Hennen is converting 5,700-square-foot restaurant in the former offices of the Chattanooga Choo Choo for still another new local restaurant brand scheduled to open later in 2018.
Across the street from the historic hotel, Chattanooga Whiskey Company wouldn't exist if it weren't for support from the local community and residents' tenacity to change state prohibition-era distillery laws.
Tim Piersant, owner and co-founder of Tennessee Stillhouse, said it seems like people are willing to spend a few extra dollars to get that local flavor.
"I feel like Chattanooga as a community is way more supportive of local products and brands than probably your average community," Piersant says. "It's no secret that supporting local businesses is more popular now than it has ever been."
Take the local brewing industry as an example. There are more than 5,000 local breweries in the United States, according to TIME magazine. In Chattanooga alone there are at least seven.
Chattanooga Whiskey Company benefited from this new-found love for craft brews with their new 1816 Native series. The whiskey company provided used bourbon barrels to several local breweries in town, so they could each create their own brews and with that a unique combination of local flavors. When Chattanooga Whiskey received the barrels back, they continued the local collaboration and created beer-barrel-finished whiskeys.
"It's like one of the staples of every city in America is that every niche in town has it's own niche brewery and niche following," Piersant says. "That speaks largely to consumers as a whole that are trending toward local more now than ever before."
Piersant sees the work still to be done though for locals set in their ways. Piersant said he sees a large population of consumers that have been marketed to for a long time by a few national brands and that prestige can be difficult to break through.
"It takes a certain level of influence and motivation to go outside of your comfort zone to experience something new or learn more about something before you begin to become a fan of it," he says.
There's one common problem local and national retailers both share when it comes to downtown Chattanooga, though and that's the residential requirements to make investing in the area worth it. Many national chains won't consider downtown because of a lack of residences and foot traffic.
River City believes adding more residential units downtown will help make the city's center more lively and desirable for residents, visitors and businesses.
"Local restaurants still like to look at the foot traffic down there, too" White says. "A saying I learned a long time ago is that 'retail follows rooftops.' They can put their money at risk in opening."
But White and Donahue said there are more storefronts becoming available and more retailers moving into downtown now compared to those that are leaving. When it comes to the local versus national debate, White and Donahue are of the opinion that the city's center doesn't need more of one or the other.
"I think we need more of everything," White says. "A mix of both is what keeps it healthy."