Photo Gallery
'Storm of the Century' marks 25 years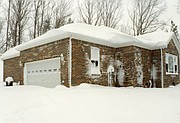 1993 BLIZZARD TIMELINE
Thursday, March 11Snow predictions send people scurrying to stores for supplies, sleds.› Mary Johnson of Save-A-Lot grocery in Soddy-Daisy says the store had sold out of bread delivered just that morning. She calls the bread man back by noon for an extra delivery.› Deanna Giles of Diamond Building Supply on Signal Mountain sells 32 sleds in one day. The sleds had been on shelves for four years.› Judy Swinger of Village Market in Collegedale goes out into the parking lot to hire teenagers to help with customer overflow.Friday, March 12› Hamilton County schools close at 11 a.m.› Snow begins falling early evening. Within five to six hours, storm dumps 17 or more inches on city, shattering old record of 12 inches in 1886.› Personnel at hospitals, radio stations, etc. gear up for yeoman's hours. Some radio personalities work 72-hour straight shifts.Saturday, March 13› Most snow stops by daylight, but winds peak at 44 mph at 11:26 a.m. Tree branches snap off, down power lines.› Wind chill is minus-20 degrees by nightfall. "Thundershow," thunder and lightning, were seen in Chattanooga in early part of evening.› Power outages begin. At height of the storm weekend, 65,000 homes had no electricity. Water becomes unavailable at some homes by evening, primarily in outlying areas.› No mail is delivered locally because of impassable roads and disruption of national transportation systems.› Interstate 24 traffic comes to a standstill. More than 100 18-wheelers turn the East Ridge K-Mart into a massive parking lot. Some 1,800 motel rooms at Exit 1 in East Ridge are quickly snapped up.› As power outages continue, Bill Suggs at the East Brainerd Ace Hardware sells out of kerosene. Lines of would-be customers, many on foot, snake out the door.› Warehouses and carpet mills buckle under snow accumulation. Roof of Sam's Warehouse collapses, Erlanger North evacuates, transferring 18 patients to Weihl Street Campus.› Travis Asher, 29, of LaFayette, Ga., dies, a victim of hypothermia.› Ceil Waters, Jones Memorial Methodist Church, Ringgold Road, puts down pallets. About 300 truckers shelter at the church.› Ernie and Paula Melton of Printers Delivery Co. distribute 200 Krystals to motorists trapped in cars.› MaryAnne Peters at Southern Inn in East Ridge opens doors to stragglers, who abandon cars on highway.Sunday, March 14› Temperature in south Alabama is 2 degrees F.› At least 70 canisters of oxygen are delivered to homebounds who have no electricity.› Radio stations field calls for emergency help.› Angela McKinney, a Chattanooga mother of two, is among recipients of emergency kerosene delivery.› Jim Servies and Robbin Moles of Chattanooga use their truck to deliver kerosene and firewood to homes without power or heat supply.› With no electricity or water, Jay and Julia Branum of Red Bank tough out storm in basement.› Churches either cancel services or experience low attendance. At First Centenary United Methodist, six worshippers brave cold at morning service. At Our Lady of Perpetual Help in East Ridge, only eight people, most stranded motorists, go to morning Mass.
FAST FACTS about the blizzard of 1993
› Death toll: 270; 14 in Tennessee› For the first time, every major airport on the East Coast was closed at one time or another by the storm.› More than 3 million customers were without electrical power at the height of the storm because of high winds and downed trees.› At least 18 homes fell into the sea on Long Island, N.Y., because of pounding surf. Some 200 homes along North Carolina's Outer Banks were heavily damaged by lashing rain and wind.› Florida was struck by an estimated 15 tornadoes. A 9-foot storm surge was reported in the Apalachicola area, where 6 inches of snow fell.› Atlanta had snowfall measuring 12 inches in various areas. Mount Mitchell, N.C., recorded 50 inches. Mount Le Conte posted 4.5 feet of snow.› More than 200 hikers were rescued from North Carolina and Tennessee mountains.Sources: Times Free Press archives, clip files and reporter notes, WeatherMatrix, Weather.com, National Weather Service
MARCH 12-14, 1993, SNOWFALL
As a low-pressure system moved inland across southern Georgia where it encountered cold air across the interior Southeastern states on March 12-14, 1993, what had been rain quickly changed to snow with accumulations ranging from a trace in Fernandina Beach, Fla., to 60 inches at Mount LeConte, Tenn.› Mount LeConte, Tenn., 60 inches› Mount Mitchell, N.C., 50 inches (Some snow remained on the ground until April 12)› Chattanooga, 20 inches*› Asheville, N.C., 18.2 inches› Lake Lure, N.C., 18 inches› Ellijay, Ga., 17 inches› Birmingham, Ala., 17 inches› Lenoir, N.C., 13 inches› Hickory, N.C., 10 inches› Greenville-Spartanburg, S.C., 9.8 inches› Lincolnton, N.C., 9.2 inches› Greensboro, N.C., 5.7 inches› Mobile, Ala., 3 inches› Charlotte, N.C., 1.6 inches› Siler City, N.C., 1.5 inches› Columbia, S.C., 1.2 inches› Raleigh, N.C., 0.9 inches*Meteorologists since the blizzard have said the actual amount of snowfall in most parts of the city of Chattanooga was likely between 15 and 18 inches, but the official number remains 20 inches.Source: National Weather Service Wilmington, N.C., office Superstorm of 1993 "Storm of the Century" webpage
Chattanooga Times region roundup that appeared in the March 16, 1993, edition
In the wake of the blizzard that struck on a Friday night, staff at the Chattanooga Times checked on the situation in counties across the tri-state region as people started to dig their way out.› POLK: Rescue workers were still trying on March 15 to reach communities not heard from since the storm began. Tracked vehicles were used by Tennessee National Guard to reach areas like Reliance and Greasy Creek.› BRADLEY: Cleveland officials lifted half of two-part emergency order, which had been for all industries to close and for people to keep non-emergency vehicles off the streets. On March 15, officials lifted the vehicle ban. About 1,500 Bradley County residents stayed in shelters over the blizzard-blasted weekend.› GRUNDY: Officials reported that most calls on Monday were for pulling vehicles from the snow. Almost all residents had electrical power and most businesses were able to reopen.› MCMINN: Most of the major state routes in the county were reopened Monday, but travel in some areas still difficult. About 100 people used local shelters Monday night. Three fatalities had been attributed to the storm.› MEIGS: Although most residential customers had their power back by Monday, 400 homes were still in the dark. Main state routes in Meigs were deemed passable but some back roads were still blocked by downed trees.› COFFEE: Sheriff's deputies were busy Monday transporting everything from water to baby formula. Authorities stationed 24 four-wheel-drive vehicles around the county to help with supplies.› RHEA: About 90 percent of power and water was restored by Monday and all main roads were reported clear. Mountain roads, however, remained treacherous and the National Guard was still rendering aid and delivering supplies in some areas on Dayton Mountain.› MARION: Elder Mountain and portions of Guild in the Haletown area remained without power Monday, but power was restored to most residents in the rest of the county. Mountain roads were in the worst condition.› BLEDSOE: Main and secondary roads were passable by Monday and most homes had power restored. Schools remained closed.› SEQUATCHIE: Most main roads were reported clear and 95 percent of homes that lost power had been restored. However, travel was still dangerous on Mowbray Mountain and around Lewis Chapel Mountain. Schools remained closed.› WALKER: Businesses began reopening across much of the county on Monday and crews cleared U.S. Highway 27 in Rossville and Fort Oglethorpe.› DADE: In the Head River area near Lookout Mountain, 6- to 8-foot snowdrifts were the aim of efforts to open up access to homes and allow more travel Monday. There were still many residents who had no power. Some were still boiling snow for drinking water.› CATOOSA: Three out of four households had power again and most stranded motorists who sought shelter there during the storm were able to get back on the road. Most secondary roads were still treacherous.› WHITFIELD: A county dispatcher had three words to sum up the situation: "Bad, bad, bad." Power to many was still out and many county roads were still impassable. Officials warned people not to try to travel until Wednesday.› MURRAY: Power was restored to most homes but water outages were still widespread. Crews continued on Monday to clear main roads while most secondary roads remained impassable even for off-road vehicles.› DEKALB: Officials reported the entire county was still gridlocked by snow and 4- to 5-foot-high snowdrifts. Only I-59, Highway 40 and Highway 35 were open to traffic. Most power had been restored but water supplies remained short.› JACKSON: All roads in the county remained closed on Monday except for Highways 35, 40 and 72. In Scottsboro, roads were open and passable. Some areas were expected to be without power until Wednesday.Source: Chattanooga Times Free Press archives
A quarter-century ago today, the South was filled with nonbelievers.
A blizzard? Here? No way.
But Monday marks 25 years since a large part of the U.S. - a 200-mile-wide swath from the edge of the Florida Panhandle all the way to Canada - was inundated by a storm that brought high winds and heavy snow followed by a deep freeze that left the Chattanooga region paralyzed for days.
It was almost immediately dubbed "The Storm of the Century."
At least 270 people were killed in the superstorm, including 14 in Tennessee, 15 in Georgia and 16 in Alabama. And it remains the most costly U.S. winter storm to date at $9.6 billion, according to the National Oceanic and Atmospheric Administration.
According to NOAA accounts, low pressure developed during the day of March 12, 1993, along a nearly stationary front lying along the Texas Gulf coast. A powerful jet stream developing across the eastern U.S. combined with strong horizontal temperature contrasts near the front across the Gulf Coast states, and the development of thunderstorms over the Gulf added fuel to the strengthening system. The low pressure center rapidly deepened as it crossed the Gulf of Mexico during the afternoon and evening of March 12, and the swirling storm made landfall along the Florida Panhandle just after midnight on March 13, NOAA records state.
By the time the storm plowed up the Eastern Seaboard, it had dumped record-setting amounts of snow across the South and more than 4 feet of snow in some locations in the Appalachians and tore a path through to the New England states by March 14.
A STORM IS BREWING
The first predictions for trouble for Chattanooga began on March 8, 1993 - days before the blizzard hit.
"When I came in the Monday [March 8, 1993], before [the storm], I saw that some of the data was showing some information that a storm was developing in the Gulf of Mexico," WRCB chief meteorologist Paul Barys said.
In his forecast that day, he mentioned the possibility something could develop that would impact the region by the weekend. But at the time, forecasters only predicted the weather five days out, and the first suggestions of problems went pretty much unnoticed by the public.
"Nobody believed it," Barys said.
But the weather data he saw the next day "looked much worse," Barys said, noting that technology and forecasting wasn't up to today's standards. "In forecasting, when you start to see a trend and the models aren't flip-flopping, that's a sign that something's up."
By Wednesday, "that's when I really started talking about we're going to have a snow storm."
Barys said it became obvious that Thursday what was going to happen. "We knew that it was going to be pretty bad," he said. Computer modeling was more crude at the time, but data was intensifying every round, he said.
"So I went on the air and I said it was going to be 'the worst storm in the history of Chattanooga' and people freaked out," Barys said.
THE IMPACT
A blizzard warning was issued in Chattanooga and Atlanta - historical firsts for both cities, Barys said. Just days earlier, it had been in the mid-70s. A rain-snow mix changed over to heavy snow in most of the region by mid-evening Friday and winds began to strengthen.
As the blizzard wore on into Saturday it brought "thundersnow," with lightning illuminating the blinding, blowing snow, causing some people to think the world was literally coming to an end, Barys said. Well in excess of a foot of snow was on the ground in Chattanooga by morning, and snow and wind continued as temperatures began to dive into the teens and below.
Troubles began to mount across the region.
Power outages sent homes into darkness and the interstates became parking lots for motorists. At the height of the storm, more than 65,000 homes in the region were without power.
Traffic on Interstate 75 south of the Georgia line had skidded to a stop. A few drivers trickled out of the mess with help from fellow motorists. Others abandoned their vehicles and made their way out on foot. Motels along the interstate quickly filled.
Elsewhere, the weight of the snow began causing roof collapses. Sam's Wholesale Club on Lee Highway, Magic Chef in Cleveland, and a Red Food Store in LaFayette, Ga., all fell victim, according to archives.
Radio and television stations all over began full-time coverage, providing information and reports of where to get help and supplies. Some radio personalities pulled 72-hours-straight shifts at the height of the storm and served as a lifeline for listeners.
Stories of heroism and survival abounded.
More than 20 miles away, at the height of the storm, two women went into labor, according to archives.
At one home in Soddy-Daisy, Laura Mooney's rescuers hoofed it through the snow because the ambulance had to stop short of her home.
"They put me in a sled that was kind of like a basket and then slid me along the ground about a quarter of a mile to a Jeep," Mooney told the Chattanooga Times from her room at Erlanger in 1993. The Jeep got her and her husband to the ambulance that still took another hour and a half to reach the hospital.
Near the tri-county lines of Bledsoe, Sequatchie and Hamilton in the Hendon community, Gary and Marseta Lockhart were snowed in on Sunday of the blizzard weekend when the expectant mother went into labor around 2:30 a.m.
"They tried to send a crew out, but they couldn't get here," the father-to-be said. "They had to send a crew to rescue their crew."
But a National Guard helicopter was able to land in the yard and fly Marseta Lockhart to the hospital.
Both babies made their first appearances with no problems, according to archives.
Elsewhere, emergency crews in surrounding counties used their own vehicles and feet to reach storm victims. Utility crews began working to get power to those who needed it most, like homebound folks with health problems and people with electrically powered medical equipment. Some hospital employees lived at work for the duration, and churches and schools everywhere served as shelters for those stranded or unable to stay in their homes.
In the wake of heavy snows overnight Friday that dumped 15 or more inches across the city and continuing snow and winds that contributed to accumulations and drifting snow on Saturday, officials said 120 city workers in Chattanooga worked around the clock in 12-hour shifts to clear streets of snow and ice.
At its coldest, the storm set a record low of 11 degrees on March 15, 1993. By the following week, the bone-chilling temps started to rise, hitting 50 on Tuesday. Some water supplies began to return to normal where there was electrical power, but thousands of residents remained without power, as did water utilities that depended on electical power to pump water.
LOOKING BACK
Chattanooga Fire Department public information director Bruce Garner in 1993 was the public information officer for the Hamilton County Emergency Management Agency when the blizzard came calling.
"My wife was eight-and-a-half months pregnant, and when they said I needed to report to the Emergency Operations Center, I said, 'We're a package deal. If I have to go, my wife is coming with me,'" Garner recalled.
"They sent a four-wheel-drive truck to get me and my wife," he said. "I handled the media stuff and my wife answered phones in the EOC. Our son was born about a month later."
Don Allen, the director of Hamilton County's Emergency Management Agency at the time, remembers the storm vividly.
Local officials had been in close contact with local meteorologists, but because of the sudden increase in the storm's intensity as it headed north, emergency preparations really started only about 48 hours before the blizzard hit, Allen said.
Perfect strangers helped one another like neighbors, and county officials learned they were unprepared for a once-in-a-lifetime snowstorm, he recalled.
Interstate 24 traffic on Saturday of the blizzard weekend was stopped because I-75 had been shut down in both directions. Cars and trucks were parked on I-24 from the Ridge cut at Missionary Ridge to the I-24/I-75 interchange, known as the "split."
"People on bridges at Belvoir and on Moore Road and on McBrien and Spring Creek had buckets with ropes on them and they were letting candy and sandwiches down to the truck drivers and people because nobody could go anywhere," Allen said.
Another problem - people were running out of fuel, he said. Officials were trying to figure out how to get diesel and gasoline to the vehicles trapped on I-24 so they could be moved.
While officials sorted out ideas, a surprising discovery awaited them.
"We were putting those pieces together and picked up the phone and called over to LifeForce [air ambulance service] and said, 'Guys, I need to take a flight down I-75 and take a look at the road, and they said 'Yeah, come on over,'" Allen said.
Allen and Chattanooga Police Department Capt. Lee Hicks linked up with LifeForce at Erlanger and flew south along I-75 from the state line almost to Dalton and flew north to Ooltewah.
"There wasn't any snow at all," he said.
The interstate had been cleared, Allen said, and he and Tennessee and Georgia officials joined in a conference call where they discovered that there had been some confusion between the two states, each thinking the other had ordered the interstate to be shut down.
Within 30 minutes or so that Saturday, Allen said, traffic started moving again and the problem of feeding and fueling the stranded motorists evaporated.
Allen said the blizzard forever changed emergency operations in Hamilton County.
In 1993, the Emergency Operations Center downtown in the basement of the county jail had only rotary dial phones with just 10 lines, no computers or backup electrical power, only folding metal chairs to sit in, no provisions for staff to stay overnight, and most county departments had no four-wheel-drive vehicles. Emergency officials sometimes couldn't have access to the facility because it was used by jurors during the week.
The few four-wheel-drive vehicles officials were able to put in use ferried dialysis patients to medical help, got insulin to people with diabetes and oxygen canisters to people with breathing problems and no power.
Those shortcomings led to improvements in manpower, equipment and technology in Hamilton County and across the region. By 1995, Allen noted, Hamilton County opened the Emergency Operations Center on Amnicola Highway that remains in use today.
Allen noted that improvements in emergency operations across the country often arise out of a lack of preparation for rare events. Emergencies have a habit of lingering in memories, he said.
"Man, it was something I'll never forget," Allen said.
ACCURATE MEASUREMENT?
Barys couldn't help but be a little proud of his call on the history-making storm.
"I wasn't surprised. I was sort of glad, to tell you the truth, after sticking my neck out," he laughed.
But there's one blizzard "fact" that could have been more accurate.
By some local accounts, the original call on the snow depth in Chattanooga was probably off by a few inches because the first measurement was taken at the weather station at Lovell Field in Brainerd in a snowdrift.
Barys believes the most accurate measurement was probably about 15 to 16 inches, he said. "Now, if you go further east and north, yeah, there was 20 inches, but right in the city itself, no, there wasn't 20 inches."
Weather officials, unable to go back in time for a more accurate number, left the original measurement on the books, so that's where the official record stands.
Either way, the storm set a new record for one-day snowfall in Chattanooga, eclipsing the old record of 12 inches on Dec. 4, 1886.
Contact staff writer Ben Benton at bbenton@timesfreepress.com or 423-757-6569. Follow him on Twitter @BenBenton or at www.facebook.com/benbenton1.