Document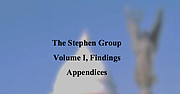 Schools in Hamilton County with walkouts planned:
› Baylor School› Boyd-Buchanan› Chattanooga Center for Creative Arts› Chattanooga School for the Arts and Sciences› Girls Preparatory School› McCallie School› Normal Park Museum Magnet School› Ooltewah High School› Red Bank High School› Sequoyah High School› STEM School
As students unite around the topics of gun violence and school safety, school districts have been planning how to respond to potential student walkouts Wednesday.
Nationwide, a call for a National Student Walkout came in the wake of a shooting at a high school in Parkland, Fla. left 17 people dead. Students have been planning to walkout of class at 10 a.m. on Wednesday to both honor the Parkland victims and to raise awareness about gun violence and school safety.
Locally, reactions from school officials have been mixed.
A group of students, parents and community members - called Students Leading Change - have been meeting weekly at St. Paul's Episcopal Church in downtown Chattanooga. The students come from a wide variety of schools, both public and private, across Hamilton County and have received mixed support from their schools.
Hamilton County Schools officials issued a series of recommendations to school principals on how to handle planned walkouts, such as working with students to plan non-disruptive activities and events.
"As a district, we are not endorsing a walkout; however, we understand the significance of recent events and our students' desire to have their voices heard and we will work with them to make this a safe and valuable learning experience," Hamilton County Schools Superintendent Bryan Johnson said in a statement when the recommendations were released.
Those recommendations included ensuring faculty is informed and there is adequate staffing during that time period, encouraging school administrations to work with student leadership groups to organize and plan events, encourage student leaders to plan an activity to honor the lives lost in the Parkland, Fla. shooting, among other recommendations.
Ooltewah Middle School and Soddy-Daisy Middle School both have such confirmed events.
Though school district officials have expressed differing opinions in the weeks after the guidelines were issued, Johnson has said that one of the district's biggest concerns is the safety of its students, even while they are participating in a coordinated walkout.
Regionally, other school systems have been less supportive.
Whitfield County Schools announced Monday that students would not be allowed to participate in walkouts, a reversal of a previous position that students would be allowed.
"After further thought and discussions within the administration, however, I have made the decision not to approve a student walkout during the school day on Wednesday," said Superintendent Judy Gilreath, in a statement. "As always, the safety of our students and staff is at the top of my list of priorities, and I feel that allowing students to be outside at an announced time is not the best course of action."
Gilreath noted that the potential for outside visitors to be attracted to campus at that time, and the divisiveness that could occur if conversations turned to gun control also factored into her decision.
"Students do have rights under the First Amendment to our Constitution to express their views. They do not have the right to express those views whenever and however they wish, and they have no right to walk out of class during the school day without consequences."
Sequatchie County Director of Schools Michael Swafford agreed.
"We will treat a student walkout [Wednesday] as we'd treat it any other day," he said.
According to the group Marion County Concerned Parents, students have plans for a student-led walkout at Marion County High School on Wednesday, but administrators told students they would be punished if they took part. Marion County Director of Schools Mark Griffith said the district had "a procedural plan in place" and that students would be given a location inside the school to participate, or to not participate, in events honoring the Parkland victims.
If students do still walk out of class, Griffith said, consequence "will follow School Board policy."
Superintendent Jan Harris of Dade County (Ga.) Schools, where two students were recently arrested after bringing a gun to school, said the district was proud of its students.
"We want to encourage higher-level thinking, so we are proud of our students that they are in tune with the news and that they are aware and thinking about national issues," Harris said. "But we want to do that in a safe and orderly manner."
Dade High School Principal James Fahrney has called for a "timeout" between 10 and 10:20 a.m. Wednesday, and a variety of activities will be provided for students during that time, including the option to remain in class and not participate, to tweet local representatives, to debate readings about the issue of gun control, to journal about their experience or to walk out to the commons area for those 17 minutes.
Polk County Schools will follow suggestions issued by the state Department of Education, and will allow students designated spaces for students to spend the walk-out, treating it as "a freedom of expression and speech," said James Jones, director of schools, in a statement.
Catoosa and Walker counties are also allowing students to participate in planned walkouts.
Cleveland City Schools anticipates students at both Cleveland High School and Cleveland Middle School to walkout Wednesday. Though the district has been working with students, it also has stated that students can still be punished for disrupting the school day.
"It important to know that disorderly conduct that disrupts school operations is not acceptable and will be handled compassionately, but firmly, in accordance with our board policy and internal procedures," Director of Schools Russell Dyer said in a statement.
Dyer did encourage parents to talk with students about related issues.
"I encourage you to talk with your child(ren) about how they may be feeling about this topic," he said. "We love the passion of our students on various issues, and we recognize that student activism is part of the learning process."
Contact staff writer Meghan Mangrum at mmangrum@timesfreepress.com or 423-757-6592. Follow her on Twitter @memangrum.