Photo Gallery
Area students honor gun violence victims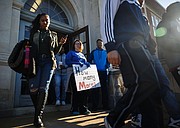 "Oh, one day when the war is won, we will be sure, we will be sure," sang Genesis Patton and Alexis Lazenby on the steps of the Chattanooga School for Arts and Sciences Wednesday morning, while a classmate slowly released 17 white balloons into the clear blue sky.
"Now the war is not over, victory isn't won, and we'll fight on to the finish, then when it's all done, we'll cry glory," the juniors sang, surrounded by nearly two thirds of their classmates.
At the same time, 7 miles away, hundreds of students walked out of Red Bank High School and held a moment of silence. On Chattanooga State's campus, students at the STEM School lit 17 candles.