Photo Gallery
Area students honor gun violence victims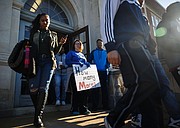 "Oh, one day when the war is won, we will be sure, we will be sure," sang Genesis Patton and Alexis Lazenby on the steps of the Chattanooga School for Arts and Sciences Wednesday morning, while a classmate slowly released 17 white balloons into the clear blue sky.
"Now the war is not over, victory isn't won, and we'll fight on to the finish, then when it's all done, we'll cry glory," the juniors sang, surrounded by nearly two thirds of their classmates.
At the same time, 7 miles away, hundreds of students walked out of Red Bank High School and held a moment of silence. On Chattanooga State's campus, students at the STEM School lit 17 candles. On a hill across town, boys signed posters declaring why they had walked out of chapel at the McCallie School. At Ooltewah High School, students read poems they had submitted.
And in gyms and auditoriums across Hamilton County and the region, students joined thousands of others across the country Wednesday who walked out of their classrooms to honor the 17 victims of the nation's most recent mass shooting, at a high school in Parkland, Fla., and to call for an end to gun violence.
"If you're like me, you're here because you're tired," shouted Dana Walden, a senior at CSAS, from the steps of the school. "Tired of coming to school scared. What occurred a month ago at Marjory Stoneman Douglas High School should never have been allowed to happen."
Students have been planning for this walkout for almost a month - ever since they heard the call for a nationwide walkout as survivors of the Parkland shooting marched on Florida's capital and called on lawmakers to address gun violence.
Walden echoed many of the sentiments heard from youth across the country.
"We might be high school and middle schoolers, but we have power ... and soon we'll be able to vote and make real change," she said. "If you take one thing from this, it's [that] you matter. Your voice matters."
Many local events did not have nearly as political a tone as Walden's remarks, though. A number of events, potentially due to the level of school administration involvement, were focused on honoring and remembering victims.
"I was kind of worried that not many people would come out," said Kalena Rodriguez, a senior at STEM School. "I knew that a lot of people wanted to do the walkout, but I was worried the idea of doing a ceremony would be off-putting."
Rodriguez and the group that planned the event encouraged their students not to stop with the ceremony, though.
"The purpose of this [was] to be in memory of the victims, but this is just the beginning of what we want to do," she said.
At Cleveland (Tenn.) High School, the two seniors who organized Wednesday's assembly - which at least 800 students attended - said they wanted to spread a message of unity.
"We wanted to enforce this idea of unity. We realize that people have different ideas, we don't want to create a bigger divide," said Breanna Shields. "We just kind of made it hit close to home/the school, and appealed to empathy during our assembly and that together we can make a change."
Many school administrators had a hand in their students' events, forcing students to balance their desires against administrators' and memorials against calls for action. Though Hamilton County Schools did not officially endorse the student participation in the walkouts, officials did not condemn it, either.
"I wish to commend our students, school leaders, teachers and support staff for the exemplary way the events of the day took place in our schools," said Bryan Johnson, superintendent of Hamilton County Schools, in a statement. "Many have shared with me touching examples of how our students honored the 17 lives lost in Florida and the eloquent way student leaders expressed themselves today."
That was not the case in Dalton, Ga. though, where students were barred from participating in a planned walkout. At Dalton High School, where social studies teacher Jesse Randal Davidson fired a .38 out his classroom window two weeks ago, Principal Steve Bartoo told students Wednesday morning that they were not allowed to walk out of class.
"It's important that you have a voice and be able to seek it," Bartoo told the students in an intercom message. "But it's also equally important that you do that in a way that is safe, that doesn't cause confrontation, is done in a respectful way. And so, that's why we're not going to be participating in some sort of a walkout."
At most schools in the region though, students felt their teachers and administrators were supportive, even if they did not officially endorse the initiatives.
"It gives us students a voice," said Ke'un Webb, a senior at Tyner Academy. "Students don't really get to speak out a lot, and when we do, it doesn't always feel like what we say matters, so it helps us have a voice."
At McCallie, students were encouraged by administration's reaction after the ceremony - they agreed to allow the students to host a roundtable discussion on gun violence during lunch Friday.
"Right now we want to start basically immediately having conversations about the legal issues around this," said McCallie senior Allen Liu.
Staff writer Tyler Jett contributed to this story.
Contact staff writer Meghan Mangrum at mmangrum@timesfreepress.com or 423-757- 6592. Follow her on Twitter @memangrum.
Students at Chattanooga School for the Arts and Sciences are filling the front steps of the school. pic.twitter.com/GnhHdqogqR

— Meghan Mangrum (@memangrum) March 14, 2018