Photo Gallery
New front opens in battle against homelessness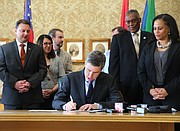 Chattanooga Mayor Andy Berke said Monday the city is taking a "tremendous step forward" by forming a new interagency council to work together against homelessness.
Berke held a news conference and signed an executive order establishing the council, backed up by representatives from some of the nearly two dozen agencies and organizations "who all want to see an end to this problem."
"The No. 1 thing you can do for people with homelessness is get them into housing," Berke said.
Interagency Council on Homelessness
› Chattanooga Mayor's Office› Chattanooga Economic & Community Development Department› Chattanooga Police Department› Hamilton County Government› Hamilton County Sheriff's Department› Maclellan Foundation› United Way of Greater Chattanooga› Chattanooga Regional Homeless Coalition› RiverCity Co.› Chattanooga Housing Authority› University of Tennessee at Chattanooga› BlueCross BlueShield of Tennessee› United Health Group› Erlanger Health System› Parkridge Health System› CHI Memorial› Abba's House› St. Paul's Episcopal Church› Southeast Tennessee Human Resources Agency› Volunteer Behavioral Health Care System - Johnson Mental Health› Community Kitchen› Moccasin Bend Mental Health Institute› M.L. King Neighborhood Association› Fort Wood Neighborhood Association
Along with city and Hamilton County government and the Chattanooga Regional Homeless Coalition, the council will include members with expertise in health care, economic development and philanthropy, as well as the faith community. Neighborhood associations also will have a seat at the table.
"We tried to really find people who are impassioned and have a stake in solving this problem," said Sam Wolfe, homeless program coordinator for the city.
Wolfe and Tyler Yount, who works on special projects in the mayor's office, said the city will begin looking for a consultant to help the coalition assess housing and service needs and come up with a plan.
That should happen before the end of the fiscal year on June 1, Yount said. The city is guessing it may budget from $500,000 to $1 million for the first year of the program, including federal and foundation money and local donations. The second-year budget could get bigger as the council starts implementing its plan, he said.
As for what that plan will look like, that's going to be the Interagency Council on Homelessness' job to figure out, along with the consultant.
The city has credited the use of vouchers in its 2016 claim that it had ended homelessness among veterans. The Times Free Press reported in January that figures from the Regional Homeless Coalition showed more homeless vets than the city counted, but on Monday Yount said the city still meets federal benchmarks for "functionally" ending veteran homelessness.
"Every month the number of people we're housing is the number entering homelessness, so it's basically a net zero," he said.
Wolfe said the city's approach is evolving from "housing ready" to "housing first." In the first approach, homeless people are enrolled in social services, rehabilitation, job training or other preparation for getting into housing. If they get a home first, they have a place to receive services and build stability.
He said it's a "huge misconception" that most homeless people are on the streets because of mental health or substance abuse issues. Individuals and families can lose their homes quickly if a breadwinner loses a job or a child gets seriously ill.
"The silent majority of the homeless are working class," Wolfe said. Many have jobs but don't earn enough to pay rental and utility deposits or buy household goods.
As for where the housing will come from, Wolfe and Yount ticked off possibilities, from greater use of federal housing vouchers to money for "rapid rehousing" of the newly homeless and more. The city is looking for "creative, nontraditional partnerships," Yount said, and intends to involve the public in the solution, as well.
Contact staff writer Judy Walton at jwalton@timesfreepress.com or 423-757-6416.