Photo Gallery
54 gang members indicted for racketeering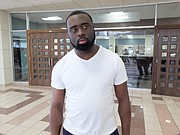 The Hamilton County Grand Jury indicted 54 Athens Park Bloods gang members on Wednesday, making this the first time a street gang in Hamilton County has been prosecuted as a criminal enterprise under the state's Racketeer Influenced and Corrupt Organization Act.
The defendants face a raft of charges ranging from aggravated kidnapping to first-degree premeditated murder. Seven of them face charges in five homicides.
Agencies involved
Chattanooga Police DepartmentHamilton County Sheriff's OfficeChattanooga Housing Authority Police DepartmentTennessee Bureau of InvestigationBureau of Alcohol, Tobacco, Firearms and ExplosivesFederal Bureau of InvestigationU.S. Drug Enforcement AdministrationU.S. Marshals Service
Nearly half of the defendants were already incarcerated on previous charges, but more than 100 officers and agents from a number of law enforcement agencies began arresting the remaining suspects Wednesday morning, according to a news release.
The charges stem from a coordinated effort that began months ago between Chattanooga Police Chief David Roddy and District Attorney General Neal Pinkston to use the District Attorney's cold case unit to review a string of unsolved homicides. Roddy said he was proud of the many members of law enforcement who have, for months and years, built cases against some of those indicted on Wednesday.
"This started when acts of violence occurred in our community. This started when families were impacted by the senseless acts of violence by the individuals that we have been working to change the behavior of," he said at a news conference Wednesday afternoon.
"You had law enforcement officers across this community working to find the individuals, take them into custody in the quickest and safest manner possible. It's a large operation, but it was a well-planned operation."
Roddy said members of his department also called the families of some of the victims in the alleged crimes to let them know charges were going to be brought against suspects in their cases.
"We felt like it was the victims' families' absolute right to understand what was going to happen today," Roddy said. "They deserved to know before anyone else did because they suffered more directly than anyone else has."
Hamilton County Sheriff Jim Hammond echoed that, saying he hoped this would help victims and their families continue to heal.
"There's an old saying that says 'The wheels of justice turn slowly, but they do turn.' I think that's evident by what we're seeing here today," he said. "As we move forward and we see these things fall into place, I think more than anything else, you have family members out there who've lost loved ones who are today going to be very happy to see some closure.
Included in the homicides connected to Wednesday's indictment is Bianca Horton, who authorities say was murdered to prevent her from testifying at trial that she witnessed Cortez Sims, one of the men indicted, murder another woman.
Police say Sims burst into a College Hill Courts apartment early in the morning on Jan. 7, 2015, and opened fire, fatally wounding Talitha Bowman and wounding two others, one of whom was Zoey Duncan, Horton's infant daughter.
A little over a year later, Horton was found dead on the side of a road with multiple bullet casings lining the ground beside her. Courtney High, 27, Andre Grier, 31, and Charles Shelton, 28, have all been charged with her murder and could face the death penalty.
The indictment has also added the RICO elements to High's charge for the murder of Jerica Jackson and additionally charged him with the murder of Marquise Jackson. Both slayings occurred in the months after Horton's death.
Horton's brother, Derrick Shaw, spoke at the news conference and thanked the officers who worked his sister's case.
"Now we can move on to the next phase of this process," he said. "I prayed about it and gave it to the Lord, but I'm also human and it's been a burden on us. Today, I feel like that burden has been lifted."
"It was a great feeling, but at the end of the day, my family is not the only one that's hurting. There are others hurting as well, so we want to keep those families in prayer also."
Tennessee's RICO act was passed in 1986 in an effort to provide for extended criminal penalties for individuals operating as part of an ongoing criminal organization. Specifically, it allows leaders or associates to be tried for crimes they ordered others to do or helped them commit.
State RICO acts mirror the Federal RICO act, enacted in 1970, in a variety of ways, but state statutes often cover a broader spectrum of criminal and civil law, according to the American Bar Association.
Gang members charged with murder
A list of the gang members charged with murder is as follows:› Cortez Sims for the Jan. 20, 2014, murder of 13-year-old Deontray Southers.› Cordelle Collier, Martrel Arnold, and Johnny Clemons for the June 25, 2014 murder of Cedric Mikes.› Andre Grier, Charles Shelton, and Courtney High, who each could face the death penalty for the May 25, 2016 murder of Bianca Horton. Horton was killed to prevent her from testifying at trial that she witnessed Cortez Sims murder Talitha Bowman. (Last year a jury convicted Sims of Bowman's murder.)› Courtney High for the June 12, 2016 murder of Jerica Jackson. This is a superseding indictment to High's original charge, which adds the RICO elements to the murder.› Courtney High for the August 16, 2016 murder of Marquise Jackson. Additionally, a female teenager was charged today in Hamilton County Juvenile Court for participating in Jackson's murder. (Note: Marquise Jackson is not related to Jerica Jackson.)
"Throughout the investigation, it was determined that the state law applied and most of us are state actors, so we decided to bring it to the Hamilton County Grand Jury as opposed to the Federal Grand Jury," Pinkston said.
"We're not going to be able to get into case facts, because it's now a pending case, but the statute talks about an enterprise that can be a legal or illegal group, so that's about all I can say regarding that."
The indictments came a day before the next scheduled Violence Reduction Initiative call-in - an event hosted by city officials and members of law enforcement to talk face to face with gang members. The message has always been a simple one: stop the violence or go to jail.
The call-ins serve as tentpoles to the VRI, which was launched by Chattanooga Mayor Andy Berke in 2014. The initiative was and is part of a widespread effort to combat gang violence with both a stick and a carrot by coordinating law enforcement, court and community resources.
Gang members are told during the call-ins they can either put down the guns and get connected with job training, transportation and education services or keep shooting and prepare for the full weight of local, state and federal law enforcement agencies.
The initiative has shown mixed results since it was implemented. The city has put well over $1 million into the effort, but the number of shootings involving gang members remains largely unchanged.
At the end of 2017, public officials cheered a drop in the total number of shootings from 158 in 2016 to 147 in 2017. Shootings involving gang members declined by almost 30 percent in 2017 from the year before, but the city still weathered 64 such incidents, one more than the tally for 2014. The shooting rate jumped by more than a dozen over the next two years.
Still, authorities believe this week's indictment underscores their commitment to ensuring community safety.
"We believe this is a clear message to the individuals that would continue to inflict damage and harm in our community that we will do everything we can to change that behavior," Roddy said. "It is my honor to represent the countless men and women that have been working for months, years, to bring some of these individuals to justice today."
Contact staff writer Emmett Gienapp at egienapp@timesfreepress.com or 423-757-6731. Follow him on Twitter @emmettgienapp.
CPD Chief David Roddy speaks about the indictments pic.twitter.com/cZziJtYSvf

— emmett gienapp (@emmettgienapp) March 28, 2018
Indicted gang members
As of Wednesday evening, law enforcement officials were still on the lookout for 12 defendants. Below are the names of the defendants in custody, their aliases and their bonds:Arterrius Allen, 28, $12,500Terry Lee Anderson, aka Terry Scott, Thumpa Park, 19, $75,000Darrell Armstrong, aka Diesel, 32, $8,500Martrel Arnold, aka Trikky Trel, 32, $650,000Jamaal Atkinson, aka Lil Baby, Mal, 26, $12,500Henry Beard, aka Fat Boy, 33, $17,500Terry Beasley, 29, $15,000Ladarrel Bradley, aka Lil Trell, 31, $5,000Raven Bragg, aka Deuce Doll, 26, $15,000Clarence Burton, aka Man Man, Lil Athens, 26, $20,000Che'Anthony Cannon, aka 3K, 21, $8,500Countess Clemons, aka Count, 25, $12,500Johnny Clemons, aka Juise, 31, $650,000Cordelle Collier, aka Brazzy Blood, 30, $650,000Floyd Davis, aka Lil Southside, 27, $7,500Danielle Dean, aka Danni, 27, $8,500Jeremy Ellis, aka Dub, 32, $5,000Marquita Estes, aka Big Blood, 27, $7,500Melvin Green, aka Durty, 41, $10,000Andre Grier, aka Hollywood, 31, $1,250,000LaCharleston Haggard, aka L.A., 26, $5,000Lawande Haggard, aka Nut Crack, Peanut, 30, $25,000Courtney High, aka Killa Red, Red Rage, 27, $1,450,000Tychius Johnson, aka Parkboy Ty, 21, $8,500Broderick Lay, aka Ko Ko, Parkboy Ko, 31, $6,500Antwon Lee, aka Funeral Home, 28, $20,000Kerry McKinney, aka Lil Kerry, 30, $5,000Eric McReynolds, aka Donkie, 27, $8,500Dexter Mayes, aka Lil Dexter, 29, $2,500Montez Murphy, aka Tezzo Park, So Icey, 25, $30,000Jermaine Myricks, aka Jermaine Myrisk, Gator, 31, $15,000Clarence Orton, aka BJ Blood, 25, $20,000Demetric Pointer, aka Robert Davis, 27, $20,000Chenika Ramsey, 41, $2,500Charles Shelton, aka Slick Blood, 28, $1,250,000Jamal Shepherd, 26, $5,000Cortez Sims, aka Awax, 20, $650,000Coynesha Sims, 18, $2,500Darius Sneed, aka Sneed, 37, $15,000Jesse Stamps, aka Lil Heavy, 27, $17,500Ira Thomas, aka Ira Maddox, Mad Max, 26, $10,000Theonda Thorne, aka T.J., 18, $17,500Source: Office of the Hamilton County District Attorney
Timeline
March 2014: Violence Reduction Initiative goes into effect with a combination of tough policing, community engagement and direct contact with violent offenders, to reduce crime.June 2014: One of the social service providers, A Better Tomorrow, is exiled from program after its director, Richard Bennett, is arrested on charges that later are dropped. Hope for the Inner City is the new provider.October 2014: Shootings and homicides were at 25, compared with 19 at the same point in 2013. But city says 61 gang members had gotten jobs, 23 were in mentorships, seven were earning GEDs and 90 violent gang members had been jailed under the VRI.December 2014: The Chattanooga Police Department's point man on VRI, Lt. Todd Royval, asks to be reassigned away from the program.January 2015: Internal documents from Hope for the Inner City don't substantiate claimed gains in jobs and education.March 2015: Chattanooga renews a $200,000 contract with National Network of Safer Communities, which helped with research and organization of VRI.September 2015: Hope for the Inner City gets $290,000 contract renewal. At this point there have been seven call-ins. To date for the year there were 59 gang-related shootings, compared with 60 in 2014 and 67 in 2013.October 2015: Eleven of the 12 permanent officers on the Street Crimes Response Team, the police spearhead of VRI, transfer out of the unit.November 2015: Hamilton County District Attorney Neal Pinkston states he supports the VRI, but claims it crosses an ethical line by asking him to target particular defendants.February 2016: The Times Free Press reports the vast majority of VRI offenders have avoided long sentences and significant jail time. Of 263 gang members arrested between March 2014 and February 2016, only seven received the maximum punishment and most were sentenced to probation, not jail time.March 2016: Public officials and Pinkston trade shots over the VRI. Pinkston writes in an open letter that "The VRI is not working because the city isn't implementing many of the basic components the initiative requires."April 2016: A violent gang war erupts, claiming multiple lives and sending many to the hospital with gunshot wounds.September 2016: The Times Free Press reports that nine women, more than any other year since at least 2011, have been killed in 2016 and half of those victims were associated with gang violence.December 2016: The homicide rate hits 32, a new high in recent local history. The city recorded 132 shootings in 2016, compared to 119 in 2015.April 2017: Police Chief Fred Fletcher announces he will retire at the end of his three-year contract. He says, "Our Department has made tremendous strides in the past three years. I know our brightest and most rewarding days still lie ahead."September 2017: New Police Chief David Roddy says he wants to continue developing a police department that relies on technology, community relationships and focused deterrence to target individuals driving violent crime in the city.December 2017: Chattanooga's homicide rate creeps up to 34, but shootings involving gang members drop to the rate seen in 2014.January 2018: A scheduled call-in is pushed back to March after City Council chooses not to vote on adopting a two-year, $600,000 contract with Father to the Fatherless to provide support services for the initiative.