Photo Gallery
Local hospitals using arts to help patients heal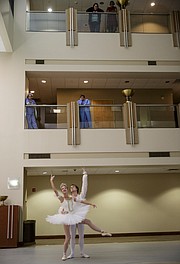 For a moment, the midday hustle and bustle of the Erlanger Medical Mall stopped.
Workers in scrubs became spectators, overhead walkways to physicians' offices served as balconies, and children sat starstruck on their parents' laps as the Chattanooga Ballet transformed the hospital into a concert hall.
Nena Widtfeldt, donning a cat costume, danced to Tchaikovsky's 19th century ballet "The Sleeping Beauty" as 5-year-old Taylor Dawson, who'd just completed a doctor visit, watched with her mother, Kayla.
"We came to see the urologist for testing, but we heard the music coming down, and that's what drew us over here," Dawson said. "She loves ballerinas, so that was a nice surprise."
Jeron Williams, a flight paramedic for Erlanger's Life Force Air Medical Services, had caught wind of the performance and brought his wife, Sheryl, and children Alyssa, 3, and Josiah, 2, from Cleveland, Tenn., to catch the show.
"It was certainly entertaining for us, but there were moments of the dancing part where I felt kind of in a trance," Williams said. "There's a lot of people dealing with a lot of illness, sickness and stresses here, so I think it does help create kind of like a tranquil environment."
Recognition of art's value in health care is growing - whether it's music, dance, theater, literature, visual art, architecture or interior design - and local hospitals are joining the movement.
Martica Lambiase, an artist and co-chairwoman of the Arts at Erlanger committee, said the hospital's arts program was in its early stages when she visited her sister who was undergoing heart surgery at the Cleveland Clinic hospital in Ohio.
"There was art on every single wall of that hospital, and what was nice was when she was in surgery, it was like being in a gallery," Lambiase said. "One of the things that I experienced was how much the art influenced everyone, including the employees."
In 1948, the World Health Organization broadened its definition of human health to include "a state of complete physical, mental and social well-being and not merely the absence of disease or infirmity," representing a cultural shift toward treating the whole person's body, mind and spirit.
"The arts are now used to improve health care outcomes, to contribute to patient and staff satisfaction, and to lower health care costs," according to a 2017 report from the National Organization for Arts in Health.
Cam Busch, a registered nurse and art therapist who helped found CHI Memorial's arts program in 1996, said that in the beginning the benefits of art in the hospital were mostly anecdotal, but now there's data to support its effectiveness.
"Instead of the sterile way that people had to come into that environment, with no art on the walls, seafoam green paint, technology all over the place," Busch said, "the arts are valuable to work in tandem with traditional medical practices, and we do have hardcore research."
A growing number of studies show that both trained art therapists, who help patients and families express their feelings and emotions through art, and artists, whose work enhances the healing environment, can reduce anxiety, pain, length of stay and re-admissions in hospitals, as well as improve health communication.
Chyela Rowe, a registered drama therapist and member of the Arts in Medicine Advisory Council at CHI Memorial, said creating an environment that fosters expression can be especially helpful during difficult treatments.
"There are so many different approaches that are really valuable, but what the arts bring in is that other element of communication," Rowe said, adding that sometimes language alone isn't sufficient.
Still, some individuals perceive art as "frivolous," which can be an obstacle.
"When it comes to funding and setting budgets, it's sometimes hard to convince people that the arts are important," she said. "But when you start looking at the actual, physical, tangible impact of it, then you realize there's so much more."
For example, a 2011 University of London study found that when subjects saw a beautiful painting, it activated the "joy response" part of the brain and increased blood flow by 10 percent.
In an effort to expand the arts at Memorial, Busch formed the council a year ago. It has grown to about 20 members in backgrounds that range from musicians and painters to therapists and physicians.
Erlanger's program officially started several years ago when Bruce Komiske, vice president for new hospital design and construction, approached art enthusiast Judy Spiegel about spearheading an arts committee. She began recruiting members, including committee co-chairwoman and local artist Lambiase.
Their first major project was to reconfigure the hospital's chapel.
After a competition between local artists and architects, Daud Akhriev, the classical painter and sculptor who created the bronze statues at the Market Street Bridge entrance, and Steve Kronenberg from Hefferlin + Kronenberg Architects were chosen for the redesign.
That chapel ended up winning an award for "best public mosaic" from the Society of American Mosaic Artists, Lambiase said.
Now, more than 38 artists, employees and community members comprise Erlanger's Arts Committee. Seventeen projects supported by donors who contribute artwork or money are underway throughout the health system.
"It's kind of taken off like a rocket," Spiegel said. "We never expected the committee to explode, but it has."
Lambiase said the main goal is to turn the hospital into a museum showcasing local talent.
"We never ask the artist for anything for free, because one of the things that we want to do is promote the art in the area and the artists," she said.
Several pieces are highly acclaimed, including a painting by George Rodrigue - an American artist known for his Blue Dog paintings - which was recently donated to the new children's hospital.
Last week, the team worked to install art in the new behavioral health hospital, one of the committee's biggest projects to date.
"There's a lot of things that you have to think about when you put art up, especially in a hospital setting," Lambiase said. In behavioral health, pieces should be soothing and serene, without imposing people or animal faces, and hung in a way that prevents people from injuring themselves or others.
"We actually had psychiatrists on the selection committee so that we made sure that the pieces were appropriate for that space," she said.
Rowe said lighting, color, traffic patterns, size and purpose are other aspects that influence curation.
"You might have something that has a really positive impact in the heart center, but if you put that in the cancer center, it might take on a different meaning," she said.
Artists themselves also find gratification through their contributions.
After her performance at Erlanger, Widtfeldt said the fantasy and drama ballet creates is like an "ulterior world," or an escape from reality for hospitalgoers.
"The characters really bring all of that to life," she said. "Hopefully, that can provide a break for anyone in the hospital, either patients or the employees who are working, to just enjoy a classical art form."
Contact staff writer Elizabeth Fite at efite@timesfreepress.com or 423- 757-6673.